-
Bronze disease is a form of corrosion that affects bronze artifacts. It manifests itself as either a powdery green substance on the surface of the metal or as a warty or waxy film over the surface of an artifact. To the untrained eye, it may simply resemble a natural patina. However, while a patina is not destructive, bronze disease most certainly is.
In reality, "bronze disease" is not the result of bacteria, as the name would suggest, but the result of a complex chemical reaction. It is known as bronze disease because the reaction produces a green powder on the surface of bronze artifacts that resembles a fungus. This corrosion is much like rust on iron. This corrosion is caused by a circular set of reactions that involve the chlorides of a copper alloy and water. Bronze disease is triggered by the presence of water in this equation. It might take just one humid day to activate the reactions and begin the destructive chain.
The actual chemical reaction is still not fully understood, though the chemistry of corrosion has been studied for some 150 years. However, the basic understanding of the process indicates that the presence of cuprous chloride in copper alloys reacts with water to create hydrochloric acid. The acid then eats away at the bronze, and in turn reacts with the copper. This second equation produces the visual manifestation of the disease: that dreaded green fuzz. Generally, the fuzz covers pockmarks caused by the hydrochloric acid.
+H2O → 2HCl + Cu2O
2HCl + 2Cu → 2CuCl + H2
A basic representation of the chemical process.
If left untreated, bronze disease will continue to eat away at the metal to the point of complete destruction of the artifact. However, several steps can be taken to both prevent and treat bronze disease. Among private collectors, there are several popular methods of stalling the effects of bronze disease, though none of these are permanent cures. Initially, the reaction can be stalled by removing the moisture from the piece. This can be done by placing the infected coins or artifacts in the oven on low heat in order to dry them out. Unfortunately, this often causes the surface of the metal to darken irreversibly. Additionally, this is certainly not a permanent solution; just one more especially humid day and the bronze disease will be off and raging again. Another non-permanent fix is soaking the afflicted piece in either distilled water or a solution of sodium carbonate and sodium bicarbonate. Again, this will only halt the reaction until the cuprous chloride comes into contact with moisture in the air.
A more thorough solution to the bronze disease problem involves using benzotriazole (C6H5N3). This complexing agent is highly carcinogenic. It can be dissolved in ethanol to make a solution for soaking infected artifacts. Once cleaned thoroughly, the piece can be coated in a varnish, wax or a resin to prevent a recurrence of corrosion. This method is favored by the British Museum. However, microcrystalline waxes are risky for two reasons. Firstly, it is very difficult to reverse their effects without causing serious damage to the artifact. Secondly, if the bronze disease hasn't been completely eliminated, the metal will continue to corrode beneath the lacquer. Consequently the bronze disease is completely untreatable, and the artifact will be lost.
An alternative to a finishing lacquer is some form of humidity control. Below 39% humidity is ideal for bronze storage and display. Unfortunately, humidity control is very costly, and sometimes impractical in a display setting. However, the effects of bronze disease can be controlled with due precaution and careful periodic examination of artifacts.
Works Cited


Scott, David. Bronze Disease: A Review of Some Chemical Problems and the Role of Relative Humidity.
The Journal of the American Institute for Conservation, Volume 29, Number 2, Article 7, 1990.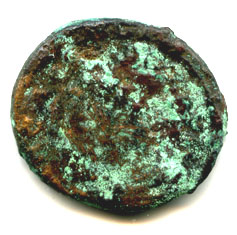 by Evie
---
Posted at Dec 11/2007 08:49PM:
keffie: Excellent and clearly explained summary of this phenomenon. I learned a thing or two!
---
Posted at Dec 13/2007 11:21PM:
Harry Anastopulos: Somehow I figured you'd pick this one, Evie. I remember your interest in this topic during the Coins and Collections visit. This certainly highlights how easily artifacts of the past can disappear and also how important what remains we do find are!
---
Posted at Dec 14/2007 10:10PM:
Rachel Griffith: It seems like theres no end to the obstacles archeologists run into in preserving the past! This is a really interesting choice of topic (maybe I'm biased as a science major though) and well done. Personally, I think its really tough to write about scientific concepts in a nonscience context but this was very clear, detailed and concise.
---
Posted at Dec 16/2007 10:16PM:
Kuy Yeon Lee: I always get confused about the fact that the buildings and sculptures that look green today were actually...bronze color. So which means that after 100 or more so years, they are gonna turn into...dust? Well, no man-made artifacts can last forever... thanks for new info!!