Education in Coachella
Schools in California were desegregated by the 1960s, but deep-rooted racism persisted. School was a difficult, painful experience for Mexican children, especially those who spoke little English. Anglo teachers often held Mexican students in low regard. Teachers, school administrators, and fellow students often treated Spanish-speaking children with contempt and poverty created further obstacles for Mexican immigrants.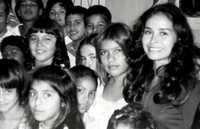 Socorro Gomez and Yolanda Esquivel, fellow Chicanas, began teaching in the Coachella Unified School District after graduating from California State University, San Bernardino. In Coachella, Yolanda witnessed her colleague Jane Coffey physically assault a Mexican boy and girl on separate occasions.
When Yolanda confronted Coffey, Coffey struck Yolanda in the chest, telling her, "who do you think you are?" Although the incident occurred in the presence of students, the school principal denied that the assault happened and refused Yolanda her right to file a complaint. The school district also suppressed two charges of molestation against the principal, Don Cochran.
Yolanda, Socorro, and fellow teachers Roman Koenig and Charles Marquez, organized with parents to address problems in the district. They formed the Community Coalition for Alternatives in Education (CCAE) to defend Mexican children against abuse in the school, and to advocate for bilingual education. The group raised the consciousness of the community, which resulted in walkouts on April 8, 1976 by students from Mecca Elementary, Dateland Middle School and Coachella Valley High School, who marched several miles to protest the physical abuse and child molestation.
Coachella Conflict Results
The student walkouts forced the district to acknowledge the concerns of the Community Coalition for Alternatives in Education. Jane Coffey chose to retire rather than face charges of misconduct. The district reassigned Don Cochran to a non­teaching position.
The Coachella Valley Unified School District reassigned Yolanda, Socorro, Roman Koenig, Charles Marquez, and Don Cochran to non-teaching duties, while district and union officials sorted out who was responsible for the walk-outs.
The district pursued revocation of their teaching certification, including Cochran's, while the local chapter of the teacher's union, the American Federation of Teachers (AFT), refused to offer them financial or legal support. Eventually, the state level union reversed the locals' decision and hired accomplished labor lawyer, Abraham Levi, to defend them. The American Civil Liberties Union (ACLU) contributed the assistance of one of their attorneys, Juan Rodríguez. Governor Jerry Brown also visited with Yolanda, Socorro and Coachella Valley Mexican American leaders and publicly campaigned on behalf of the teachers.
In the end, all succeeded in retaining their credentials, though the events took a toll on all four. Charles Marquez returned to his native East Los Angeles never to return, while Roman Koenig engaged in binge drug-use and went into a deep depression. On February 1, 1980, he committed suicide, after allegedly murdering his wife, daughter, and family dog. Socorro was reassigned to a different school in Coachella but was never allowed to return to Thermal, Oasis, or Mecca schools where she grew up and many members of her family still lived.
Soon after the walk-outs, the Coachella Valley Unified School District begrudgingly implemented bilingual education in response to parent demand and the Supreme Court case, Lau v. Nichols in 1974. In Lau , the court concluded: "there is no equality of treatment merely by providing students with the same facilities, textbooks, teachers, and curriculum; for students who do not understand English are effectively foreclosed from any meaningful education." In 1981, the courts went further in Castañeda v. Pickard, by outlining requirements for programs appropriate for English Language Learners (ELL).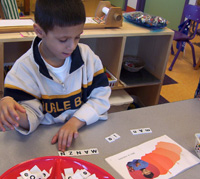 Proponents of bilingual education, including those in Coachella, interpreted these last two cases as the foundation for Two-way bilingual programs.
Two-way bilingual (or "dual language") schools distinguish themselves from schools employing transitional bilingual education (TBE) and English as a Second Language (ESL) curriculum by attempting to develop proficiency in two languages simultaneously among all students and by actively including native English speakers as part of the targeted student population. In dual immersion models, curriculum content for most or all topic areas is taught alternately in one language then the other.