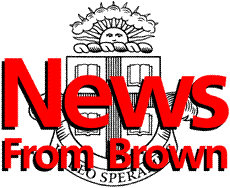 ---
The Brown University News Bureau
Contact: Mark Nickel

Cohen v. Brown
Brown University takes its Title IX appeal to the U.S. Supreme Court
Attorneys for Brown University have petitioned the U.S. Supreme Court for a writ of certiorari in the Title IX athletics gender bias case. If the lower court ruling is allowed to stand, colleges and universities may be held to a compliance standard that conflicts with Supreme Court precedents.
PROVIDENCE, R.I. -- Brown University is taking its Title IX athletics case to the U.S. Supreme Court. Attorneys for the University filed a petition for a writ of certiorari late Tuesday, Feb. 18, 1997, asking the Supreme Court to review a split decision handed down Nov. 21, 1996, in Boston by a three-judge panel of the U.S. First Circuit Court of Appeals. The lower-court interpretation of Title IX would have required Brown to treat its male and female athletes differently in order to meet gender-based numerical quotas. Title IX, the 1972 federal education legislation, prohibits gender-based discrimination in all colleges and universities receiving federal funds.
"Brown University designed its athletic program to accommodate the interests and abilities of all students, without regard to gender," said Laura Freid, executive vice president for external affairs. "The athletic program was ruled out of compliance with Title IX because the ratio of men to women athletes reflected the gender ratio of all qualified athletes. The lower court required the gender ratio of athletes to mirror that of the undergraduate student body."
If the rulings of the District Court and First Circuit are left to stand, Brown argued in the brief filed Tuesday, "virtually every institution in the country must now do what Brown has been ordered to do: Find the funds necessary to continue expanding women's teams, or eliminate opportunities for men.... Universities that dismantle men's athletic programs to comply with the standards at issue [will not be able to] turn back the clock when those standards are later found to conflict with Title IX."
Supreme Court precedents
The District Court and the First Circuit Court of Appeals held Brown to a standard that is in conflict with established Supreme Court precedents, Brown argued in its brief. During the last four years, Supreme Court opinions in the analogous labor relations area have held that charges of bias must be evaluated using a narrower population of qualified candidates. By using the gender ratio of the entire student body as its compliance standard rather than the gender ratio among potential varsity athletes, the courts chose a much broader population.
The First Circuit majority said its 1996 ruling was bound by a 1993 opinion on a preliminary matter in the case, written by a different three-judge panel of the First Circuit. Chief Judge Juan R. Torruella strongly dissented from the majority, insisting that because the legal standard had changed since that earlier ruling, Brown was entitled to an appropriate review of its case on appeal.
Torruella also supported Brown's contention that the lower court's ruling effectively turned Title IX into an affirmative action measure, requiring a gender-conscious remedial action that Title IX itself expressly forbids.
There is some urgency to this case, Brown said in its brief Tuesday. Other colleges and universities, trying to bring their programs into what they believe is the current legal definition of compliance, may dismantle parts of their athletic programs in an attempt to manipulate gender ratios. Programs that may have taken years to establish could suffer irreparable harm - all in an effort to meet an inappropriate standard that may well be subsequently overturned.
"Brown's record of leadership in women's athletics has never been an issue in this case," Freid said. "Brown has demonstrated a historical commitment that predates Title IX and continues to set the standard for the nation's colleges and universities. We are confident that our athletic programs are administered fairly, even-handedly and in full compliance with both the spirit and the letter of Title IX."
Previous rulings
In the spring of 1991, as part of a campuswide budget cutback, Brown's Department of Athletics and Physical Education changed the funding source for four varsity teams: men's golf, men's water polo, women's volleyball and women's gymnastics. The teams continued in varsity competition but were required to raise their own operating funds. Sixty percent of athletes affected by the change were male, reflecting the roughly 60-40 ratio of men to women in Brown's varsity program at the time.

One year later, members of the two women's teams filed suit alleging gender discrimination in violation of Title IX. Cohen v. Brown is a class-action lawsuit named for Amy Cohen, a former gymnast and plaintiff in the suit.

Cohen I - Plaintiffs asked for a preliminary injunction that would require Brown to fund the women's teams and refrain from further reductions in direct funding for women's teams until the case could be heard. U.S. District Court Senior Judge Raymond J. Pettine granted that preliminary injunction. His ruling is often cited as "Cohen I."

Cohen II - Brown appealed the injunction, and the First Circuit Court of Appeals granted a temporary stay. The appeal was heard on Feb. 4, 1993. The First Circuit upheld the lower court and lifted the stay in its ruling of April 15, 1993, known as "Cohen II."

Cohen III - The actual trial began Sept. 28, 1994, in Providence and concluded with final arguments on Dec. 16, after 29 days in court. Judge Pettine entered his final opinion and order, finding for the plaintiffs, on March 29, 1995 ("Cohen III").

On the third day of that trial attorneys for both sides agreed to a partial settlement which recognized that Brown's treatment of men's and women's teams was nondiscriminatory with respect to locker rooms, facilities for practice and competition, schedules, access to weight rooms and training staff, assignment of coaches and many other factors. Brown agreed to continue those practices for three years.

Cohen IV - Brown appealed the District Court's ruling. Attorneys for both sides, as well as attorneys representing parties that had filed friend-of-the-court briefs, argued the appeal April 1, 1996, in Boston before the First Circuit Court of Appeals. In a split decision issued Nov. 21, 1996, the First Circuit reversed the lower court's proposed remedy but upheld the lower court's other findings. The First-Circuit majority deferred to Cohen II as the law of the case. Chief Judge Juan J. Torruella dissented and indicated that he would have reversed the District Court's decision.

######
96-085

Related documents available from the News Bureau by fax or online:


| | |
| --- | --- |
| 96-050 | Split decision of the First Circuit reverses lower court's proposed remedy, upholds Brown's autonomy in designing its athletic program, Nov. 21, 1996. |
| 95-121 | Brown prepares to argue its appeal. Women now account for 48 percent of varsity athletes, March 29, 1996. |
| 95-012 | President Vartan Gregorian's statement upon Judge Pettine's rejection of the University's compliance plan, Aug. 18, 1995. |
| 94-198 | Brown files notice of appeal with First Circuit. Three organizations, representing nearly 2,000 colleges and universities file friend-of-the-court briefs supporting Brown, June 26, 1995. |
| 94-137 | University statement on opinion issued by District Court Senior Judge Raymond Pettine, March 29, 1995. |
| 94-074 | Statistics on interest and ability presented in court, Dec. 5, 1994. |
| 94-039 | Attorneys for both sides agree to partial settlement, Sept. 30, 1994. |
| 94-032 | University's statement at start of Title IX trial, Sept. 23, 1994. |