Click on the "Start Slideshow" button to see a slideshow of all the pictures. You can also just scroll down to see them, but the page takes forever to load and the slideshow is cooler anyway.
---
Photographs from
"The Art of the Book"
taught by Elias Roustom VISA 1240-1250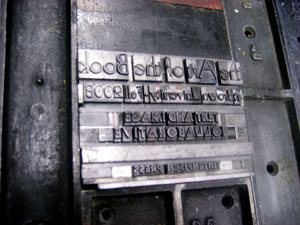 ---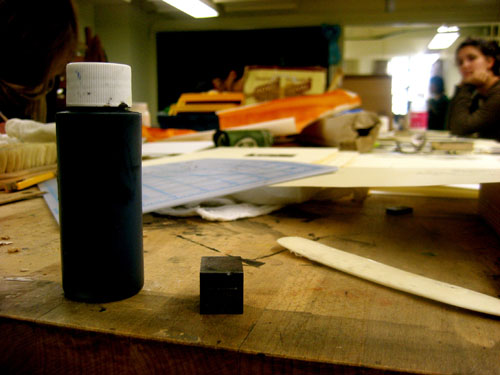 ---
a member of the class shows us the printing press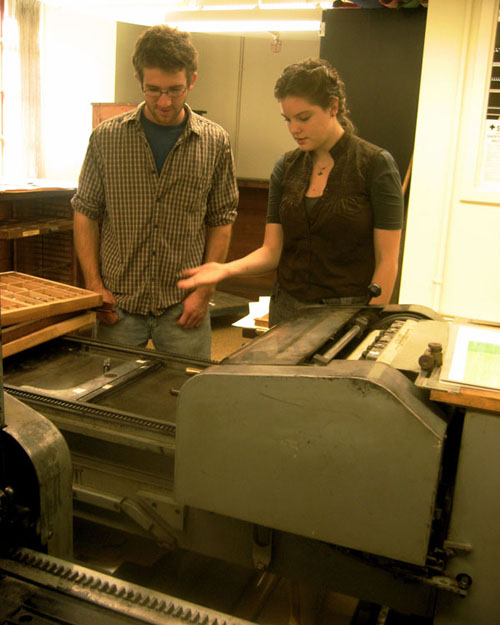 ---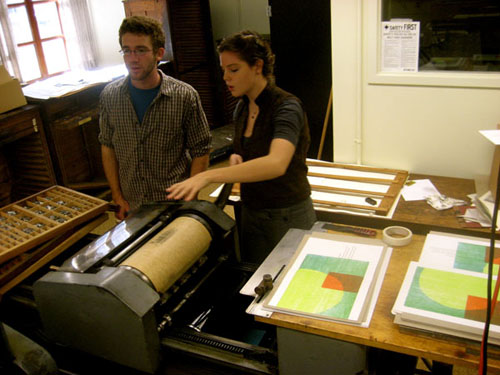 ---
this image was created using multiple layers of ink, each on a different block that had to be printed separately on the page, so the page was printed on three separate times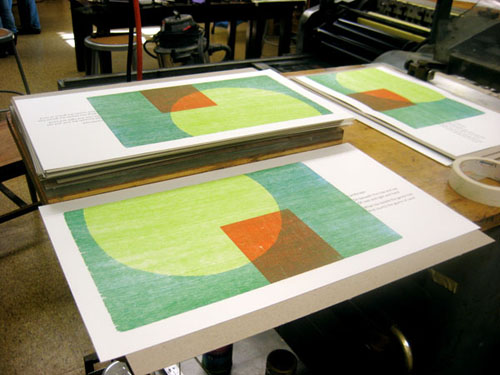 ---
ink rollers must be cleaned carefully after each use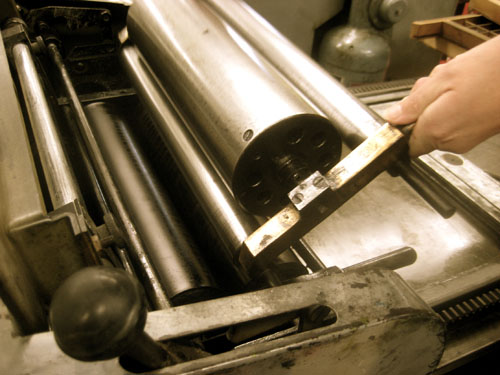 ---
book artists have to choose from hundreds of different letter blocks-- each compartment has one letter in various type faces and sizes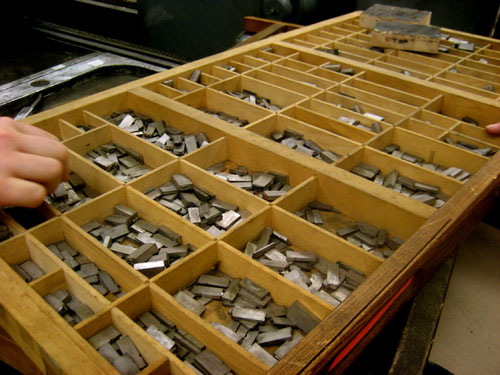 ---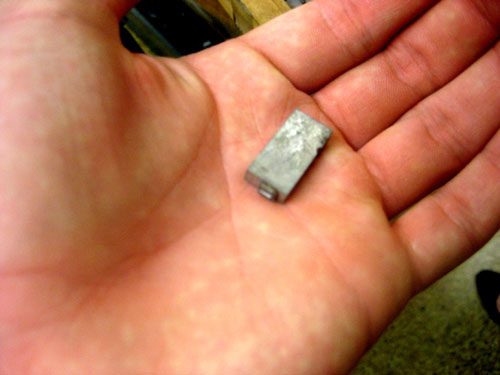 ---
letters appear to be backwards so that they face the right direction when they are printed on the page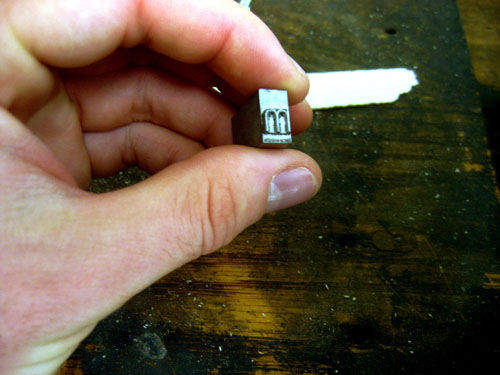 ---
this saw is used to cut book boards. this is among the more modern pieces of equipment in the studio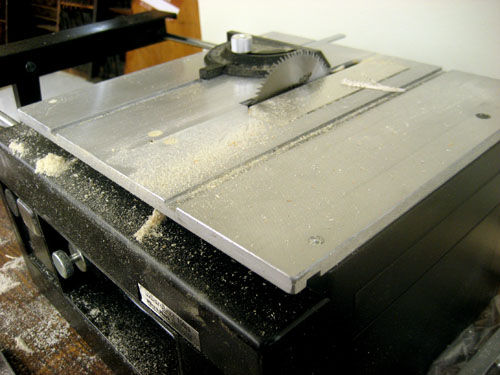 ---
old-fashioned metal blocks with images on them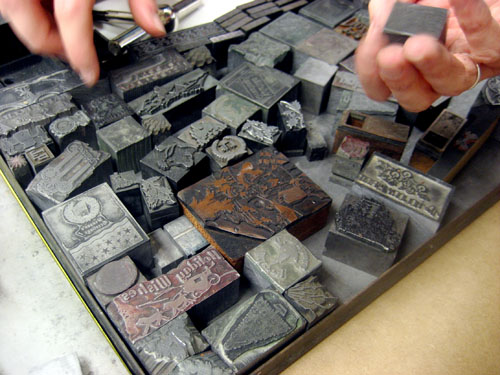 ---
bookmaking is all about being meticulous-- this instrument measures letter block size in picas (one pica is 4.2 mm)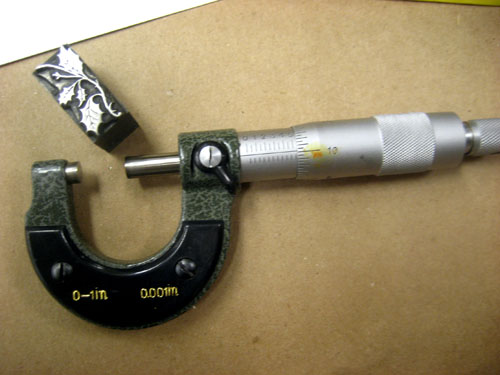 ---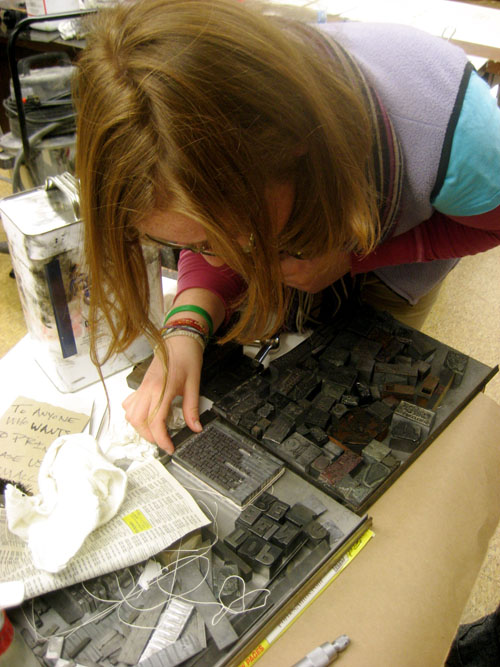 ---
this is part of the furniture used to align text and transfer it to the press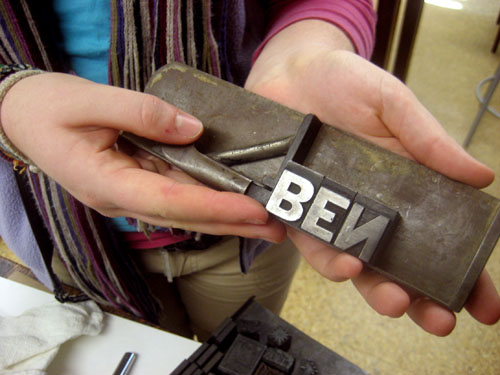 ---
print from an old block, coca cola advertisement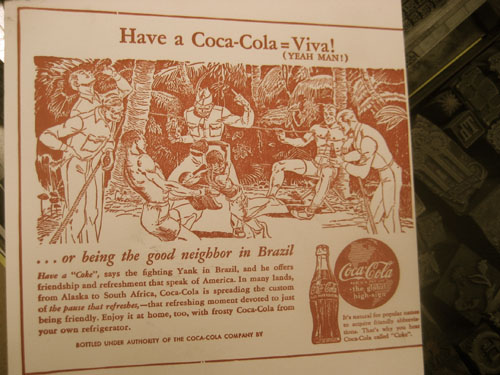 ---
design for a Whole Foods shopping promotion. book arts studios can also be used for small-scale commercial printing, such as flyers, advertisements, shopping bags, & posters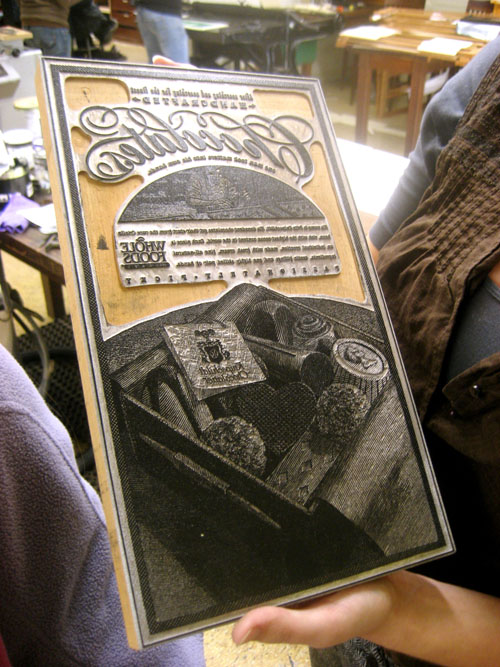 ---
book boards covered in paper. the covers are wrapped in one paper, and then another paper is cut to cover the folds on the inside cover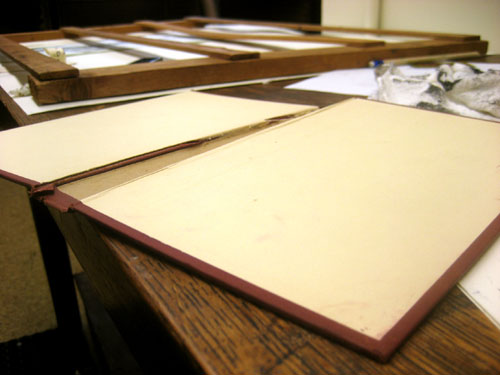 ---
more type blocks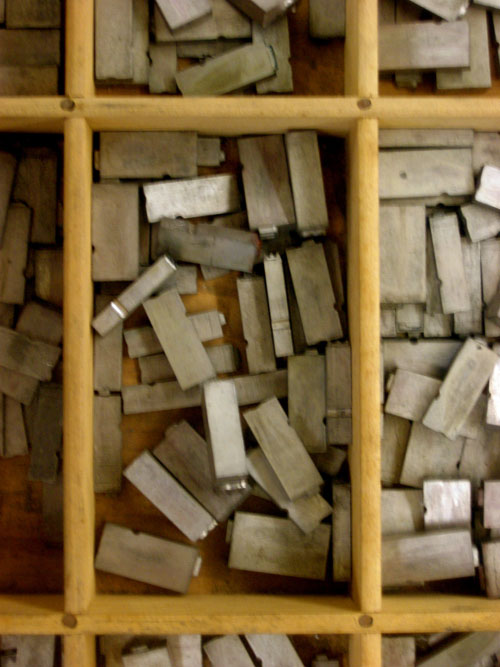 ---
purple ink on an ink roller. the ink needs to settle into the roller, so sometimes the artist has to roll back and forth a few times to make sure it's evenly spread on the roller before applying it to a wood or metal block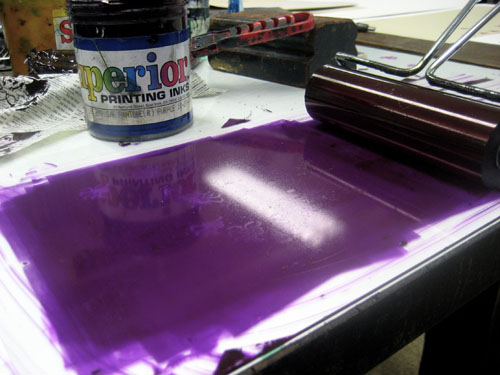 ---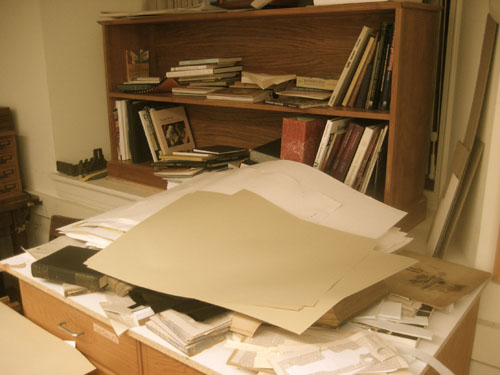 ---
old fashioned paper cutter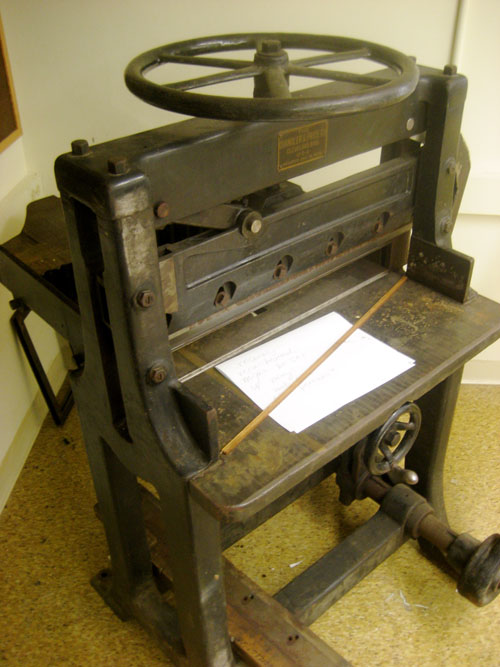 ---
the sink is an important place in any printing press or art studio. strong soap is used to wash hands in between different stages of the process, so as not to get ink or glue on pages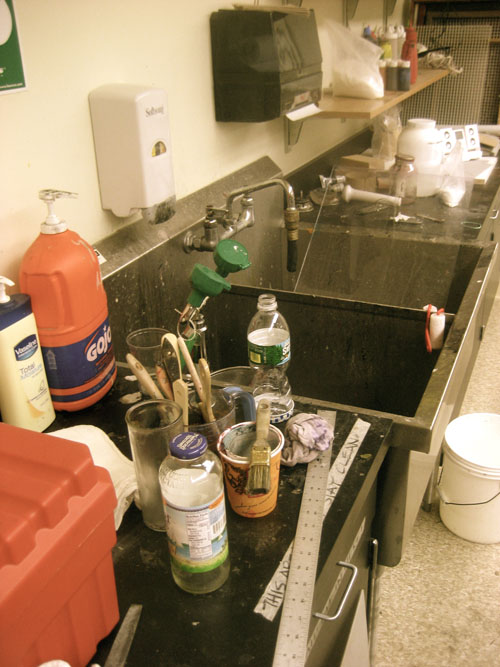 ---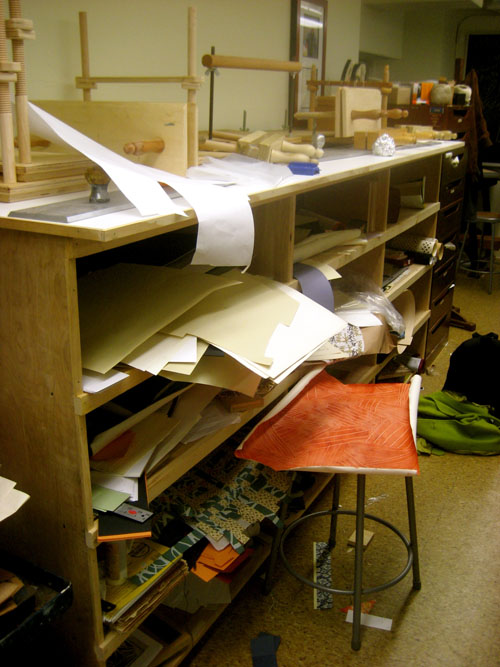 ---
small book presses are used to keep pages flat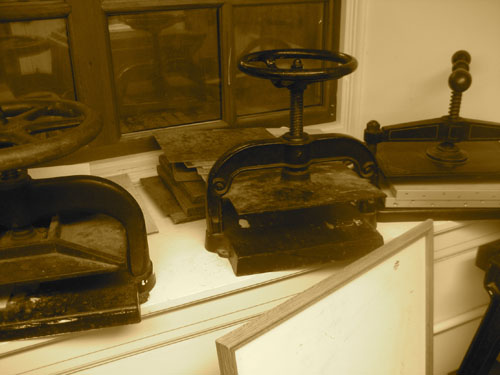 ---
larger book press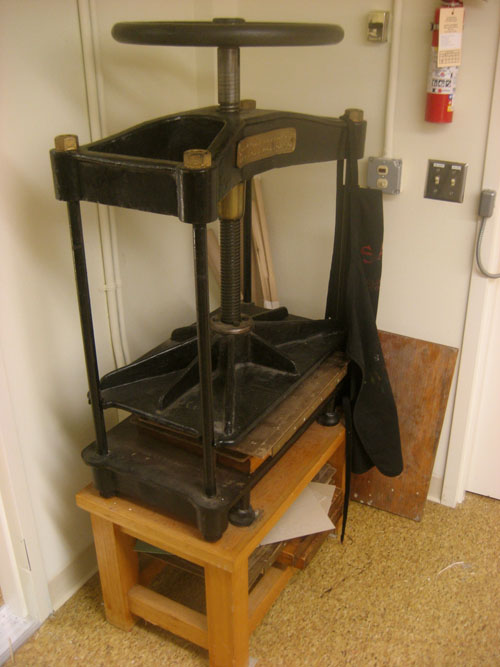 ---
completed folio (sheet of paper folded once to create four pages of the book). this page includes hand-arranged text and hand-rolled ink...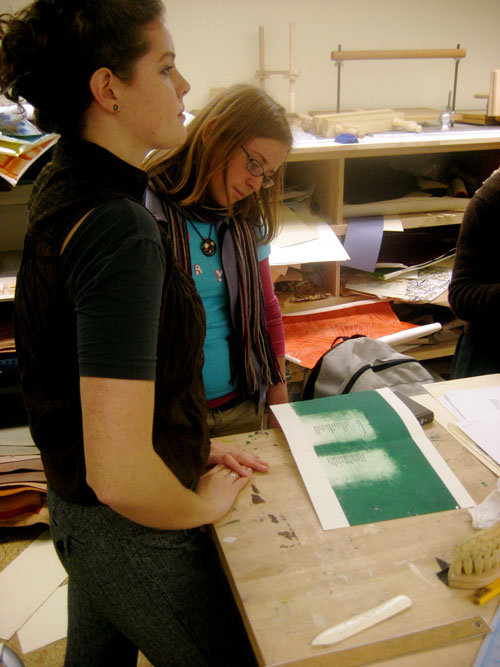 ---
...neither carved image blocks nor manufactured pre-existing text blocks were used. the artist created the text by assembling the letters in the furniture, hand choosing blocks of a certain size, spacing, and type face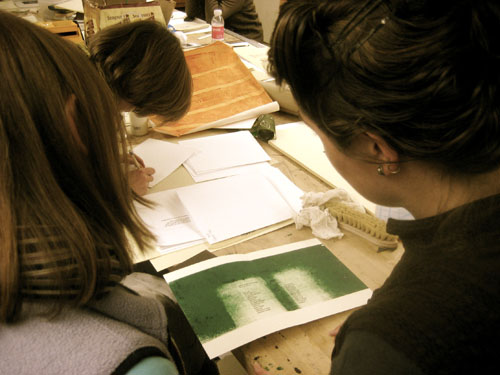 ---
hand-carved wood block printed with black ink on different types of paper
---
imaged from hand-carved wood blocks; text from computer-made negatives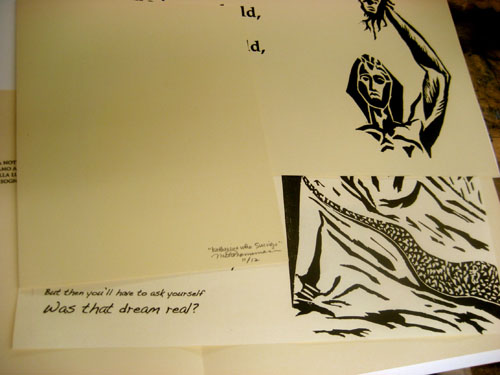 ---
title page of the class anthology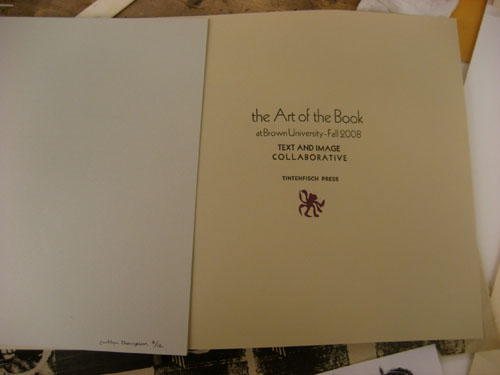 ---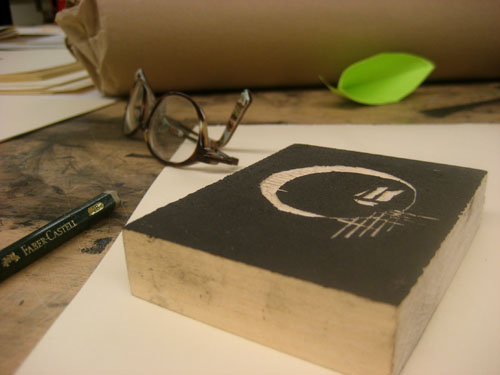 ---
---
aligning and cutting tools, among others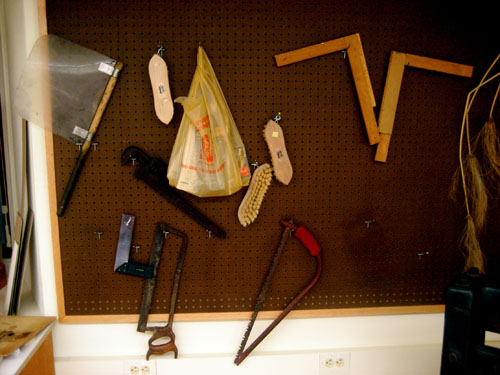 ---
paper cutter, take 2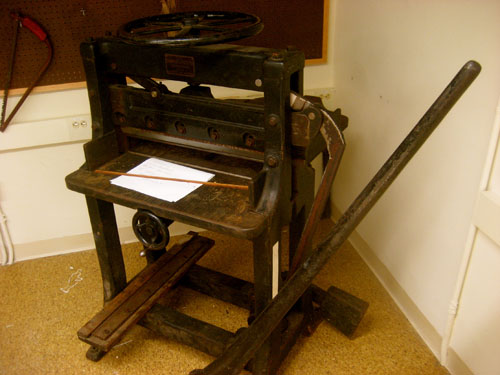 ---
printing press, take 2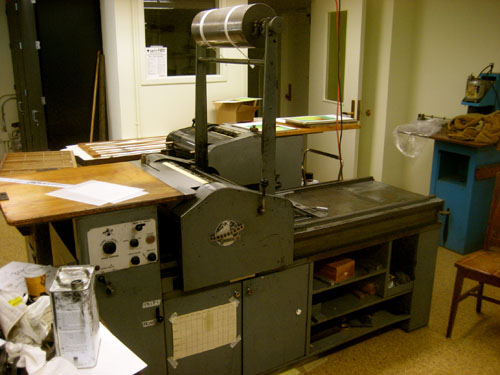 ---
organized chaos--ink, WD-40, glue, chemicals, and lots of tools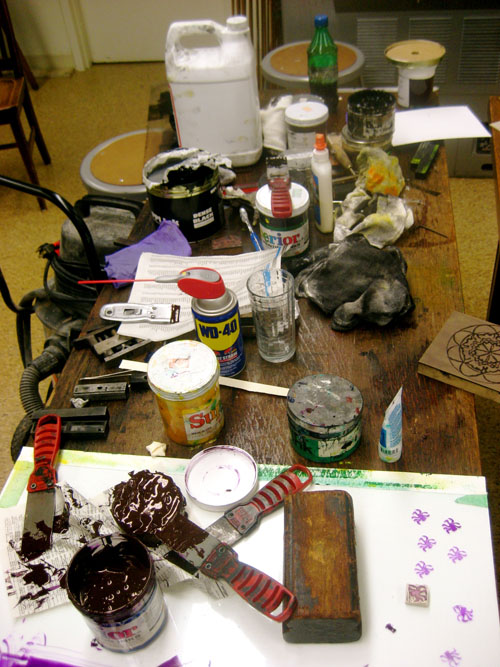 ---
negative of text printed from a computer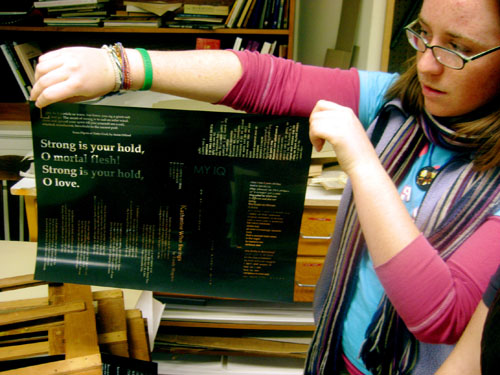 ---
paper cutter in action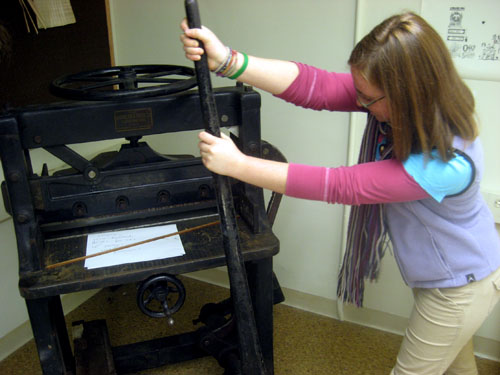 ---
the book meets the blade: a battle betwen things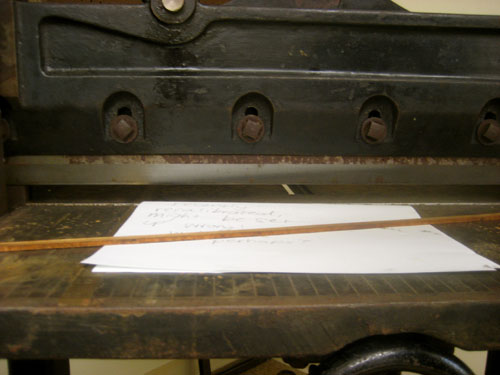 ---
smaller paper cutter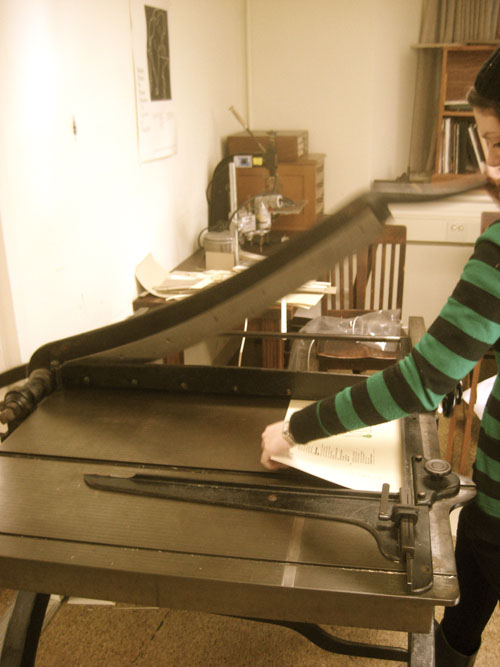 ---
half of the studio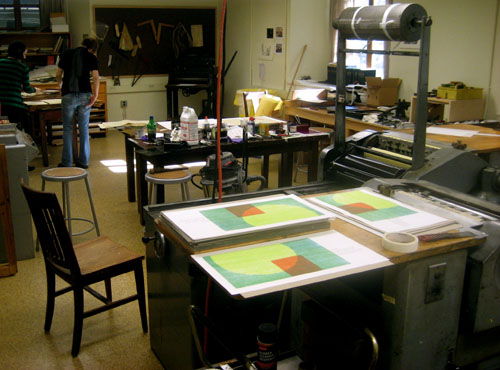 ---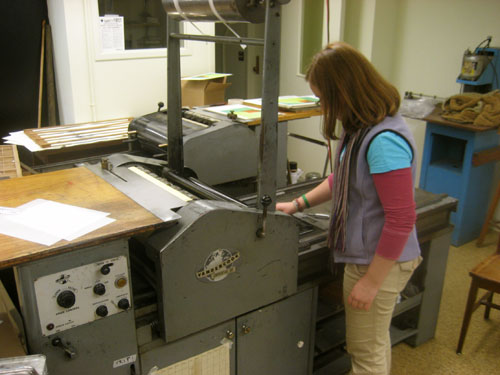 ---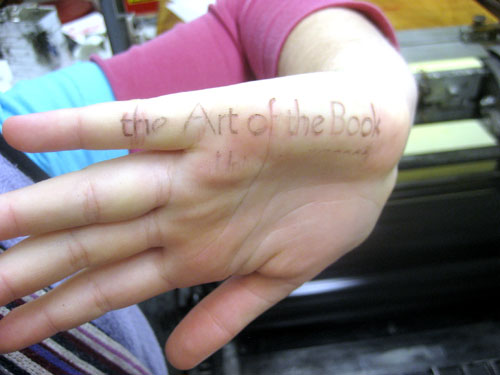 ---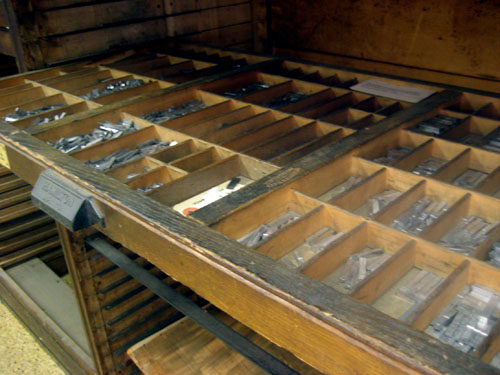 ---
experimenting with the large book press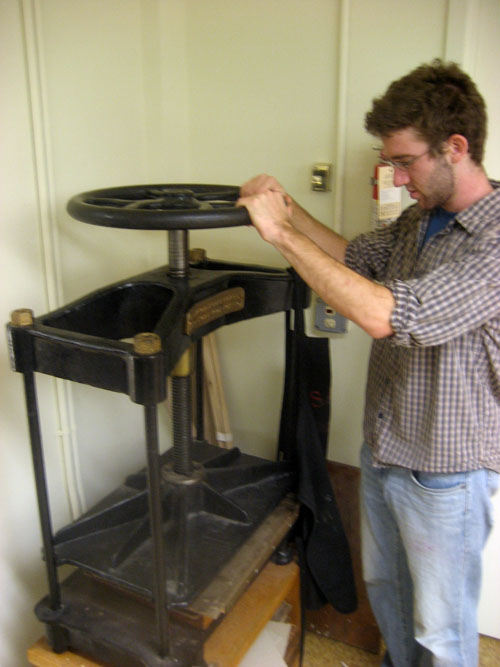 ---
red ink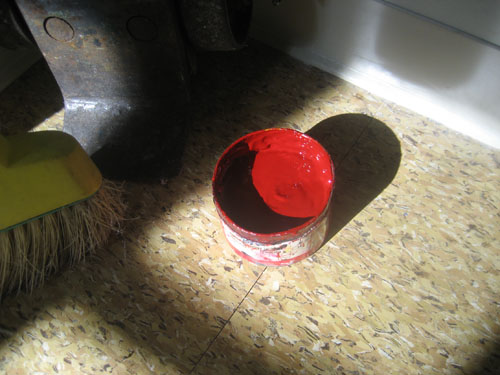 ---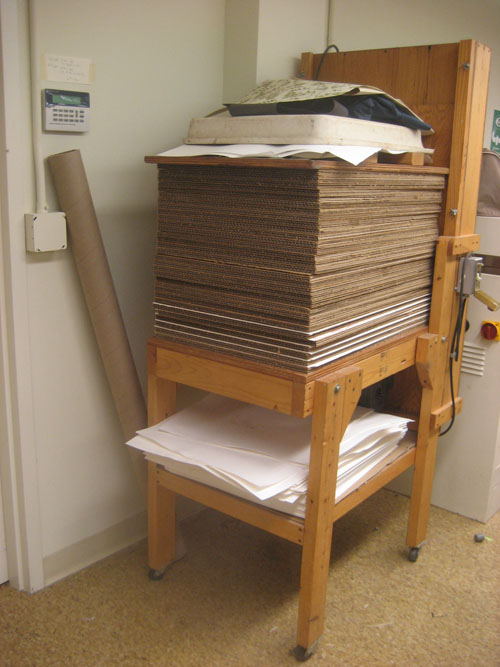 ---
recycling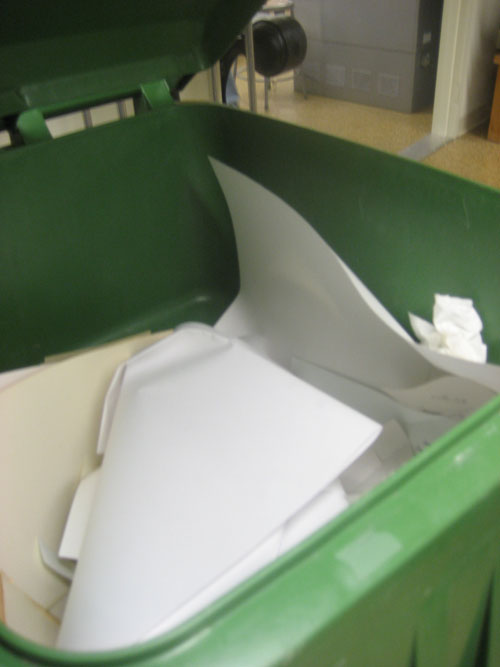 ---
many of these hand-made books are bound with string; there are a variety of different stitches and techniques to choose from when binding a book, from a basic whip stitch for an elementary pamphlet to the more advanced coptic binding technique (explained in a later photograph)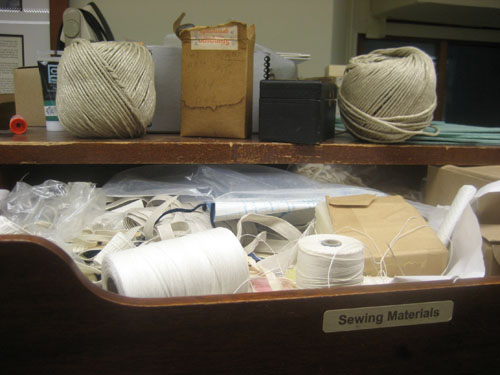 ---
so many types of paper to choose from. many of these are scraps from paper used to cover book board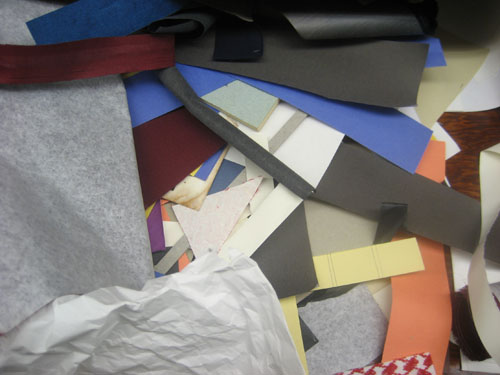 ---
this paper was hand-colored by the students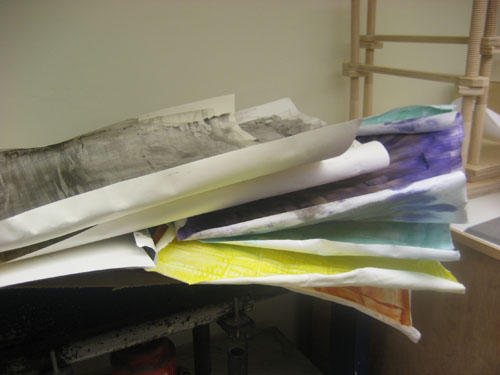 ---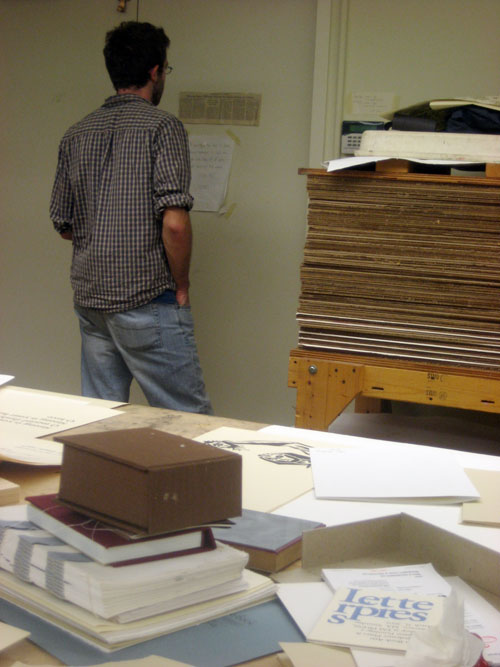 ---
a book in progress; signatures (a bunch of folios compiled) being sewn together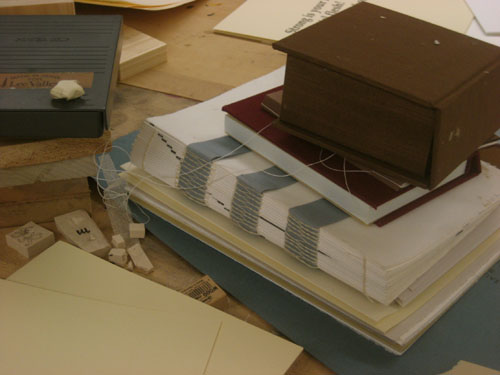 ---
a diagram explaining the coptic binding technique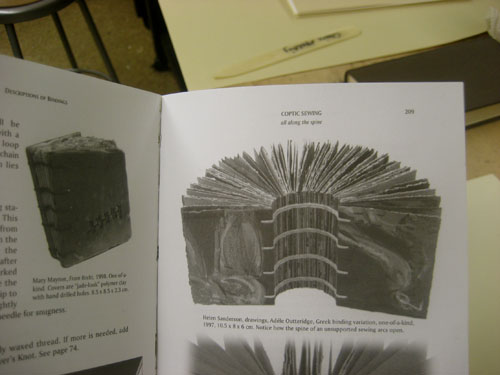 ---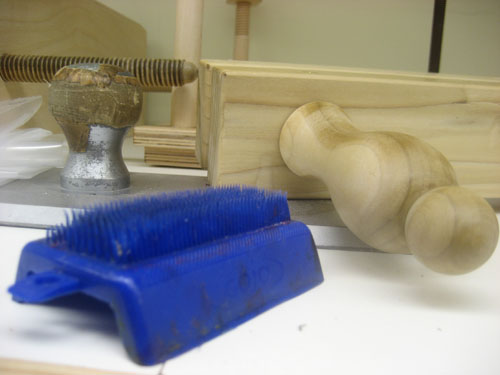 ---
brainstorms for the title page. a chalk board is a great way to conceptualize and lay out what the page will look like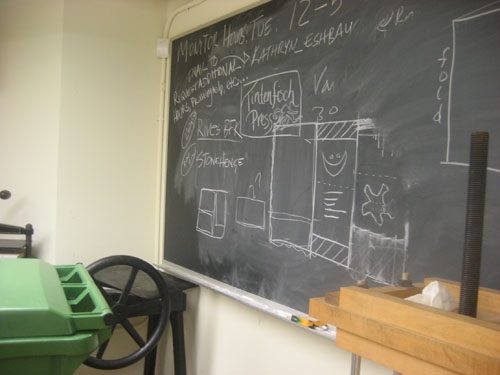 ---
books about books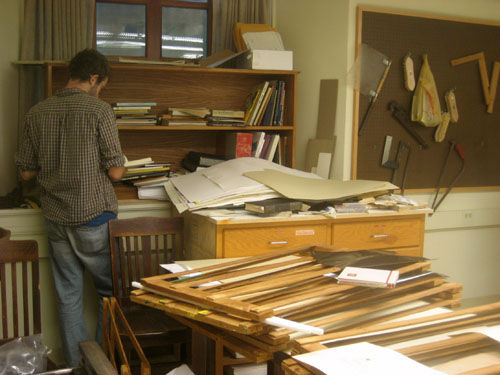 ---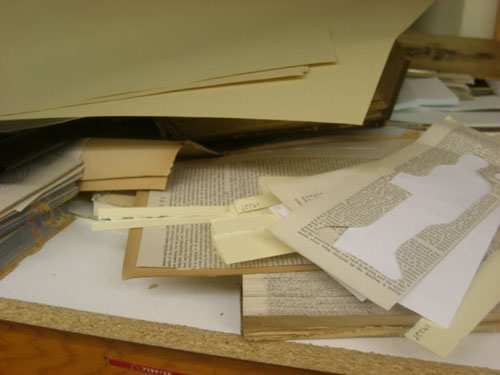 ---
this book explains how to properly space text on the page so it is more pleasing to the reader's eye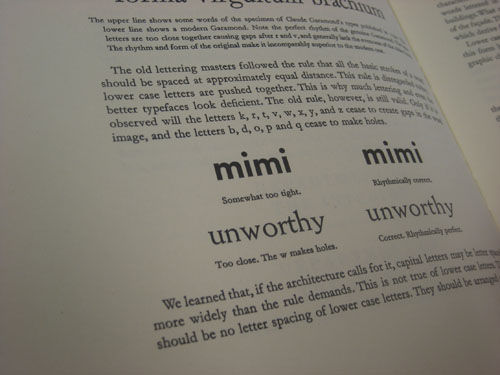 ---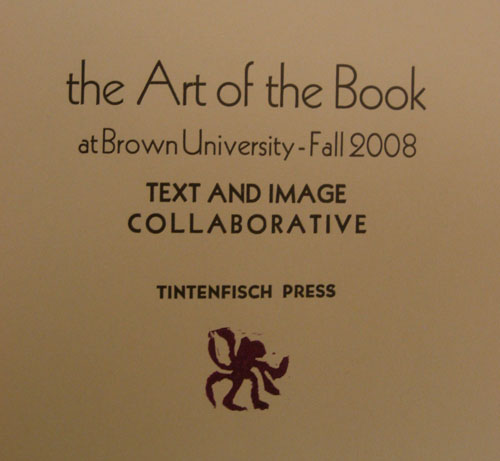 ---
related pages:
back to the book