Joukowsky Institute for Archaeology & the Ancient World
Brown University
Box 1837 / 60 George Street
Providence, RI 02912
Telephone: (401) 863-3188
Fax: (401) 863-9423
[email protected]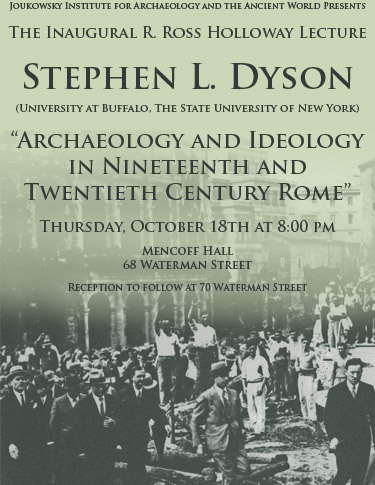 Professor Stephen L. Dyson will speak on the complex ways in which the development of archaeology in Rome intersected with changes in the city and contests over the presentation of historical and cultural ideologies within the fabric of the evolving city.
Dyson is the Park Professor of Classics and a Distinguished Professor at the University at Buffalo, State University of New York, where he teaches Roman history and archaeology.
Educated at Brown (Class of 1959), Oxford and Yale, he has excavated Roman sites in Italy and has written on various aspects of the history and archaeology of Roman Italy. His most recent book (2006) is In Pursuit of Ancient Pasts: A History of Classical Archaeology in the Nineteenth and Twentieth Centuries.
Keep informed about additional upcoming events at the Joukowsky Institute. Click here to join.