Joukowsky Institute for Archaeology & the Ancient World
Brown University
Box 1837 / 60 George Street
Providence, RI 02912
Telephone: (401) 863-3188
Fax: (401) 863-9423
[email protected]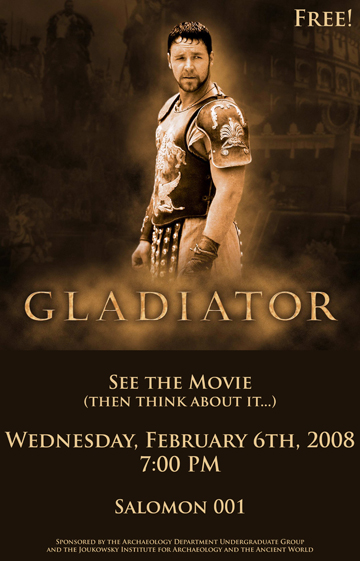 Gladiator:
A free screening of the movie, then a post-film discussion of its historical basis and issues raised by the film.
February 6th at 7:00 pm
Salomon 001
Commentaries by:
Sue Alcock (Joukowsky Institute for Archaeology)
John Bodel (Classics)
Kurt Raaflaub (Classics)
Naoko Shibusawa (History)
And free popcorn!
For more details on upcoming events, visit our Events page.
Keep informed about additional upcoming events at the Joukowsky Institute. Click here to join.