Wilson Cusack, a senior computer science concentrator, developed a text-message-based trading platform that helps connect farmers and buyers. With a grant from the Bill & Melinda Gates Foundation, he'll pilot the project in the West African nation of Ghana.
PROVIDENCE, R.I. [Brown University] — For most students a senior thesis represents a valuable learning exercise and the culmination of several years of careful study. Brown University senior Wilson Cusack's was certainly both of those, but it's also about to be an international agricultural technology project sponsored by the Bill & Melinda Gates Foundation.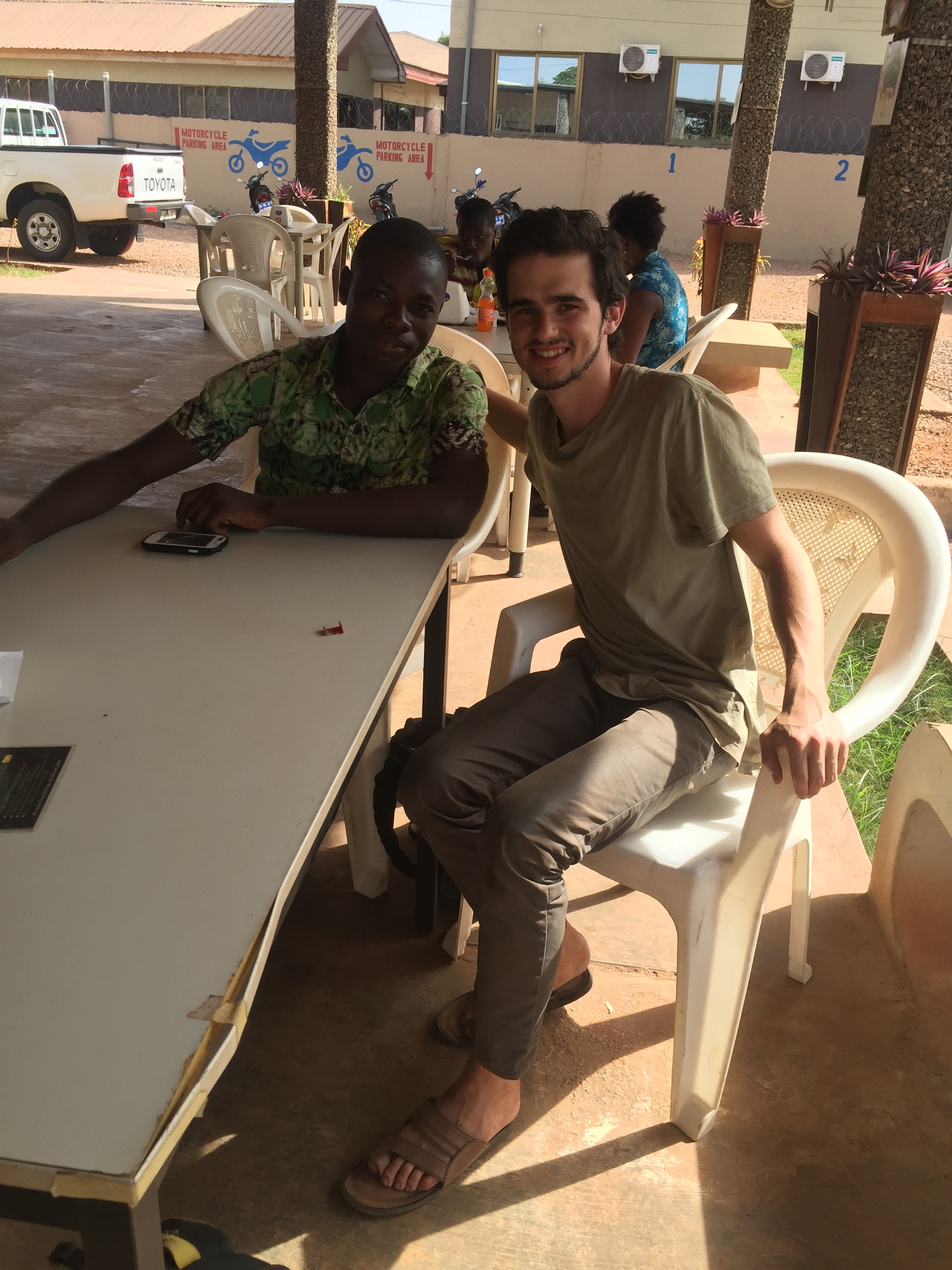 Cusack worked with Aselisewine Wisdom, a recent graduate of University for Development Studies in Navrongo, Ghana, to field test the platform last January.
For his honors thesis, Cusack developed a text message platform that connects farmers with goods to sell to buyers looking to purchase them. He thought the platform could fill a need for rural farmers in the developing world who often have trouble finding buyers and getting a fair price for what they grow. The Gates Foundation agreed, awarding Cusack and his company, Trade, $100,000 to implement the platform in Ghana.
For the 23-year-old native of Grand Rapids, Michigan, the grant helps to launch an idea that started cooking before he got to college. "It's kind of amazing how full-circle it's come," Cusack said.
During a gap year between high school and college, Cusack spent some time living in Guatemala and India where he worked on various development projects. He saw firsthand the crushing poverty faced by many small-scale farmers in the developing world.
"Pretty much everywhere I went in India, agriculture came up as a problem," Cusack said. "That year, on average, a farmer committed suicide almost every 30 minutes."
He spent a lot of his time in India visiting markets and talking to farmers. He started to get a sense that many farmers — especially those living in remote locations — were simply having trouble finding buyers for their goods. And when a farmer did find a buyer, it was usually a trader who would pay a fraction of what those goods were actually worth and then resell them in a market for a huge profit.
"I had this really simple idea," Cusack said. "Why can't farmers text in to a platform and say what they want to sell and be connected with a buyer who texts in to say what they want to buy?"
Such a platform, if widely adopted, could bring together farmers and buyers who would never have crossed paths otherwise. It would also bring a bit of transparency to the pricing of goods, potentially helping farmers get more for their crops.