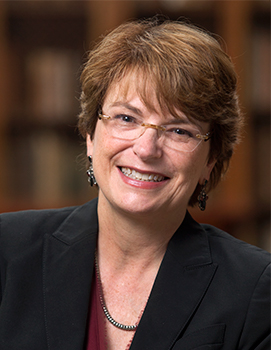 Christina Paxson is the nineteenth president of Brown University and Professor of Economics and Public Policy. She assumed the role of president on July 1, 2012.
Paxson worked with students, faculty and staff to develop Building on Distinction, a 10-year strategic plan launched in 2014 that is shaping the growth and progress of a University committed to addressing the defining challenges of the 21st century. She is leading Brown in its increased emphasis on teaching, research and scholarship that spans disciplines in such areas as bioengineering, environmental security, data sciences and addressing societal issues through humanistic inquiry.
Key areas of focus of her presidency include empowering collaboration and cultivating entrepreneurship among educator-scholars and students; expanding Brown's rich research environment being developed in Providence's Jewelry District; and creating engaged learning programs that integrate teaching with community-based research and real-world experiences.
Under her leadership, Brown opened a new School of Public Health, the University launched the Institute at Brown for Environment and Society, and Brown is experiencing a renaissance in social sciences in connection with the Watson Institute for Public and International Affairs.
President Paxson has sustained undergraduate financial aid as the fastest growing area of Brown's budget. She has lead Brown in increasing scholarships for low-income students and accelerating support for middle-income families, while also improving support for graduate students.
In the fourth year of her presidency, President Paxson led an inclusive, campus-wide effort to create more just, diverse and inclusive communities in support of Brown's mission of education and discovery. In February 2016, Brown released Pathways to Diversity and Inclusion: An Action Plan for Brown University.
Prior to her appointment at Brown, President Paxson was dean of the Woodrow Wilson School of International and Public Affairs and the Hughes Rogers Professor of Economics and Public Affairs at Princeton University. While at Princeton, she was the founding director of a National Institute on Aging Center for the Economics and Demography of Aging. In 2000, she founded the Center for Health and Wellbeing in the Woodrow Wilson School, for which served as the director until 2009.
President Paxson is a nationally recognized higher education leader, respected economist and public health expert. She has been the principal investigator on a number of research projects supported by the National Institutes of Health and authored or co-authored numerous journal articles. Her most recent research focused on the relationship of economic factors to health and welfare over the life course, particularly on the health and welfare of children.
President Paxson served as vice president of the American Economic Association in 2012, and is a member of the Council on Foreign Relations and a board member of the Association of American Universities. In January 2016, the Federal Reserve Bank of Boston named Paxson to its board of directors, and in 2019, named her deputy chair.
President Paxson is a 1982 honors graduate of Swarthmore College, Phi Beta Kappa, and earned her graduate degrees in economics at Columbia University (M.A., 1985; Ph.D., 1987).