Electra Lost in Transit
Women in classical Greece were rarely forced to wander as individuals. But Greek tragedy makes frequent use of the term phugas (a person exiled, on the run, displaced, vulnerable, and in need of refuge) to figure women's dislocation from a kinship network. Electra describes herself in Euripides' play as a phugas despite living a life of immobility. What can we learn from instances like these? Is Euripides "merely" carving out space for a distinct gendered notion of the phugas or could he be reconstituting the concept in new and critical terms?
Join Dr. Demetra Kasimis (University of Chicago) as she discusses Euripides' play Electra and unpacks the classical Greek concept of phugas in conversation with the Haffenreffer Museum's current exhibition, Transient Matter.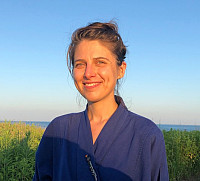 Demetra Kasimis is Assistant Professor of Political Science at the University of Chicago, where she is also an associated faculty member of the Department of Classics and the Center for the Study of Gender and Sexuality. She writes and teaches on democratic theory and classical Greek thought. Her first book, The Perpetual Immigrant and the Limits of Athenian Democracy, was published by Cambridge University Press in 2018.
This program is free and open to the public.
Register to reserve your spot: bit.ly/Electra-event
Supported by generous donors to Friends of the Haffenreffer Museum.