"The Game of Chess is not merely an idle amusement; several very valuable qualities of the mind, useful in the course of human life, are to be acquired and strengthened by it, so as to become habits ready on all occasions; for life is a kind of Chess, in which we have often points to gain, and competitors or adversaries to contend with, and in which there is a vast variety of good and ill events, that are, in some degree, the effect of prudence, or the want of it. By playing at Chess then, we may learn: 1st, Foresight, which looks a little into futurity, and considers the consequences that may attend an action… 2nd, Circumspection, which surveys the whole Chess-board, or scene of action: - the relation of the several Pieces, and their situations… 3rd, Caution, not to make our moves too hastily…" - Benjamin Franklin, "The Morals of Chess" (1750)
Do I do the job as I set out to? You decide.
Chess: Project Outline
WOULD YOU LIKE TO PLAY A GAME OF CHESS???
Here's a "Scored" Variant of Chess Write high scores to the Chess: Comments. (Why did you want to play? Feel free to post a comment too.)
Chess: Photojournal to be updated with assorted pictures until due date!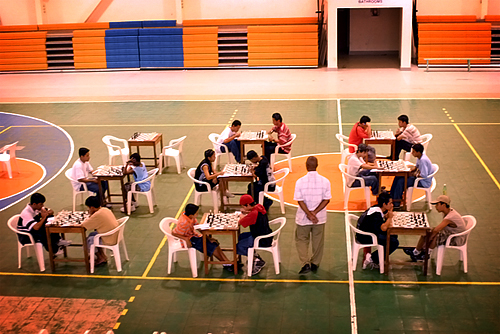 ---
COMMENTS
Posted at Oct 02/2008 05:16PM:
chris witmore: Hi Allan, I just came across a new book by David Shenk called The Immortal Game. It looks like a fascinating read and should give you some angles on chess.
---
Posted at Dec 12/2008 09:43PM:
Allan Stewart: To the evaluator(s): I cite my references separately on each page by footnotes. Note that on Shenk's "The immortal game" that I read it on my Kindle e-reader, which doesn't have page numbers but rather "location numbers".
---
Posted at Dec 20/2008 12:12PM:
chris witmore: Great work Allan. Your project was well structured and addressed a number of important issues raised in class. I especially, as I expect you did, the section on computer chess.