The Tommy Gun: How It Changed (And How It Changed Us)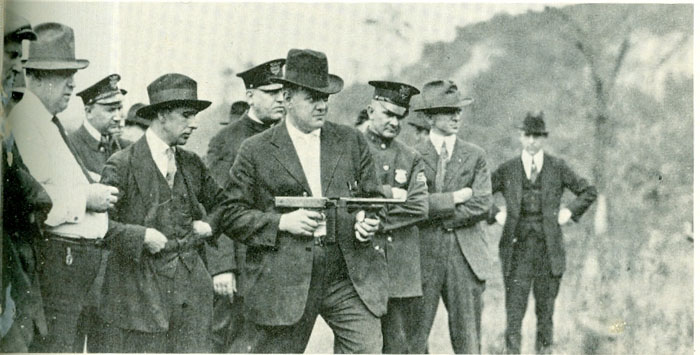 Some Quick Final Commentary
Well, that was crazy. My project (and the course, really) has been a pretty dynamic and evolving process for me, but overall it's been a lot of fun and incredibly insightful. I am a little bit sad, just because it's over and I feel like there's a lot more I could have done with the project--there were some lines of discussion and pieces of the Tommy Gun's history I would have really liked to dig into but, alas, I realized over the past few weeks as I was writing up the project that I had way to much to discuss and way too much of the history I wanted to point out. Sadly my sanity got the better of me and I ended up sticking with an Introduction, A (more or less) brief History, a few mini-discussions and a few bigger discussions. In retrospect I probably should have centered in on one key aspect of the Tommy Gun and ran with it, but things turned out well enough anyway, I think.
That said, I want to quickly thank everyone in the class for being awesome and sparking some really fun discussions over the past semester. I also really want to thank everyone who gave me feedback on my project, especially Tom and Chris, whose comments and advice really helped shape the project into what it is now.
And with that said...
Content
Basic Principles and Context:
Chronology in America from 1914 to 1944
Discussions:
Continuous Violence: Limitations, Adoption and Context
Social Acceptability: How Does Society React To Unqualified Violence?
Mini-Discussions:
Names: The Trench Broom? Really?
And...
Conclusion: Change and Reflection
Other Info
---
Posted at Oct 06/2008 09:40PM:
chris witmore: Hey Will, So many angles. Have a quick look at the Social History of the Machine Gun and let me know if anything turns up: [link]
---
Posted at Dec 22/2008 09:01AM:
chris witmore: Hi Will. I enjoyed reading your project. It is obvious that you have put a tremendous amount of work into this. I especially liked your project structure. An important point relates to issues of referencing . . . You have several old images which should be referenced. Great work overall.