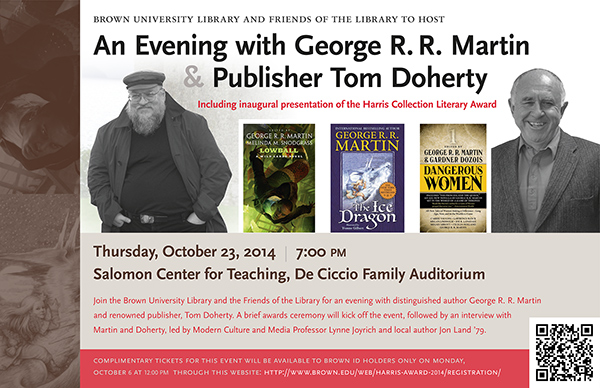 click to enlarge
Join the Brown University Library and the Friends of the Library for an evening with distinguished author George R. R. Martin and renowned publisher, Tom Doherty. A brief awards ceremony will kick off the event, followed by an interview with Martin and Doherty, led by Modern Culture and Media Professor Lynne Joyrich and local author Jon Land '79.
Admission is for individual named on the ticket. Tickets are not transferable. A Brown University photo ID and printed ticket are required for entry. Doors open at 6:15pm. All guests must be in their seats by 6:50pm. At 6:50pm, guests who are not in their seats will lose their place in the main auditorium.
Large bags, cameras, and laptops are not permitted. All small bags are subject to check. Please do not bring material for George R. R. Martin to sign; he will not be signing any material at this event.
A reception in Sayles Hall will immediately follow this event. All ticketed guests are invited.
This event is brought to campus by the Friends of the Brown University Library.
#HarrisAward