Peter Shank, Ph.D.
Edit My Page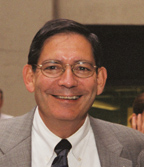 Title: Professor Emeritus of Medical Science
Department: Molecular Microbiology & Immunology
Peter_Shank@Brown.EDU
+1 401 863 2765, +1 401 863 9585
Overview | Research | Grants/Awards | Teaching | Publications
Our laboratory has worked on the regulatory genes of HIV-1. We were particularly interested in understanding the mechanism of action of the tat regulatory gene. Tat is unique among transcriptional activators in that the gene product interacts with a secondary structural element at the 5' at the end of the RNA transcript. We are also interested in the role of HIV in malignancy, particularly B-cell lymphomas. We have shown that HIV can infect human B-cells in a CD4 independent manner.
Biography
Peter Shank received his BS from Cornell University and his Ph.D. from The University of North Carolina at Chapel Hill. He was a postdoctoral fellow at UCSF working with Michael Bishop and Harold Varmus on retroviruses. He joined the Brown faculty in 1978 and has worked with both avian and human retroviruses. He has published on extensively on the molecular biology of retroviruses and has served on editorial boards and numerous NIH review panels.
Institutions
Bu
Research Description
The laboratory worked on the regulatory genes of the AIDS retrovirus HIV-1. We are particularly interested in understanding the mechanism of action of the tat gene. This essential positive regulatory gene is unique among transcriptional activators in that the gene product interacts with an RNA structure at the end of the HIV-1 genome. It was our hope that by understanding the mechanism of action of this gene, we will be able to design effective antiviral therapeutics. We are also examining the action of similar genes from HIV-2 and simian immunodeficiency virus (SIV).

AIDS patients frequently present with B-cell malignancies and we were interested in asking whether the virus played a direct role in this disease. In collaboration with Dr. Surendra Sharma we were able to show that HIV-1 can infect human B-cells in culture in a CD4 independent manner
Awards
- N.Y. State Regents Scholarship Incentive Award, 1964
- NIH Predoctoral Trainee, 1968-1973
- Anna Fuller Postdoctoral Fellowship, 1974
- U.S. PHS Postdoctoral Trainee, 1975-1976
- Foundations of Microbiology Lecturer, A.S.M., 1987-1988
- Elected to Steering Committee, American Association of Medical Group on Research Advancement 2003-2006
Affiliations
- American Association for the Advancement of Science (AAAS)
- American Society for Microbiology (ASM)
- American Society for Virology (ASV)
- AAMC Group on Research Advancement and Development
Funded Research
1C06 RR16549-01A1, Peter R. Shank, PI, 6/1/2002-5/31/2005
NIH, NCRR, Research Facilities Construction

1C06RR15471 Peter R. Shank, PI, 10/1/2000-9/30/2005
NIH, NCRR, Research Facilities Construction

NAG5-13579, Peter R. Shank, PI, 9/1/2003-6/30/2006
NASA

DE-FG02-02CH11127, Peter R. Shank, PI, 9/30/2002-12/1/2005
Department of Energy

P30-AI42853 Peter R. Shank, Core Director, 10/1/2007-9/31/2012
CFAR, Charles CJ Carpenter, PI
Immunovirology and Laboratory Services Core Director,
Lifespan/Tufts/Brown Center for AIDS Research
Teaching Experience
Biomed 1560 Virology is a course focusing on current topics in pathogenic human viruses
Biomed 0180 The Biology of AIDS is a recently developed course dealing with the biomedical aspects of the AIDS epidemic. It includes an introduction to concepts of infectious diseases and discusses other viral diseases including polio, smallpox, measles and influenza