Tongobriga is the name of a Roman town in Northern Portugal. It is close to the town of Marco de Canaveses, about 54 km east of Oporto and near the confluences of the rivers Douro and Tâmega. Here the old village of Freixo can be found. Over the centuries its houses were built by using the stones of the Roman ruins.
During the Middle Ages people believed that the site was once occupied by the Arabs as one can conclude from the name "Capela dos Mooros" , a misnomer for the ruins of the Roman Bath. In 1882 an incribed granite stone from the Roman Imperial period was found near a well of the village that mentions Tongobriga. There were also Roman artifacts sold in various antique shops with the necropolis of Freixo mentioned as provenience.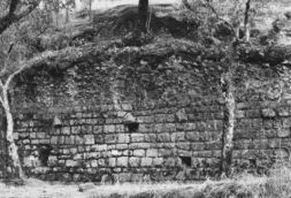 Capela dos Mooros
In 1980 Professor Lino Dias began excavating the "Capela dos Mooros" which turned out to be Roman thermae. He also brought to light the Roman forum, part of the Roman necropolis as well as residential areas near the entrance to the village. Thermae replaced the earlier Iron Age balnearium in the Forum. Under the present village church were found the ruins and mosaics of an Early Christian basilica.
In 1986 the Portuguese Parliament declared the site a National Monument as Área Arqueológica de Freixo. It extends over of thirtytwo hectares much of which awaits still excavation. Professsor Dias, the then Director of IPPAR (Instituto Português do Patrmónio Arquitectónico) for the region of Oporto, also founded in 1990 the Escola Profissional de Arqueologia that is located at the site and where Portuguese students can obtain degrees for technical jobs as they relate to field, restauration and museum work. All of this takes place under the umbrella of the Ministério da Cultura. As of November of 2006 IPPAR has become part of a new, larger branch of the Ministry, the Instituto de Gestão do Património Arquitectónico e Arqueológico (IGESPAR).
Since the population of the village had declined dramatically in modern times, houses no longer inhabited were restored by IGESPAR and serve now as work and study spaces for the archaeolgists of IGESPAR and the students of the Professional School. Modern buildings like the lecture hall, cafeteria, the museum or the archaeological storage spaces are designed to preserve the character and atmosphere of the old village. Publications can be obtained from the museum shop at the site.
In 2002 Professor Rolf Winkes chose Tongobriga as an ideal site for field work with Brown University students. A five year contract was signed by Brown University and the Ministry of Culture. A particular area, close to the forum, was set aside for excavation by the Brown team and field work began here in the summer of 2004. IGESPAR archaeologists continue with their year round excavations of other parts of the Roman town.