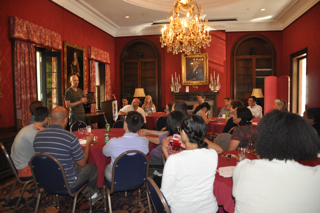 Faculty Recruitment Programs
Brown uses multiple recruitment strategies toward the goal of achieving greater diversity among its faculty. The Office of Institutional Diversity partners with every department undertaking a faculty search in order to assure that the most active and aggressive measures are taken to identify and attract diverse applicant pools and that all candidates are treated equitably and fairly in the process. As Brown is also in the process of expanding the size of its faculty, we use the availability of new positions and flexible recruitment strategies through a target of opportunity program to further enhance our diversity recruitment efforts.
Advance Program
Funded by a 5-year grant from the National Science Foundation, the ADVANCE Program at Brown University seeks to increase the retention and advancement of women faculty in science and engineering by making available those mechanisms that promote career success for all faculty scientists—mechanisms including mentoring, grant seeking support, and tools for becoming leaders in academic and scientific communities. We also strive to transform the institution by utilizing the social science literature on gender equity in resources provided to department chairs and administrators in order to ensure the retention and advancement of women and minority scientists. ADVANCE at Brown awards grants for research and professional development, sponsors seminars and public lectures, provides sponsored project support and networking resources that enhance opportunities for collaboration.
Course Development Funds
Grant support is available to help faculty develop new courses or revise existing courses in ways that promote strategic initiatives. A full list of grants is available on the Dean of the College website.
Sophomore Seminars
This curricular initiative funds new courses focused on social justice, identity, and difference. Faculty are encouraged to propose courses that bring together ideas, perspectives, and approaches that are not normally seen side by side in a give course or program. Approved courses are eligible for up to $4,000 in course development funds based on a submitted budget. Download more information about the Sophomore Seminar Program
Research
Brown's Office of the Vice President for Research provides assistance in developing diversity plans in grant proposals.
Exchange Programs
Brown has partnerships with Tougaloo College and Keio University.
More Information