Campus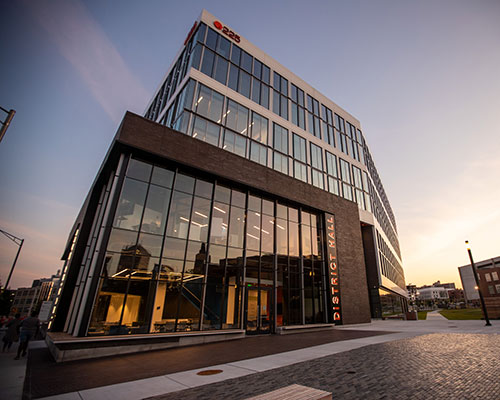 Program offices are located in the Wexford Innovation Center in Providence's Jewelry District, a hub of biomedical innovation and technology that connects Brown's main campus to the Medical School and affiliated teaching hospitals and research labs. A shuttle service provides convenient access to and from campus and affiliated clinical and research sites throughout the day.
Clinical Sites
Students in the Medical Physics Graduate Program have learning and mentorship activities with the 20 faculty in the Department of Radiation Oncology who are involved in patient care and basic and translational research. Within Radiation Oncology and Radiology, students have opportunities to hone their presentation and leadership skills in the form of a weekly journal club, chart rounds, multidisciplinary chart rounds, physics, dosimetry, and Quality Assurance rounds.
View Faculty
Core Facilities
In the clinical departments of Radiation Oncology and Radiology, a large inventory of clinical equipment for both imaging and radiation therapy is available. In addition, students will have access to physics quality assurance equipment such as solid phantoms, radiation dosimeters, survey meters, and 3D beam scanning phantoms. Magnetic resonance imaging (MRI), CT, PET, and US scanners are available to the program at the Brown University Magnetic Resonance Facility. 
As part of the Brown community, students can consult books, journals, and magazines of the Brown Library system and will have online access to most of the science, physics, medicine, and especially medical physics journals available to all registered students.