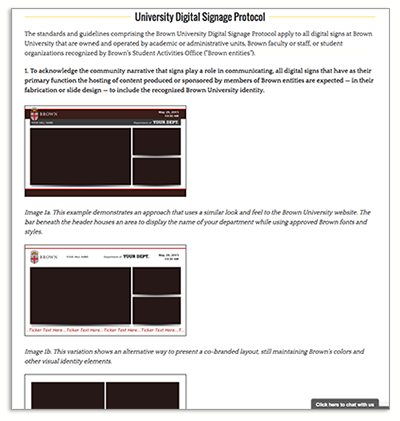 Digital signage allows academic and administrative units within the Brown University community to reach and engage audiences by showcasing various aspects of the unit's programs or offerings. The signage can reflect the life and vibrancy of a unit in a way that enhances the audience's experience with a program, and can improve communications about key information.
By virtue of their placement in locations frequented by a wide range of audiences, the signs also become a very visual and ever-changing part of what people identify as representative of Brown. The signs represent the offerings of the particular unit, but also very much become part of the narrative about the Brown community.
The Brown University Digital Signage Strategy and Protocol aims to foster expression of the strengths of the individual units administering the signage, while also ensuring that signs — in their content and presentation — acknowledge that all units within the University contribute to an overall experience of Brown for individuals who work on or visit the campus.