Events at Brown: 2008
New South African Keywords
The John Nicholas Brown Center for Public Humanities and Cultural Heritage hosted a book signing and reception Dec. 12, 2008 for New South African Keywords: A Concise Guide to Public and Political Discourse in Post-Apartheid Society, co-edited by Nick Shepherd, associate professor of African studies at the University of Cape Town and visiting associate professor of archaeology and Africana studies at Brown. New South African Keywords provides a guide to the key words and concepts that have come to shape public and political thought and debate in South Africa since 1994, as well as offering a compendium of cutting-edge thinking on the new society.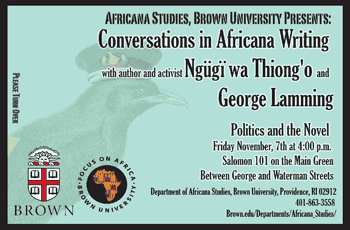 Ngügï Wa Thiong'o reading and lecture
Internationally acclaimed author and activist Ngügï Wa Thiong'o visited Brown for an historic public conversation with author George Lamming and a reading from Ngügï's latest novel Wizard of the Crow. Considered one of Africa's most accomplished and prominent novelists, the Kenyan writer is a distinguished professor of English and comparative literature and director of the International Center for Writing and Translation at University California–Irvine.
Heddy Maalem Residency
French-Algerian choreographer Heddy Maalem visited Brown for a two-day Creative Arts Council Residency in October 2008. He led a dance master class, exploring the question, "How can popular African dance be brought to the stage?" He also led a public forum, discussing his inspiration for Le Sacre du Printemps — the last in a trilogy of dances inspired by Maalem's time in Lagos, Nigeria. Le Sacre explores the fertile cacophony found in this city of 12 million, where rhythms of urban modernity collide with rhythms of tribal Africa.
Khalo Mantebane Residency
Writer and director Khalo Matabane visited Brown Nov. 7-14, 2008, to work with students and faculty. His film, "When We Were Black," screened Nov. 12, followed by a discussion. The event was co-sponsored by the Department of Africana Studies, The Watson Institute for International Studies and the Department of Modern Culture and Media.
African Music Festival
The African Music Festival, held in September 2008 celebrating Martin Kwaku Kwaakye Obeng's 20 years of teaching at Brown, featured a two-day series of workshops, performances, and lectures on music of Africa and the Diaspora.
Ellen Johnson Sirleaf
Members of the Brown and Liberian communities welcomed Ellen Johnson Sirleaf, president of the Republic of Liberia on Sept. 19, 2008. She received an honorary Doctor of Laws (LL.D.) and took part in a public conversation with President Ruth J. Simmons.