Student-Led Initiatives Off Campus
Tanzania
The Brown chapter of Engineers without Borders spearheads Project Assida, which focuses on providing increased efficiency stoves to refugee camps in Africa. In January 2008, a team of five Brown students traveled to a village near the base of Kilimanjaro to build nine stove and digester units, and to teach local Tanzanians how to construct the stoves.

Above: Graduate student Susi Krehbiel Keefe incorporates methods and theory from the emerging field of anthropological demography to address marriage and divorce in the context of the dynamic relationship between Islam, gender and culture among Muslims on the Swahili coast of Tanzania. Photo copyright Susi Keefe 2004.
Mali
Caitlin Cohen '08 MD '12 co-founded the Mali Health Organizing Project (MHOP) in 2005 with fellow Brown students Lindsay Ryan '06 and Erica Trauba '07. MHOP brings government officials and citizens together to address topics such as sanitation, malaria, diarrhea, and primary health care. At present the project serves more than 8,300 people in Mali, and involves numerous Brown students from the Division of Engineering and the PLME Senate.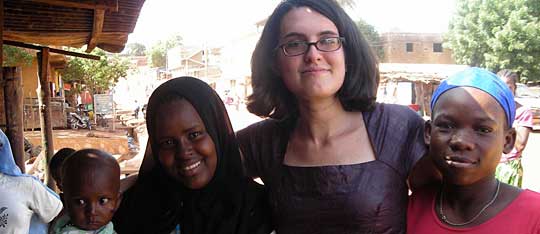 Sudan
The Darfur Action Network (DAN) is a Brown undergraduate group actively working to end the genocide in Sudan through education, fundraising, and interactions with elected officials. For nearly a year, DAN students worked with the Brown Corporation to fine-tune a coherent position on Darfur and to divest in any companies whose activities might support the Janjaweed. Recently, the group placed 40,000 small red flags over Lincoln Field at Brown, each one representing 10 deaths, to call attention to this ethnic conflict.