Partnerships and Exchanging Ideas
According to David Kennedy, Brown's Vice President for International Affairs, "To be at the cutting edge of science and thought is to be in dialogue with global peers." An important, simple component of this dialogue is exposure to international students, professors, and universities. The following facts briefly illustrate Brown's commitment to bringing people from across Africa into sustained and serious conversation about ideas:
Student demographics: In 2007-08, 36 students from African nations—seventeen undergraduates, 18 graduate students, and one medical student—attended Brown. The students hailed from Cameroon, Ethiopia, Ghana, Kenya, Lesotho, Libya, Mauritius, Nigeria, Reunion, Senegal, South Africa, Sudan, Swaziland, Tanzania, Uganda, and Zimbabwe.
International Advanced Research Institutes: In June of 2009, Brown inaugurated an annual series of International Advanced Research Institutes to convene a rising generation of scholars from emerging markets and the global South. Young faculty from African universities share their work with other scholars and meet with leading figures in their field. The Institutes make a significant contribution to global research through transnational academic collaboration, building networks and providing needed professional development opportunities.

University of Cape Town partnership: Led by Brown's Angus Kingon, professor of entrepreneurship and organizational studies, and sponsored by Goldman Sachs' 10,000 Women Initiative, the focus of the Developing Technology Entrepreneurship Capacity in Africa Program is developing faculty capacity at the University of Cape Town to teach entrepreneurship related to emerging science and technology growth enterprises in the African context. The approach relies on an experimental dimension to measure and increase impact and can be expanded to other fields and disciplines.

Trilateral Reconnections: Brown is part of an historic agreement with the University of Cape Town and the University of the West Indies called Trilateral Reconnections, which seeks to develop curricula, publications, and other research initiatives to transform the study of Africa and the African Diaspora.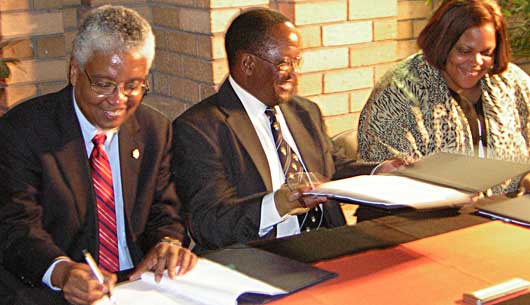 The Advancing Africa Scholarship Fund: Businessman Idan Ofer's recent gift of $5,750,000 funds this scholarship, designed to educate students from Africa at Brown, and to encourage them to work in Africa after graduation by providing them with a monthly stipend for a two-year span upon their return.