Focus on Africa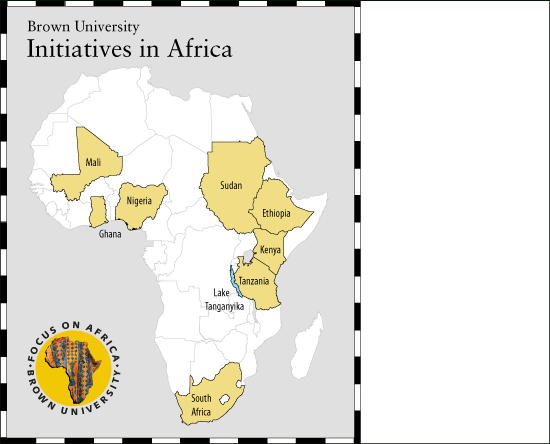 Sudan
The Darfur Action Network (DAN) is a Brown undergraduate organization actively working to end genocide in Sudan through education, fundraising, and interactions with elected officials. DAN students have worked with the Brown Corporation to fine-tune a coherent position on Darfur and to divest in any companies whose activities might support the Janjaweed armed militias. In the spring of 2008, the group placed 40,000 small red flags across Lincoln Field at Brown, each one representing 10 deaths, to call attention to this conflict.
Mali
Caitlin Cohen, a 2008 graduate and current Brown medical student, co-founded the Mali Health Organizing Project (MHOP) in 2005 with fellow Brown students Lindsay Ryan '06 and Erica Trauba '07. MHOP brings government officials and citizens together to address topics such as sanitation, malaria, diarrhea, and primary health care. The project serves more than 8,300 people in Mali and involves numerous Brown students from the Division of Engineering and the Program in Liberal Medical Education (PLME) Senate.
Ghana
Sociologist Michael White, director of Brown's Population Studies and Training Center (PSTC), is the principal investigator on a project in the ecologically sensitive coastal zone of Ghana. Together with Stephen McGarvey, director of Brown's International Health Institute, White has examined how social and demographic processes are linked to disease and environmental health risks, and how these in turn influence local thinking about environmental issues. This work has included colleagues at three institutions in Ghana: the University of Cape Coast, the University of Science and Technology, and the Navrongo Health Research Centre. Read more...
Kenya
In the summer of 2008, Brown-engineering researchers visited Kenya to evaluate potential collaboration on technology needs for amaranth and eucalyptus cultivation.
Population Studies and Training Center sociologist Nancy Luke is conducting several studies on HIV/AIDS. One project is examining the effect of social institutions on sexual behavior and labor market outcomes among male migrants. Another seeks to understand how relationship histories and couple dynamics affect sexual risk behaviors and reproductive health. Read more...
Lake Tanganyika
A Brown research team's study of Lake Tanganyika — bordered by Burundi, Democratic Republic of the Congo, Tanzania and Zambia — has yielded a new perspective on rainfall and temperature patterns in southeast Africa. The team, led by Professors James Russell and Yongsong Huang, and graduate student Jessica Tierney, all of the Department of Geologic Sciences, recently published findings that could help scientists understand how tropical Africa will respond to global warming. Read more...
Nigeria
Anthropologist Daniel Jordan Smith recently led the Nigerian component of a major NIH-supported, five-country comparative study titled "Love, Marriage and HIV," which found that sex within marriage represents women's single greatest risk factor for HIV infections. Next Smith and colleagues plan explore how antiretroviral therapy changes the life courses of HIV-positive people.
Anthropologist Marida Hollos and Mellon postdoctoral fellow Oka Obono are conducting research that seeks to advance understanding of cultural perceptions and social consequences of infertility in sub-Saharan African societies. Read more...
South Africa
Brown's Africana Studies department offers a joint graduate exchange program with the Centre for African Studies at the University of Cape Town in South Africa.
Professor Lundy Braun has engaged in collaborative studies with U.S. and South African researchers and activists on asbestos-related diseases.
Brown medical and demographic researchers are engaged in several studies involving AIDS and other health concerns in South Africa.
In October 2006, Brown co-sponsored a major conference at the University of Cape Town on African and African Diasporic Knowledge, which generated a number of collaborative projects. Read more...
Tanzania
The Brown chapter of Engineers without Borders spearheads Project Assida, which focuses on providing increased efficiency stoves to refugee camps. In January 2008, five Brown students traveled to a village near the base of Kilimanjaro to build nine stove and digester units and to teach local Tanzanians how to construct the stoves.
In the Population Studies and Training Center, sociologist Craig Hadley is studying the causes and consequences of dramatic differences in the nutritional status of children from two ethnic groups in rural Tanzania.
Ethiopia
Population Studies and Training Center researchers David Lindstrom, Dennis Hogan, Craig Hadley, and Stephen McGarvey are collaborating on projects aimed at improving the sexual education and health of young people in regards to social behaviors that affect fertility and increase the risk of contracting AIDS. Read more...