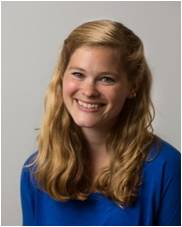 Rebecca, a Brown Undergraduate who studied Biology and Visual Art, decided to do a 5th Year ScM in the Biotechnology Program. During her 5th Year, Rebecca had the chance to customize her curriculum to fit her interests and did a Master's thesis on bat echolocation. Rebecca also participated in a co-op experience at C.R. Bard, in which she got exposure to the Biotechnology Industry.
What made you decide to stay at Brown for the 5th Year Master's?
Rebecca: I learned the foundations as an undergraduate at Brown, and when I discovered I had the chance to continue at the school I loved and gain a Master's Degree in the process, I decided to take it. I enjoyed the same course flexibility during my Master's studies as I did during my undergraduate studies, which allowed me to curate my academic experience to explore the intersections between the scientific thinking of biology and the creative thinking of the arts.
What was your research in at Brown?
Rebecca: I worked in Dr. James Simmons' Bat Lab in the Neuroscience department for my research. The Simmons Lab studies bat behavior, and my research specifically focused on bat echolocation.
What did you get from your Master's Degree at Brown?
Rebecca: My Master's Degree from Brown gave me the chance to continue studying at my alma mater with a more focused academic lens. It gave me the opportunity to participate in a co-op where I learned about the biotechnology industry through first-hand work experience, and where I gained insight into my career path goals. And it gave me friendships with smart, interesting people who share my interests.
Where are you now and how did Brown help you get there?
Rebecca: Once my Master's co-op experience at C.R. Bard, Inc (Davol) finished, I moved to Boston. I now work at Novarica, a research and consulting company for insurance technology. While it is a deviation from biotechnology, Novarica was founded by a Brown graduate, and my time at the company has helped me to gain perspective, as well as work with really smart, driven people. Additionally, I gained some contact with the world of marketing through my co-op program at Davol, which was eye-opening. In the future, I hope to do marketing for a biological company, by combining the scientific knowledge that I gained from my studies at Brown with the creativity and skills I have learned through my other working experiences.
What did you like about Brown?
Rebecca: Brown is a great environment for someone with diverse interests like me. I had the freedom and flexibility to create a personalized course of study with engaging professors and thought-provoking subjects that catered to my passions. I don't think that I would have been able to get the education that I wanted, and that I got at Brown, at another school. The community at Brown is also so inclusive and welcoming, with people (students and professors alike) who are eager to learn and share their thoughts.
Given the outcome of your degree would you make the same decision to stay at Brown?
Rebecca: I absolutely would decide to stay at Brown.