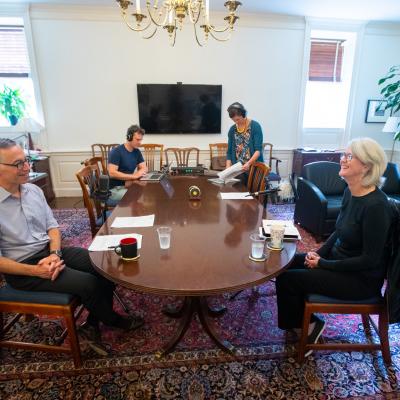 Biography
Diane joined the faculty at Brown in 1990, following a BSc and PhD in Pharmacology at University College London, and a postdoctoral fellow at Yale University and Stanford University Schools of Medicine. Diane is an expert in a class of proteins – Calcium Ion Channels – that regulate most of the essential function of cells in muscle, brain, and secretory glands. Abnormal functioning of these proteins underlie several neurological and psychiatric diseases and they are important targets of drugs that lower blood pressure and that alleviate intractable, chronic pain. Her research is supported by grants from the NIH, NSF, ALS Finding a Cure Foundation, and Keck Foundation.
Diane is President of the Society for Neuroscience, fellow of the American Association for the Advancement of Science (2012) and AAAS member-at-large for Neuroscience (2014), and is a member of the Board of Scientific counselors for the National Institute of Neurological Diseases and Stroke at NIH (2018-2021).
Diane received the Harriet W Sheridan Award for Distinguished Contribution to Teaching and Learning at Brown (2009) and the Graduate School Faculty Award for Advising and Mentoring (2010). She directed the Neuroscience Graduate Program (2006-2011) and is Principal Investigator of NIH Pre-doctoral Training Programs in Neuroscience.
Diane Lipscombe runs the Carney Institute for Brain Science at Brown - a hub of researchers focused on developing scientific breakthroughs in conditions such as epilepsy, autism, and depression.
In this episode, Diane talks about the want ad that transformed her life trajectory, how research about the heart informed her study of the brain, and what motivates her more than 30 years after her first job as a research assistant.
Listen to the podcast 
Subscribe to Faculty in Focus on Spotify, Stitcher, Google Play or Apple Podcasts.