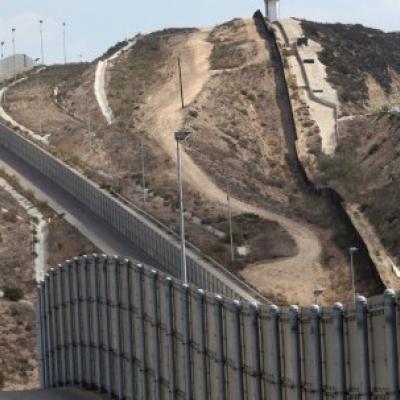 Wednesday, February 22, 2017
4:00 pm
Joukowsky Forum, Watson Institute, 111 Thayer Street
Biography
Moderated by Robert Self, 
Mary Ann Lippitt Professor of American History and Chair, Department of History, Brown University and
Monica Martinez,
Assistant Professor of American Studies and Ethnic Studies, Brown University
Panelists:
Mae Ngai, Professor of History and Lung Family Professor of Asian American Studies at Columbia University, is a political and legal historian who is interested in questions of immigration, citizenship, and nationalism. She is author of Impossible Subjects: Illegal Aliens and the Making of Modern America (Princeton, 2004), which won six major awards including the Frederick Jackson Turner prize from the Organization of American Historians, the Littleton Griswold Prize from the American Historical Association, the Theodore Salutos book prize from the Immigration and Ethnic History Society; and The Lucky Ones: One Family and the Extraordinary Invention of Chinese America (Houghton Mifflin Harcourt, Sept. 2010), which has been published in Chinese translation in both China and Taiwan. She has received fellowships from the Social Science Research Council, NYU Law School, Radcliffe Institute for Advanced Study, John Simon Guggenheim Memorial Foundation, Institute for Advanced Study, the NY Public Library, among others. She is now working The Chinese Question (under contract with W.W. Norton), a comparative study of Chinese gold miners in the nineteenth-century North American West, Australia, and South Africa, and the rise of the "Chinese Question" in global politics. Professor Ngai has written about immigration history and policy for the New York Times, the Los Angeles Times, Washington Post, the Nation and Dissent. 
María Cristina García is the Howard A. Newman Professor of American Studies in the Department of History at Cornell University, where she teaches courses on immigration and refugee history. She is the author of Havana USA: Cuban Exiles and Cuban Americans in South Florida and Seeking Refuge: Central American Migration to Mexico, the United States, and Canada, both published by the University of California Press; and the forthcoming The Refugee Challenge in Post-Cold War America (Oxford University Press, 2017). She is currently completing a book on the environmental origins of refugee migrations. García is a 2016 Andrew Carnegie Fellow. She is also the President of the Immigration and Ethnic History Society. 
Adam Goodman is an Assistant Professor of History and Latin American and Latino Studies at the University of Illinois at Chicago. His research and teaching interests include recent U.S. and Mexican history, migration history and policy, and Latino history. Goodman has published articles, essays, and reviews in academic venues like the Journal of American Ethnic History, and popular outlets such as The Nation and The Washington Post. His work has been supported by the National Endowment for the Humanities, Fulbright Program, Miller Center, and Immigration and Ethnic History Society, among others. Goodman's current book project, tentatively titled The Deportation Machine, explores the history of deportation from the United States and the different ways that the federal government has forced, coerced, and encouraged people to leave the country over the last 125 years.