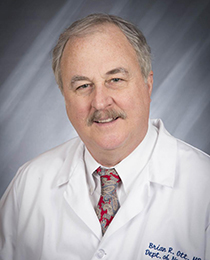 The Alzheimer's Disease and Memory Disorders Center was established in 1989 to provide specialized consultation for people with a variety of memory disorders. Since then it has become a regional referral center for southeastern New England, serving patients from Connecticut and Massachusetts, as well as Rhode Island.
The Center relocated from Memorial Hospital to Rhode Island Hospital in 2005 to combine its high quality neurological services with the exceptional neuropsychologic and psychiatric services of Rhode Island Hospital, thus creating a comprehensive diagnostic and treatment center for patients with memory disorders.
There are many different kinds of chronic memory disorders. The most common chronic memory disorder is Alzheimer's disease, which affects over 5 million people in the United States. Alzheimer's disease is a progressive disorder of the brain that slowly destroys a person's memory and ability to learn, reason, communicate and perform daily activities.
Another common memory disorder, vascular dementia occurs when blood flow to the nerve cells in the brain is reduced. Because there are more than 70 different causes of dementia, a comprehensive diagnostic evaluation is an important first step when dealing with symptoms of memory loss.
Some people with memory difficulties are actually suffering from depression, rather than a progressive brain disorder. Although they may have symptoms similar to early Alzheimer's disease, they respond to treatment once a correct diagnosis is made.
In Rhode Island, with its large elderly population, Alzheimer's Disease is particularly common, affecting an estimated 20,000 men and women. As a result, many of the Center's services are tailored to this particular problem.
There is currently no cure for Alzheimer's disease and other degenerative memory disorders, but new treatments are available to help alleviate patients' symptoms and slow their progression. Aggressive research studies are ongoing and are continually shedding new light on these illnesses in the hope that someday soon an effective means of preventing or significantly delaying disease onset will be achieved.
Related Links
Faculty