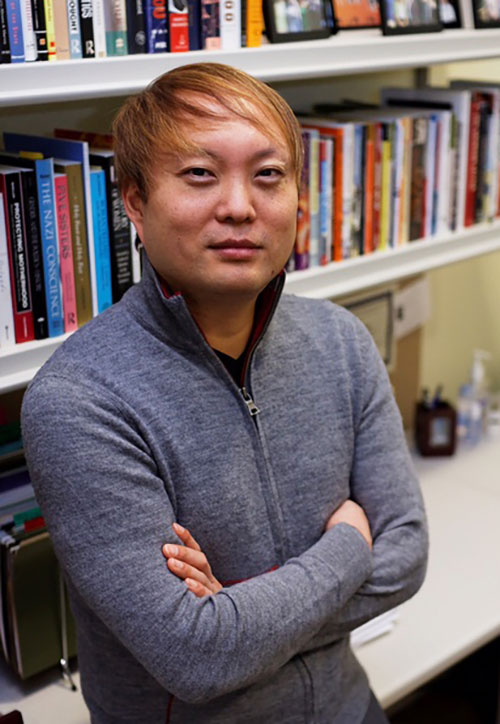 PROVIDENCE, R.I. [Brown University] — Eric S. Estes, currently vice president and dean of students at Oberlin College and Conservatory, has been appointed vice president for campus life and student services at Brown University. Estes, also assistant professor of comparative American studies at Oberlin, will begin his work at Brown on July 1, 2016.
"Eric Estes has broad experience and a long record of productive leadership on issues of urgent concern to colleges and their students," said Brown President Christina Paxson, to whom Estes will report. "Throughout his career, he has worked to support a richly diverse and inclusive community. His experience as a faculty member has helped him connect the academic and co-curricular elements of campus life. I look forward to the vision he will bring to supporting students at Brown and the breadth of their experiences outside the classroom."
The vice president for campus life and student services has direct oversight of more than a dozen offices and centers that are responsible for the campus experience beyond academics. These include Athletics and Physical Education, Brown Center for Students of Color, Robert Campus Center and Student Activities Office, Chaplains and Religious Life, Counseling and Psychological Services, First-Generation College Student Initiative, Health Services, International Student and Visitor Experience, LGBTQ Resource Center, Student Life, Student Veterans and Commissioning Programs, Residential Life, Sarah Doyle Women's Center, and Student and Employee Accessibility Services.
As chief student life officer, Estes will advise the president on student life issues, serve as a member of the President's Cabinet and Executive Committee, and act as the administration's liaison to the Corporation Committee on Campus Life. He will oversee a staff of 250 and a combined operating budget of about $67 million.
"At Oberlin, Eric has shown outstanding leadership in areas that are relevant for his portfolio of responsibilities at Brown," said Nancy Barnett, research professor of behavioral and social sciences, who chaired the 10-member search committee of faculty, staff, and undergraduate, graduate and medical students. "The committee was impressed with the depth of his engagement on a variety of student life issues, including his programmatic work on multicultural issues, his advocacy for LGBTQ concerns, his experience supporting student mental and behavioral health needs, and his demonstrated ability to facilitate difficult conversations."
The University's operational plan for achieving its strategic goals anticipates a new strategic plan for the Division of Campus Life and Student Services. That plan, to be developed by Estes and other senior leaders at Brown, will address a range of campus life priorities, including the physical and mental health of students, protection from sexual assault, and meeting the needs of international students, veterans, first-generation and economically disadvantaged students, members of the community who have physical, psychological, or learning disabilities, and various other groups.
"Eric Estes stood out for his enthusiasm to connect with students both formally and informally, to listen and understand their needs, and to devote his energy to their support. He was unapologetic about giving advocacy for student needs a high priority," said Sana Teramoto, an undergraduate member of the search committee. "I also appreciated his knowledge and experience with issues of social identities and systems of oppression and his demonstrated passion to empower historically marginalized students. He will make a positive difference in the lives of Brown students."
President Paxson thanked the committee for its work and acknowledged the interim leadership being provided to the campus life area by Russell Carey, executive vice president for planning and policy, and two interim assistant vice presidents for campus life and student services: MaryLou McMillan, senior director for planning and student engagement, and Mary Grace Almandrez, assistant dean and director of the Brown Center for Students of Color.
Eric Estes
Estes is a 1991 graduate of Trinity College (B.A., history), with graduate degrees from Syracuse University (M.A., history, 1993; C.A.S., women's studies, 1999; Ph.D., history, 2001). As a graduate student, he developed workshops and training programs for TA's and faculty on issues of teaching and diversity and was co-chair of the LGBTQ graduate student organization helping to advocate for space and resources needs.
He was a Fulbright scholar during the 1995-96 academic year, studying at Martin Luther University in Halle-Wittenburg, Germany.
Estes began his academic career at Duke University in 2000, where he served as a Mellon lecturing fellow, offering courses in 20th-century history, Holocaust, women and war, politics of sexuality, and sport and society. His interest in administrative service continued. He chaired the President's University Task Force on LGBT Matters and served on the President's Commission on the Status of Women.
In 2004, Estes moved to Oberlin as associate dean of students and director of the Multicultural Resource Center. He continued to teach comparative American studies and history and served as a faculty affiliate in gender, sexuality and feminist studies. He completed training and earned professional certification in affirmative action (2008) and in social justice mediation (2007). He was named dean of students in 2011, with the title of vice president added in 2012.
Estes is chair-elect of the Consortium on High Achievement and Success, the oldest and largest consortium devoted to the academic success of students of color at institutions dedicated to liberal arts education. He has been Oberlin's representative to the consortium since 2009 and has served as a member of its Steering Board since 2011.
"Students are the biggest asset for any university, and a strong community commitment to diversity and inclusion is crucial," Estes said of his work on multicultural issues. "This is a tremendous national moment for higher education. So much is underway in that respect at Brown — the strategic plan, the capital campaign, the plan for diversity and inclusion. I am excited to join this work."
Estes once thought he would have an academic career, but is pleased by the path he has pursued in higher education: "What excites me is the opportunity to connect the co-curricular and the curricular experiences of students," he said. "That's what attracted me to Oberlin and attracts me to Brown."