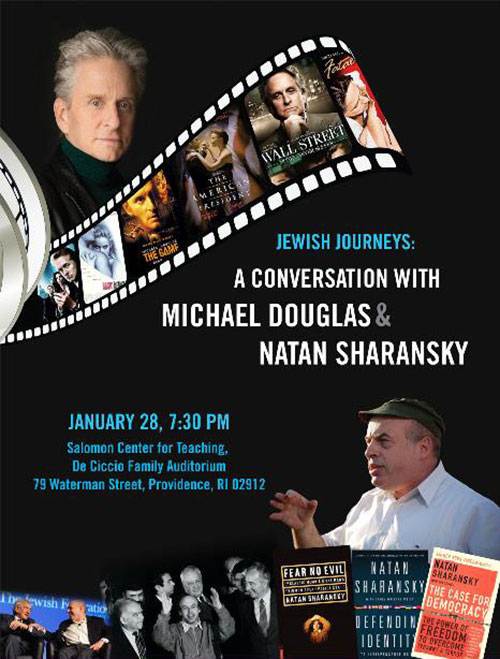 PROVIDENCE, R.I. [Brown University] — Brown University will be the first stop on a three-university tour of "Jewish Journeys," a public discussion between film star Michael Douglas and Jewish leader Natan Sharansky. At the Salomon Center for Teaching at 7:30 p.m. on Jan. 28, 2016, the two men will speak of their perspectives on Judaism, Israel, and current-day anti-Semitism.
Tickets are available to the public, though students have priority. Registration is required. No backpacks or bags will be allowed in the De Ciccio Family Auditorium. Doors open at 7 p.m.
Douglas, star of such films as Wall Street, Fatal Attraction, and The Game, is also a United Nations Messenger of Peace. Douglas' father, Kirk Douglas, is Jewish. In 2015, Michael Douglas won the Genesis Prize, which "recognize[s] individuals who have attained excellence and international renown in their chosen professional fields, and who inspire others through their engagement and dedication to the Jewish community and the State of Israel."
Sharansky is a former Soviet dissident, human rights activist and political prisoner who emigrated to Israel after his release in 1986. He served in government ministries from 1996 to 2005 and now leads the Jewish Agency for Israel, which sustains links between Israel and Jewish communities around the world. In the United States, Sharansky has won both the Congressional Medal of Honor and the Presidential Medal of Freedom.
The event at Brown is co-sponsored by the Genesis Prize Foundation, Hillel International, and The Jewish Agency for Israel. After Brown, the pair will speak at Stanford University on Feb. 2, and the University of California–Santa Barbara on Feb. 3.
Members of the public may contact [email protected] for more information. Space will be available for journalists, who should contact Samantha Kupferman, West End Strategy Team, ([email protected]).