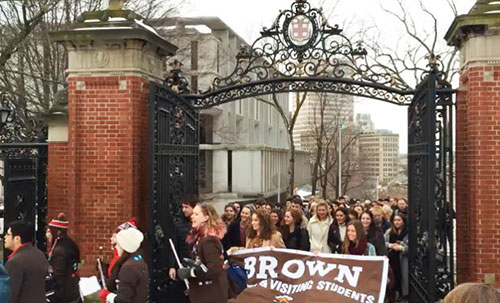 PROVIDENCE, R.I. [Brown University] — Bells rang Tuesday morning, Jan. 26, 2016, as 110 transfer and visiting students walked through the Van Wickle Gates to begin their work at Brown.
The 2016 midyear procession, led by the Brown Band, passed through the College Green and made a final stop at the steps of the Faculty Club, where students gathered for brunch and to learn from faculty and staff about the resources and opportunities available to them at Brown.
"The midyear transfer students are a mix of entering juniors and sophomores, interested in at least 45 concentration areas. They join our community with their many talents and interests," said Maitrayee Bhattacharyya, associate dean for diversity programs.
Primarily joining the Classes of 2019 and 2018, the new cohort of transfer students come from many institutions including American University, Cornell University, Georgetown University, the University of Pennsylvania, the Rhode Island School of Design, and many others.
Of the seven visiting students, two come from international locations and five from Tougaloo College with which Brown has a unique historical partnership of more than 50 years.
The new students have been on College Hill taking part in midyear orientation since Sunday.