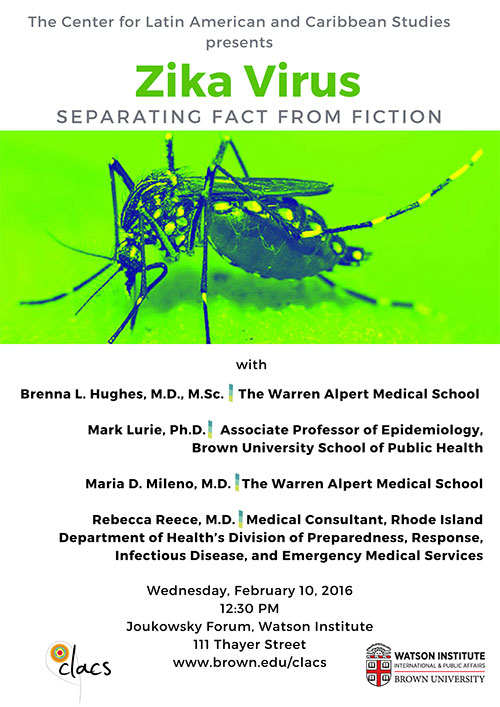 PROVIDENCE, R.I. [Brown University] — Though it has been known since 1947 when it was identified in Uganda, in recent months the mosquito-borne Zika virus has emerged as serious crisis from Mexico to Brazil.
The virus makes people sick, often only mildly, for up to a week with symptoms such as fever, skin rashes, conjunctivitis, muscle and joint pain, and headache, according to the World Health Organization. The greatest concern, however, has been a suspected link between infection while pregnant and the birth defect microcephaly, in which babies are born with significantly smaller heads, which can affect the brain. Some people are also worried about a coincident uptick in cases of Guillain-Barré syndrome, which involves nerve damage.
To help people understand the latest accurate information about what he WHO has declared a Public Health Emergency, the Center for Latin American and Caribbean Studies and the Watson Institute for International and Public Affairs will convene the panel "Zika Virus: Separating Fact from Fiction," featuring four medical and global health experts.
The event is open to the public and will be webcast.
Who
Dr. Brenna L. Hughes, associate professor of obstetrics and gynecology, Alpert Medical School
Mark Lurie, associate professor, epidemiology, Brown University School of Public Health
Dr. Maria Mileno, associate professor of medicine, Alpert Medical School
Dr. Rebecca Reece, medical consultant, Rhode Island Department of Health Division of Preparedness, Response, Infectious Disease, and Emergency Medical Services; clinical assistant professor of medicine, Alpert Medical School.
What
A panel discussion to clarify what's known vs. what's just feared about Zika. Topics will include disease epidemiology and policy responses.
When
Weds. Feb. 10, 2016 at 12:30 p.m.
Where
Joukowsky Forum, Watson Institute, 111 Thayer St., Providence, RI.
The panel will also be webcast.