PROVIDENCE, R.I. [Brown University] — With a dedication to military service and a curiosity about the wonders of the brain, Sebastian Zuleta, a high school senior from Central Falls, R.I., was a natural to study post-traumatic stress disorder. All he needed was the opportunity to make that discovery and the inspiration and guidance to act on it. He found both at the Pipeline program run by the Pathways Mentorship Group of Alpert Medical School students.
So there Zuleta stood in the school's second floor Academy at the capstone event of the program. Along with dozens of peers from five Rhode Island high schools, he proudly gave his presentation on the tragedy that he found befalls one in five Iraq and Afghanistan veterans. Medical professors and students, teachers, and family members milled about to visit the teens' PowerPoints and posters developed throughout the fall with mentors not only from the medical school.
"I've always been interested in the medical field so I really wanted to do that program so I could get more insight and more knowledge about the different pieces that there are, and what things I'm really passionate about," Zuleta said.
It worked. Zuleta said he and three friends from Central Falls all left the program more inspired to consider health care careers. It has inspired him to want to go to college. After Central Falls High School Zuleta enrolled in the U.S. Naval Academy Preparatory School in Newport. Once he graduates from there, he'd like to study biology and neuroscience and medicine in college and then return to the military to serve with his hard-earned expertise.
Zuleta's experience last year is just one of many examples of why Pathways and Pipeline exist. This past fall, and at a capstone ceremony Jan. 16, another 50 local high school participants followed in his footsteps in the program, this time including mentors not only from the medical school, but also from the University of Rhode Island School of Pharmacy and the physician's assistant program at Bryant University.
Helping others to thrive is in the future job description of every medical, pharmacy and PA student. In that spirit, dozens of them from around the state have come together to help teens from some of the state's most disadvantaged schools discover their own paths and potential.
"We're trying to reach out to students who wouldn't otherwise have mentoring opportunities," said Zuleta's mentor Ben Drapcho, a second-year medical student who is one of the group's board members. 'We're trying to open the doors to all achievers. Some of them are high-achieving students for whom this is extra exposure and they really benefit from the program, but we also try to take in students who otherwise might not be so motivated to go to school at all."
Mentors in health (and life)
Students and mentors in Pipeline meet for a curriculum of four monthly three-hour sessions during fall weekends followed by the final project presentations in January. Each session includes a lesson and demonstration where physician-professors and students teach anatomy, surgical and emergency cases and procedures such as intubation.
Then the teens meet 1 on 1 with their mentors. They discuss not only the lesson of the day and their final project, but also anything else they might want advice about, be it high school or life at home.
It's open ended by design. The program's structure and unique approach is to mentor health care careers, but it's purposely not confined to that. With a focus on schools with many at-risk kids, Pathways mentors are eager to help a high schooler stay in school, much less become a scientist, surgeon or pharmacist.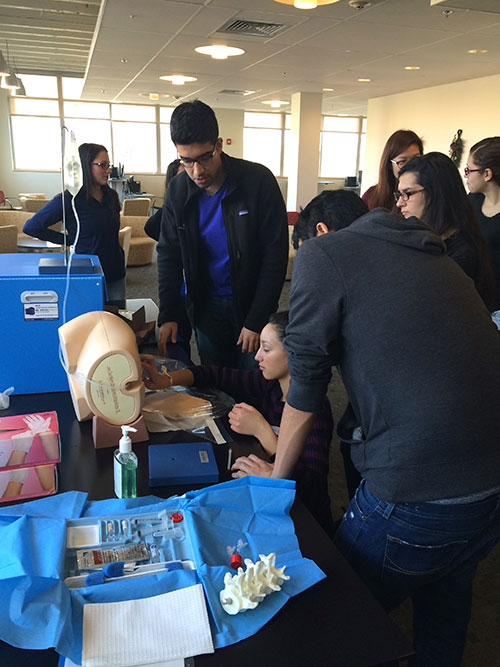 "We're talking about science and we're talking about medicine but really our goal is providing mentorship that works with social and professional development," said Pathways co-founder Anjali Chandra, a fourth-year medical student. "Regardless of whether high schoolers end up going into medicine or an affiliated field they will have those skills and that relationship with a mentor to guide them through."
Chandra recalls a student in the program from a couple of years ago, for instance, who was already a mother. School wasn't going well for her.
"Her schedule was kind of all over the place with getting babysitting coverage for her daughter," she said. The student only showed up for three of the five sessions.
But one of them was when she presented her final project. Her family were there with her, Chandra said. Afterward she went on to technical school.
A growing group
Before coming to medical school, Chandra served with Teach for America in New York where she worked with teens who were in foster care, special education, or transitioning back to the community after incarceration. She wanted to keep providing that service in Providence and she quickly met other medical students who did their own mentoring before medical school, too. Some knew about Pipeline programs at other universities.
"This was the second year the school was in the Jewelry District, and we felt like it was an opportunity to connect to our community," Chandra said. "We felt that mentorship was a really important component of helping adolescents and providing support and guidance."
So in the fall of 2012 they developed a pilot program that launched in Spring 2013 with 25 students from Davies Career and Technical High School in Lincoln and Woonsocket High School.
Since then it has expanded to also include Central Falls High School, E-Cubed Academy and Juanita Sanchez Educational Complex in Providence. This past year's class enrolled more than 50 mentors and mentees. This was the first year with mentors from URI and Bryant.
Inspiration and conversation
The curriculum half of Pipeline is meant to educate, engage and inspire. For Zuleta, that happened the very first day when they examined cadavers.
"We went to the anatomy lab and we saw a corpse -- we saw arms, legs, brains, hearts and different organs of the body," Zuleta said. "It was just amazing to see. I held the brain. It was fascinating how something so small that you can put in your hands really controls how we work and what we do everyday."
It's in the one-on-one sessions, where students experience the mentoring, Chandra said. Some of it is addressing personal concerns, but some of it touches on professional development skills, such as writing emails. A key aspect of the coaching, she said, applicable to any aspect of professional life, is setting a goal and making a structured plan to accomplish it.
One goal baked into the Pipeline curriculum is the final project.
Medical student Matthew Pouw, who also serves on board, said the mentees often pick topics that have affected them and their family. For that reason, one student tackled macular degeneration, he said. One studied hypothyroidism, Drapcho added, because she has that condition.
"I remember there was another student who did a project on Sudden Infant Death Syndrome because unfortunately in her family that had occurred in the last year or so," Pouw said.
Sometimes, though, topics arise from the relationship. Pouw's mentee last year, who attends Davies, tackled HIV simply because his research on the disease intrigued her.
Looking to the future
The lasting relationships of the program are evident.
"Even now, my class is going through its final year of medical school and I still get forwarded emails from mentors emailing their mentees who are in college or technical school," Chandra said.
Zuleta said he and Drapcho remain in touch a year later.
"Ben was an amazing help," Zuleta said. "Apart from being a mentor in the program, he's also been a good friend. We still text often and we talk."
Program leaders like Drapcho, Pouw and Chandra say they want to do more to systematically measure results and to apply lessons learned from previous years.
That will fall to the program's next generation. With last month's event over, it's now time to pick a new board. Pouw and Drapcho will make way for a next generation like Chandra did before them. The new mentors will, in turn, help a new group of Rhode Island high schoolers find their own futures.