PROVIDENCE, R.I. [Brown University] — While the newspaper industry goes through a series of transformations to keep up with technology and reader interest, a new virtual reality project led by the New York Times could be just what the industry is looking for.
On a snowy Monday night, Sydney Levin and Michael Villaseñor of the New York Times spoke to a crowd in Martinos Auditorium about the paper's new VR venture that they hope will spearhead a new age of media consumption. The speakers discussed the paper's history of embracing technological innovations, challenging the current business models, and why the 150-year paper decided to embrace virtual reality.
With the help of Google and GE, the Times launched a virtual reality app last November. Home delivery subscribers received cardboard headsets in their mailboxes with instructions on how to watch virtual reality content with their smartphones. The first set of videos came in a docu-series format, which the Times hopes will usher in a new form of storytelling. A few of the pieces the Times has created for virtual reality include the somber documentary "The Displaced," which depicts the plight of refugee children around the world, and "Take Flight," in which viewers are gently lifted to the clouds from city streets.
But, perhaps, the biggest takeaway from the night was Levin's reassurance that the Times is committed to authentic storytelling despite a business model that could arguably cross the line between journalism and marketing.
The Times is coming up with content for VR in part by advertising corporate brands. One such example is "Backwater," a film that is more like a movie about a deal gone wrong, which includes paid content from the car brand Mini.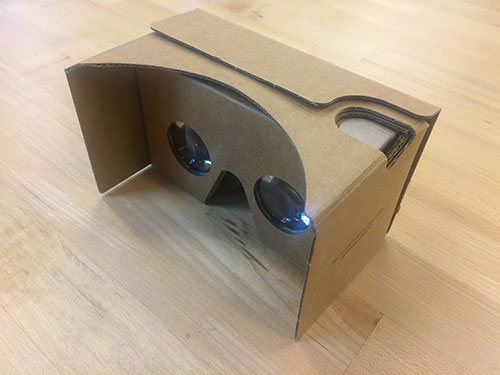 "I think it's really easy for us to see VR as a cottage industry. And everyday we are trying to sell it," said Levin, an executive producer at the Times' T Brand Studio, an arm of the paper that deals exclusively with native advertising. Native advertising—the inclusion of advertising content alongside editorial content—is a controversial practice, but Levin assured the audience of a "separation of the church and the state," in reference to the relationship between newspapers and advertisers.
The Times makes these corporate connections clear to viewers. And for companies looking to plaster sales pitches in readers' faces, they'll be sorely disappointed to learn that not all advertising space is sold to the highest bidder. True to the Times' roots, content in the new medium must always provide a memorable experience, Levin said.
"Authenticity is a word I use a hundred times a day. If the video at its heart is not authentic or if it doesn't feel real, we'll lose not only the trust of the viewer, in that moment, but all those shares they could represent" on social media, she explained. And the criteria for working with the studio to create content is not a walk through the park because they routinely have to turn down ideas that are not good fits for virtual reality.
Villaseñor, creative director for innovation at the Times, said he's pleased with the rollout of the new venture so far.
In trying to keep everything under wraps before the big reveal, he said people on the project were concerned because the announcement was leaked.
"We waited and the reactions were huge," he said. "At the moment, it was a testament to what we were able to do," adding, the Times essentially created a new form of journalism that hadn't existed. Of the widespread attention, he noted reports of cardboard headsets going missing and appearing on Ebay.
"They're not worth anything guys, you can pick them up for $10," Villaseñor said to light laughter in the auditorium.
About virtual reality
Since the announcement of the Oculus Rift in 2012, more companies like tech giant Sony are clamoring to incorporate VR into their own products. But price tags for their models can balloon upwards of $100 and usually feature premium materials, which is why the Times' headgear is alluring for mass audiences.
With all the hype surrounding virtual reality, consumers may be at a loss to define what VR is, Levin said. Before taking questions from the audience, she said NYT VR is not technically virtual reality because that's more like a videogame where people can freely move around. What the studio provides is a passive, yet, immersive experience that attempts to pull on viewers' feelings, she says. Levin described the Times' virtual reality to the 360-degree view available for photos, but in video format instead, which is very different from 3-D films seen in theaters.
"VR typically provides a view that changes based on the viewer's location," said David Laidlaw, a computer scientist at Brown who works with VR. "The view in a movie is static stereo, so it's distorted for some viewers."
Following a discussion moderated by Theodore Bogosian, a visiting assistant professor of the practice in Brown's Cogut Center for Humanities, audience members headed to the door to test out various virtual reality videos that were on display just outside the auditorium.
Undergraduate Mark Benz described the experience like being displaced. "You almost need to catch yourself, it feels like things are moving," he said. Benz was watching "Take Flight."
Randy Moy, a resident of Providence, immediately understood what Levin meant by a passive experience after seeing one of the videos. "There are guard rails. You can look up and down, but you can't go in between buildings," Moy said. He said he's hopeful that the Times' project will get virtual reality into the hands of more people.
Laidlaw agrees that the Times' venture could be a good start to getting virtual reality in homes, but acknowledged shortcomings in the immersive experience.
"You can't walk through the world of their movies, at least yet," Laidlaw said.
Virtual reality at Brown
That's a stark difference from what is offered at Brown's YURT Ultimate Reality Theater, which received a nod from Villaseñor.
The YURT, which Laidlaw worked to develop, opened last semester. Brown faculty and students are using it for research in medical science, planetary exploration and creative arts projects. Unlike the consumer versions of virtual reality, the YURT gives a more immersive experience because viewers are given visual displays on all sides, including underfoot and overhead.
"The YURT does not block your eyes, so you can see your hands, your feet, and your colleagues. It is also higher resolution, at least currently," Laidlaw said. Its main drawback is that only offers a single viewer the correct visuals without distortions, but, nonetheless it has proved to be an invaluable tool for researchers looking to explore hard-to-see worlds.
"Today has been inspiring," Villaseñor said of Brown's students and the virtual reality theater. The experiences on campus and intellectual exchanges are of the sort that he and Levin "will take back to the New York Times," Villaseñor said.