PROVIDENCE, R.I. [Brown University] — Feb. 29 was the day after an Academy Awards ceremony widely protested with the hashtag #OscarsSoWhite, yet actress Viola Davis, who often speaks about the lack of opportunity for minorities in entertainment, scarcely mentioned Hollywood in an hourlong talk that packed the Salomon Center's De Ciccio Family Auditorium. Instead, on a day that also marked the end of Black History Month, she shared her stark, wrenching personal history with the virtually all-student audience in hopes of inspiring them "to inject something in the world that's bigger than yourself."
In nearby Central Falls, R.I., Davis grew up in "abject poverty" in condemned, rat-infested buildings with little or no plumbing, no phones, and an alcoholic father who often violently abused her mother, she said. Neither parent had a high school education and when Davis went to school in the community, which at the time had very few black families, she faced a hostile mob of boys who'd chase after her calling out death threats that ended with "ugly, black n****r." Until one day she fought back with a crochet needle.
"That was my day-to-day," she said. "I was a bed wetter. I went to school with bad hygiene. I went to school with shoes that were always two sizes too small for me."
Ambition to escape
But as she grew up, Davis said, she began to realize that this didn't have to be all there was. Her older sister Diane encouraged her to find an ambition, and when she saw the Cicely Tyson miniseries "The Autobiography of Miss Jane Pittman" on TV, she was engrossed.
"It was like falling in love. It was like praying," she said. "I didn't hear the rats."
She became driven to succeed as an actor.
"It's the passion that catapults you out," she said. "It's the dreaming so big that you can't even think about your circumstances anymore."
She began to seek opportunities to write and perform and earned a scholarship to the Young People's School for the Performing Arts in West Warwick. From there, all it took to attend, at age 14, was hours of bus rides and miles of walking.
Ultimately she did succeed, studying theater at Rhode Island College and then attending Juilliard and launching into professional theater career.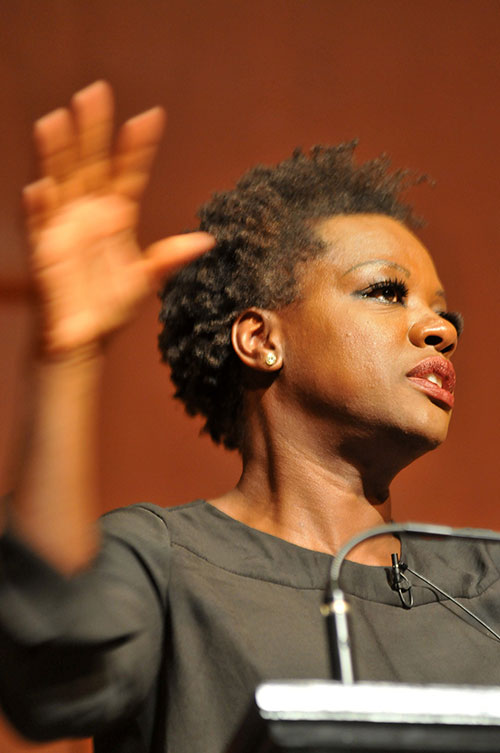 Now Davis is known as one of the nation's most influential actresses. Twice nominated for Academy Awards and Golden Globes for her roles in "The Help" and "Doubt," she won Screen Actors Guild and Critics' Choice awards for the former. She has also won two Tonys for her performances in "King Hedley II" and "Fences." Last year she became the first African American actress to win an Emmy as a lead actress in a TV drama. She plays criminal law professor Annalise Keating on the ABC show, "How to Get Away with Murder."
In 2012, Brown awarded Davis an honorary doctorate with a citation concluding, "For your inspired brilliance and beauty, your deep passion and compassion, and your commitment to speaking truth and demanding social justice we honor you with the degree of Doctor of Fine Arts, honoris causa."
At the invitation of the Brown Lecture Board, Davis told the students Monday night that growing up "on the other side of the tracks, as they say, I only looked at Brown as some place that I could just aspire to."
Heroes give back
Davis prefaced the recounting of her difficult childhood in a narrative of heroism as defined by scholar Joseph Campbell. The key elements are overcoming adversity with the help of mentors (first her sister Diane and later a therapist), finding the courage to strive for adventure, and ultimately overcoming the challenges ahead to find the treasure. The heroes then take that "elixir" back to share with "their tribe."
That responsibility to giving back to one's community was a major theme of Davis' talk and much of the inspiration she sought to share.
When she started to make it big in Hollywood, she and her husband founded a production company, JuVee Productions, to produce stories and back projects that provide performing arts opportunities for people of color.
"I've had to walk into these rooms filled with white men who are in positions of power and speak for women of color," she said. "I think the biggest treasure that I've found was that I found a purpose.
"There's something about the pain and the adversity and everything that I've gone through, and then navigating the way through it, that have made me the greatest instrument, the greatest voice for women of color," she said. "Because I know the road. I have become the mentor, per se."
Davis challenged the audience members to ask themselves, "What is it that you could leave on this Earth that could live far past you?"
Students interact
When it came time for the audience to ask questions of Davis, she fielded several queries about her experience as a black woman in entertainment, particularly in her role as Keating.
One student asked how she reconciles "with the everyday kind of rage, pain" and emotions of facing barriers.
"There's a lot of barriers," Davis said. "How I channel my rage, and I reconcile my internal struggle, is I channel it into my work."
She later added, "The most powerful thing you can do with your art and your narratives is to tell the truth."
Another student asked whether Davis thought all young actors of color are required to be activists. Davis said they are.
"There are too many people who need help," Davis responded. "There are too many people who are disenfranchised. Yeah. That's my answer to you.
"Your road is so difficult that you have to do something bigger than yourself and very, very, very strong to get in there," she said. "Whatever you do, you have to do it boldly and specifically. Otherwise you are not going to get anywhere."
Throughout a 70-minute encounter with a star that so many students in the audience clearly adored, Davis held them rapt in silence, laughter and thunderous applause. Then she left the stage, to continue her night at Brown with a reception with the student members of the Brown Lecture Board, President Paxson and faculty and guests.