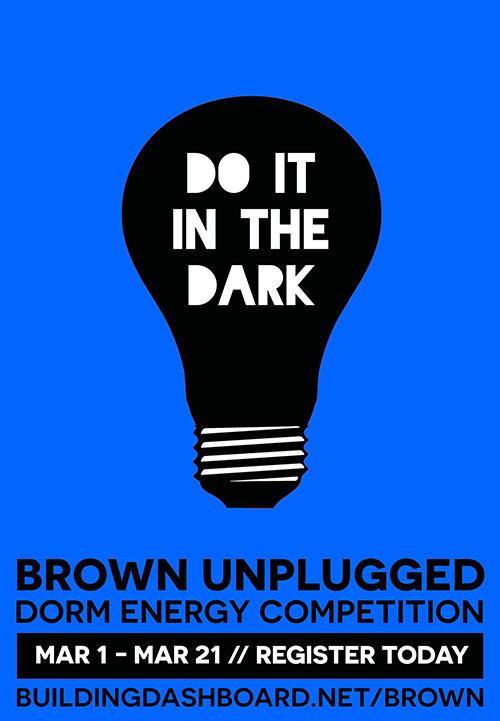 PROVIDENCE, R.I. [Brown University] — While the rest of country gets ready to "spring ahead" an hour for daylight saving time, students at Brown will get a jump-start on turning the lights out. Beginning March 1, students across campus will take part in EcoReps' annual Brown Unplugged: "Do it in the Dark" energy competition.
The competition – now in its sixth year – encourages students to reduce their energy consumption at a time when there is a growing concern about the environmental impact of traditional energy sources.
"Brown Unplugged pushes students to take a hard look at how they use energy and to think of ways in which they can conserve, " said Erin Donnellan, a student academic engagement coordinator in the Office of Energy and Environment. Ultimately, she says the competition will, in part, lead to more sustainable living for students.
Traditional electricity generation relies on a complex network of interrelated parts that create a large carbon footprint, according to the Environmental Protection Agency. But little things like air-drying cloths could offset some of the damage electric dryers do to the atmosphere, through that chain of cause and effect.
Some of the ways students have reduced their energy footprint in previous competitions include turning off the lights, unplugging power strips, turning off heating systems, limiting their showers and walking everywhere – including taking the stairs instead of elevators.
"I believe this experience really is an attempt to drive home the message that we can all contribute to the global warming dilemma through individual actions," said Christopher Powell, assistant vice president for sustainable energy and environmental initiatives.
Student volunteers in the Department of Facilities Management collaborate with members of EcoReps on a committee that implements the Unplugged competition. The competition runs through March 21 and will kick-off with a student-only pizza dinner March 1 at 6 p.m. on the first floor of the Stephen Robert '62 Campus Center on the College Green.
Students interested in participating must register online and indicate their dorm. Participants who belong to the most energy-efficient dorm at the end of the competition are entered into a raffle for 10 Spring Weekend tickets, but smaller prizes are also in play. If the community saves 17,000 kilowatt-hours, there's a community prize.
An online tool called Building Dashboard is keeping a live accounting of kilowatt-hours saved throughout the competition. It also provides data on energy use for previous months and suggests other ways to cut back on electricity. Last year, students collectively saved 16,458 kilowatt-hours which kept about eight tons of carbon out of the atmosphere.
Energy savings aside, perhaps the most valuable impact of the competition is the "practical knowledge students gain about global warming and how they can help by their individual actions, especially after they leave Brown," Powell says.