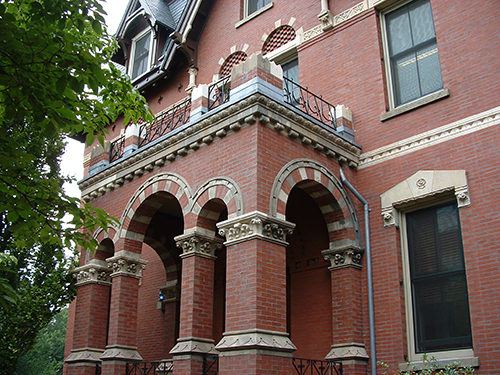 PROVIDENCE, R.I. [Brown University] — Brown has named two senior-level staff members to roles managing engagement around news of the University and advancing Brown's institutional interests and academic priorities at the federal, state, city and community levels. Brian E. Clark arrived at Brown Feb. 22 as the director of news and editorial development, and Albert Dahlberg has become the University's assistant vice president of government and community relations.
Formerly the director of public affairs at Roger Williams University, Clark serves as Brown's primary spokesperson for news media. He directs a staff responsible for reporting the news of Brown, promoting social media engagement, and supporting departments and offices in showcasing the University's teaching, research, scholarship, administrative initiatives and distinctive campus life.
"Brian is an excellent strategist who is passionate about sharing the impact of research and the transformative opportunities that higher education offers to students," said Cass Cliatt, vice president for communications, to whom Clark reports. "Brian is a creative, critical thinker who will be an asset to Brown in his role sharing news with our many audiences."
In Dahlberg's role leading government relations and community affairs, he serves as the University's primary liaison to the Rhode Island General Assembly, the governor, and other general officers and state agencies, as well as to the mayor of Providence, city council and city agencies. Dahlberg has served since 2009 as Brown's director of state and community relations in an office whose staff members also serve as liaisons to community organizations.
"In his new role as assistant vice president of government and community relations, Al will build on his solid foundation of experience and knowledge in this area," said Russell Carey, executive vice president for planning and policy, who oversees government relations and community affairs. "I am delighted that Al has accepted this leadership role at Brown."
Brian Clark
Clark arrived at Roger Williams in 2006 as a senior editor and writer and held positions of increasing leadership over nine years, including being appointed director of public affairs and editor-in-chief of RWU Magazine in 2010. He held this position until his appointment at Brown.
Clark served as the lead university spokesperson at Roger Williams and directed a team of strategic communicators charged with directing efforts in news and publications; media relations; crisis communications; presidential communications and law school communications. From 2001 to 2006, he managed editorial operations for a 70,000-circulation newsstand magazine, and he previously served in editing and other editorial positions at various publications.
Clark holds a bachelor's degree in journalism from New York University and a master's in integrated marketing communications from Emerson College in Boston.
Albert Dahlberg
Dahlberg arrived at Brown in 2007 to serve as secretary of the University in Brown's Corporation Office. As part of his role directing state and community relations over the past seven years, Dahlberg has worked closely with municipal and state officials and community leaders, as well as with colleagues at other Rhode Island institutions of higher education and the Association of Independent Colleges and Universities. More recently, he has represented Brown's interests with the federal government, the congressional delegation and national education associations.
Dahlberg graduated from Georgetown University and Boston College Law School and is a member of the Rhode Island and Massachusetts bar associations. His legal experience includes environmental law, labor and employment law, and elections law.
Prior to joining the Brown community, Dahlberg's professional experience included service on the staff of U.S. Sen. John Chafee, the U.S. Environmental Protection Agency, and as chief of staff and deputy Rhode Island secretary of state under Secretary of State Matt Brown.