PROVIDENCE, R.I. [Brown University] — When bats stream forth from their roosts by the hundreds of thousands to begin their nightly hunt, all together, their sounds can exceed 130 to 140 decibels. Their sonar sounds are inaudible to humans, but this month Brown University scientists nevertheless published two discoveries they've made about that silent stridency. Among the authors on each study were adventurous undergraduates who through their involvement have not just gained exposure to science, but also made key contributions as well.
Brown junior Zelda Blowers saw the massive streams of emerging bats firsthand. Last summer she spent every evening for two weeks waiting just outside the opening of a lava tube cave on a New Mexico ranch for a huge colony of Mexican free-tailed bats to emerge. Along with her faculty and postdoctoral colleagues, she observed and recorded the sound of this mass exodus and – until darkness fell – took photographs, too. Blowers also measured light levels, the swarm's direction and flight patterns, and the predatory work of nearby hawks.
"Around 3 or so we'd go out to the caves and set up all the equipment," she said. "It was a super bumpy road because we'd drive over the lava rubble and we were in a huge truck."
Around dusk the bats would start to swirl into an enormous spiral inside the tube entrance. At first, only a few scouts would emerge and then return.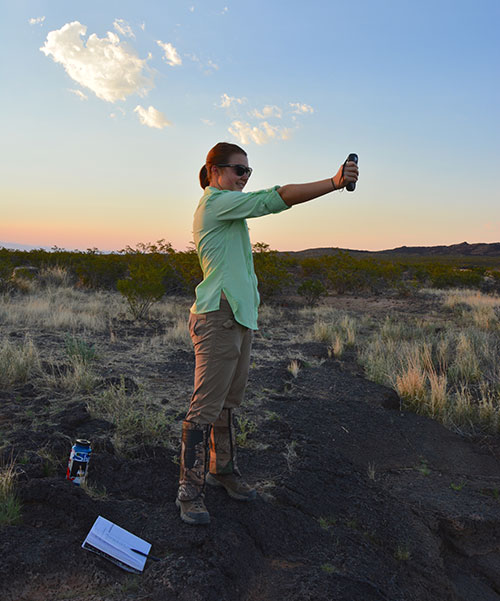 "Very gradually they would start to come out, and then it would just be an explosion," Blowers said. "That would happen for a period of time, but then they would stop; there would be a break for about 10 minutes, and then it would start again."
The team's hypothesis was that they could get an accurate count of the bats in the colony cheaply and easily by recording and analyzing the sound pressure of the bats' high-frequency cacophony as they streamed overhead. Blowers' role in the project, led by Brown postdoc Laura Kloepper and supervised by neuroscience Professor James Simmons was to produce an automated analysis of the images to count the bats. When the team could make a quick, reliable census of bats from the pictures, they could correlate that with the amount of noise made at that same time. Once they knew how many bats are needed to make a certain amount of noise, they could keep counting bats even after dark with nothing more than a microphone and their equations.
No expensive, export-restricted thermal imaging equipment would be required, which could be a big boost for conservation biologists responsible for monitoring bat populations around the world. Bats, especially the kinds that live in huge cave colonies, eat enormous numbers of insects every night that are serious pests of crops like corn or cotton. In the southwestern U.S., Simmons said, the bats' economic impact is significant for their natural prevention of crop damage.
On March 9, the team – including Blowers, Kloepper, Simmons, and former postdoc Meike Linnenschmidt – published their initial success in counting bats by their sounds in the journal Royal Society Open Science.
Meanwhile, the research had inspired a question back in Providence. The bat cave recordings were part of a larger program of studies on bioacoustics led by Professor Andrea Simmons, in the departments of Cognitive, Linguistic and Psychological Sciences, and Neuroscience. In her seminar on "The Psychology of Hearing," when she mentioned the intense sounds bats make, then-junior Kelsey Hom asked whether bats experience the same temporary hearing loss that most other animals, including people, do when exposed to prolonged loud noise. Hom wondered how bats are able to leave their roosts in such large streams and still hear well enough to find their way around and hunt for insects with sonar.
Working with James Simmons, Andrea Simmons and lab manager Michaela Warnecke, Hom resolved to find out through a series of laboratory behavioral experiments over the next year with seven big brown bats. Hom was involved at every stage of the work – training the bats to walk on a platform toward test sounds, measuring their hearing by gradually weakening those sounds, and observing whether intense noise exposure similar to the sounds of many other bats affected them. She also helped to analyze the data and write up a manuscript.
"I had no idea when I showed up to a two-person class at 8 in the morning that it would have led me to this moment," Hom said.
They published their results – that bats appear to be immune to temporary hearing loss – on March 30 in the Journal of Experimental Biology. Hom's research also led to an honors thesis in psychology, earning the Muriel Fain Sher prize.
Following bats into research
Both Hom and Blowers came to Brown with interests in science, but not necessarily field or lab research with animals. Then they each met the two professors, which led them to the crucial inspiration to apply for summer Undergraduate Teaching and Research Awards so they could become fully immersed in each research group. UTRAs provide students with stipends to support their work, often on original ideas, with faculty members.
Hom, a softball player and musician from Santa Monica, Calif., crossed the country to Brown in hopes that the open curriculum would allow her to blend studies of music with psychology. That made Andrea Simmons' class, "The Psychology of Hearing", too good to pass up in her junior year.
"When I saw this course listing I said, 'Oh, that's exactly what I wanted to do here,'" she said. "It was an amazing experience because it was just me and one other student and Professor Simmons encouraged us to come up with our own ideas."
As Hom learned more about the study of hearing and proposed that key research question of her own, Simmons invited her into her research group. The UTRA allowed her to work in the lab on her own research project the next summer.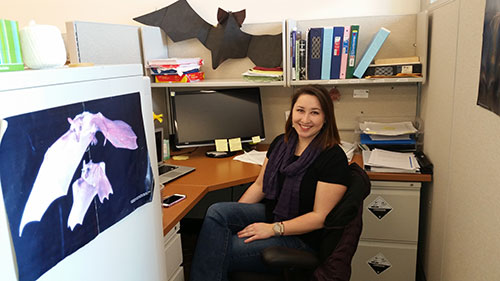 Blowers, of Sarasota, Fla., is a pre-veterinary student with designs on tending to wildlife. Blowers first met Kloepper when she took her class "Climate Change and Species Extinction" in her freshman year. Blowers decided to volunteer in James Simmons' lab to do image analysis on some of Kloepper's initial data.
"Sophomore year, I was counting every single bat that came out of the cave," Blowers recalled. "That was one of the first population estimates we came up with for these caves."
Now, as published authors, both Blowers and Hom conceive of making science not only part of their education, but also part of their profession.
Hom, for example, has never stopped working on the hearing research, continuing to do new experiments. She stayed at Brown after graduation to become the lab manager for James Simmons, meaning that her UTRA award has led to her first job. She has now applied to graduate school to pursue a doctoral degree in biology.
"I hadn't even considered research or science as a job until I met Jim and Andrea," Hom said.
And Blowers said she's now considering research as a career, too.
"Coming out of it, I just learned so much about the world of academia and what it takes to publish articles and the importance of collaboration in science," Blowers said. "I've wanted to be a vet for a pretty long time, but after this summer I thought more about the potential of doing research instead or doing something combined, like research in veterinary sciences."
For both Blowers and Hom, the chance to study the silent blasts of bats has created a potentially life-changing resonance.