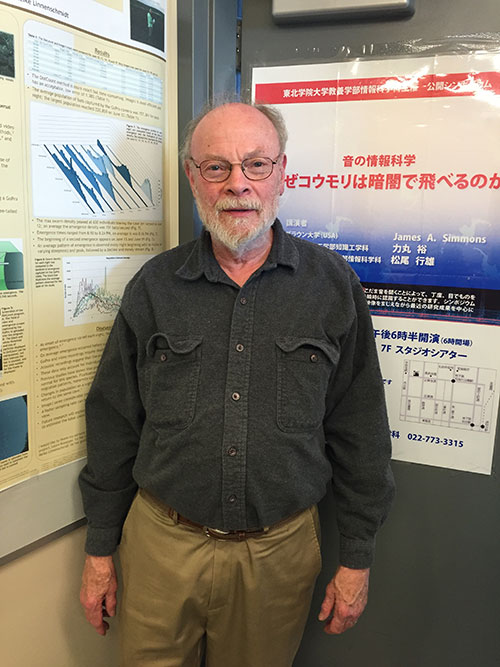 PROVIDENCE, R.I. [Brown University] — Many animals are particularly good at specialized behaviors. Some birds learn complex songs or navigate the globe, and rodents have an exquisite sense of feel via their whiskers. The practice of neuroethology is to gain insight into how the brain works by studying the neuroscience of these exceptional capabilities. James Simmons, for example, applies this principle in his studies of bats.
"I have been doing research on echolocation in bats because their lifestyles place heavy emphasis on the sense of hearing and forming images based on reception and processing of echoes," said Simmons, a Brown University professor of neuroscience.
For his work, the International Society for Neuroethology has elected him a fellow. He's in Montevideo, Uruguay, to receive the honor April 2 at the society's annual meeting.
Simmons' research has not only advanced brain science, but also sonar technology.
"The added perspective of trying to understand bat sonar well enough to develop a technological model for new types of manmade systems serves as a source of discipline in guiding the research," he said.
The trip to Uruguay offers an opportunity to take his research even farther.
"Being chosen as a fellow of ISN is an honor because it comes from a group of colleagues that I have known, respected and listened to for decades," he said. "It is exciting to be going to the ISN-2016 Congress to see these people. Also, South America has lots of interesting bats that we hope to observe and record on video while in Uruguay."