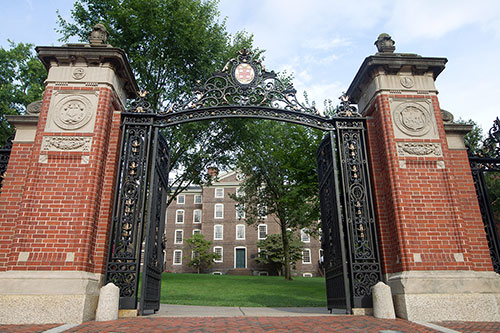 PROVIDENCE, R.I. [Brown University] — The Office of College Admission at Brown University made 2,919 offers of admission today to next year's incoming class. Admitted students for the Class of 2020 include 2,250 students from Brown's regular decision pool combined with the 669 students offered admission in the University's early decision program.
The offers, posted on Brown's undergraduate admission website at 5 p.m. on March 31, represent 9 percent of the 32,390 students who applied, the largest application pool in the University's history. The Class of 2015, admitted in March 2011, had established the previous high mark for Brown, with 30,948 applicants.
Forty-seven percent of the members of this year's admitted class identify as students of color — the highest percentage in Brown history — and admitted students represent 1,840 schools across the nation and around the world, also a record number for the University.
"The Class of 2020, selected from the largest applicant pool in Brown's history, will bring a remarkable record of accomplishment and the promise of extraordinary potential to College Hill," said James Miller '73, dean of admission. "Representing 50 states, 83 nations, and 1,840 high schools, Brown's admitted class reflects the deep and diverse population of talented students found in this nation and abroad. It has been a challenge, a joy and an honor to learn about so many of the world's finest students, and we are grateful and humbled to have the opportunity to consider this group of extraordinary candidates. We have every expectation that the members of the Class of 2020 will have a lasting and profound impact on the Brown community and beyond, and we look forward to welcoming them to campus next fall."
Admitted candidates have until May 2 to accept the University's offer of admission. Brown anticipates an incoming class of 1,665.
Highlights from the admitted Class of 2020 include:
The pool: The applicant pool of 32,390 is the largest in Brown's history.
Admission rate: The University admitted 9 percent of applicants to the Class of 2020.
Academic standing: Ninety-five percent of admitted students are in the top 10 percent of their high school classes.
Diversity: Forty-seven percent identify as students of color, the highest percentage ever at Brown.
Financial aid: Sixty-one percent of admitted students intend to apply for financial aid.
United States: Students have been admitted from all 50 states. The top five states are California, New York, Massachusetts, New Jersey, and Texas.
International: Students from 83 nations are represented in the admitted class. The top five countries are China, United Kingdom, India, Korea, and Canada.
High schools: Admitted students come from a record 1,840 high schools: 59 percent attend public schools; 33 percent attend private schools; and 8 percent are from parochial schools.
Academic interests: The top 10 intended concentrations include: engineering, biochemistry, economics, computer science, political science, international relations, BEO (business, entrepreneurship and organizations), biology, undecided, and English.
Brown-RISD Dual Degree Program: Of 558 applicants, 15 students were admitted to the Brown-RISD Dual Degree Program, a 2.7-percent admission rate.
Program in Liberal Medical Education (PLME): Of 2,447 applicants, 90 students were admitted to PLME, a 3.7-percent admission rate. The PLME is an eight-year program leading to both a bachelor's and an M.D. degree.