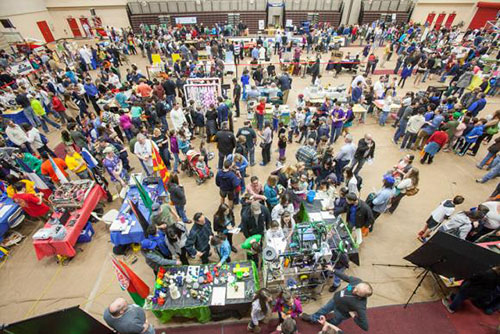 PROVIDENCE, R.I. [Brown University] — The robots are returning to Brown University's Pizzitola Sports Center.
On Saturday, April 9, Brown will be the site of the Rhode Island Robot Block Party, presented by Rhode Island Students of the Future and Brown's Humanity-Centered Robotics Initiative. The event, which runs from 11 a.m. to 4 p.m., will feature robotics demonstrations, competitions and exhibitions by universities, industry partners, community organizations and school groups from around the state.
The event is free and family-friendly.
Organizers say the Robot Block Party is a chance for children and adults to learn more about the robotic technologies being developed in the Ocean State and beyond. The interaction between the robotics community and the public is beneficial for both sides, says Michael Littman, a professor of computer science at Brown and co-leader of the Humanity-Centered Robotics Initiative.
"Robotics is emerging from the hobbyist stage to something that will impact all of our lives," Littman said. "By bringing people together to explore and celebrate this topic, we think it will encourage the field to develop in ways that are more beneficial to everyone."
Littman, an expert in machine learning and artificial intelligence, will be among more than 50 exhibitors participating in the event. Littman and his students have been working on a technique that enables people train robots to perform tasks in much they same way dog trainers teach tricks to canines. Block party visitors will have a chance to teach the group's robot some tricks of their own.
Another Brown roboticist, Stefanie Tellex, will be on hand with a robot she uses in her lab called Baxter. Tellex has been using Baxter to explore the interaction between humans and robots with the aim of making robots more responsive to the needs of human partners.
Other collegiate exhibitors will include the University of Rhode Island's Graduate School of Oceanography and the Ocean Engineering department, which will show off an autonomous kayak and a maritime robot designed to operate in unpredictable environments. Robotics groups from Johnson and Wales University and Roger Williams University will be on hand as well.
Companies including Igus, Robotix USA and XactSense will also have exhibits. Designers from Hasbro will showcase animatronic products, including Sesame Street characters, FurReal Friends, Furby and the Joy for All Companion Pet Cat for people of all ages.
College students will participate in the Brown IEEE Robotics Olympiad throughout the day, while representatives from FIRST and SEAPERCH demonstrate robots used in elementary, middle and high school robotics competitions.
Last year, more than 2,500 people made their way through the block party exhibits. Mary Johnson, Rhode Island Students of the Future board member and project manager for the event, said she is please to see how much the event resonates with people in Rhode Island and beyond.
"We're expecting a big crowd again this year," Johnson said. "It's exciting to see the full spectrum of participation from preschool up through college professors and to bring together so many people who are interested in robotics."
More information can be found at the event website: http://risfnet.weebly.com/robot-block-party.html.