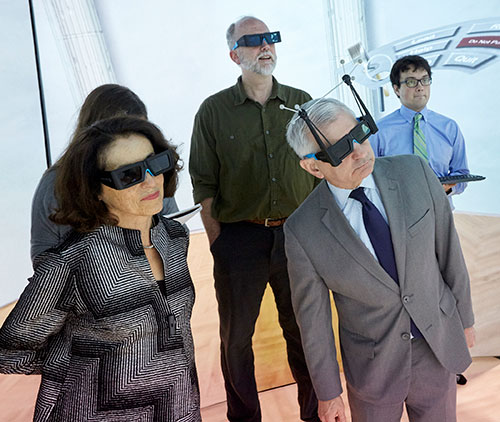 PROVIDENCE, R.I. [Brown University] — National Science Foundation Director France Córdova and U.S. Sen. Jack Reed of Rhode Island joined students, faculty and administrators at Brown on April 8 for a firsthand look at some of the NSF-supported research happening at the University.
The visit kicked off with a tour of Institute for Computational and Experimental Research in Mathematics (ICERM), Brown's NSF-funded mathematics center headquartered on South Main Street. Then it was off to College Hill for tours of the Institute at Brown for Environment and Society (IBES), the School of Engineering and the YURT, the University's immersive virtual reality theater.
"This has been… a terrific visit," Córdova said following the tour. "[We] got to see a lot of different kinds of science and engineering that's going on [and] meet a lot of students and some of the award-winning faculty. Brown is just such a highly distinguished university doing quality research, so NSF is proud to support it."
At an ICERM reception, Córdova addressed a gathering of some 100 researchers and scholars, some of whom were visiting the institute for one of its weeklong workshops. Córdova congratulated ICERM's leaders on the recent renewal of its NSF funding, a $17.5 million grant that will support activities for the next five years. The institute was founded in 2010 with $15.5 million from NSF.
"It's one thing to get something off the ground…" Córdova said. "But it's quite another thing to show that you have impact… And that's what ICERM has done."
Jill Pipher, ICERM's director, discussed some of that impact in a meeting prior to the reception with Córdova, Reed, Brown President Christina Paxson, Provost Richard Locke and members of the ICERM's board and directorate. The institute brings together some of the world's best mathematical minds to explore topics in pure and applied math, computer science and related disciplines. Recent programs have explored cybersecurity, climate modeling, data analytics and other emerging topics.
Pipher discussed a workshop held this summer at ICERM focusing on predictive policing, the use of data and mathematical analysis to understand and predict patterns of criminal activity. The workshop was spawned by a public lecture on the mathematics of crime, hosted in late 2014. Several members of the Providence Police Department attended, and the department will supply some of the data that will be used at the upcoming workshop.
The workshop is an example, Pipher said, of how ICERM's "outreach and research go hand-in-hand."
At IBES, Córdova and Reed met with deputy directors Leah VanWey and Dov Sax, as well as researcher Meredith Hastings. Hastings described her work investigating the origin and extent of nitrogen pollution around the world, which has been funded in part by a CAREER award, NSF's premier honor for early-career faculty.
Hastings landed her CAREER grant in 2014, and Brown has had a bumper crop of six new CAREER awardees so far in 2016. Córdova said support for early-career researcher is an important part of what NSF does.
"NSF prides itself on being the first funder for many young people," she said.
In addition to learning about NSF-funded research, Córdova heard about IBES's approach to interdisciplinary study and engaged scholarship, which combines learning and research opportunities. Brown undergraduates Kari Malkki and Lovinia Reynolds discussed a project they have been working on that investigates strategies for reforesting a key ecological region in Brazil.
At the School of Engineering, Córdova and Reed met with Sorensen Family Dean Larry Larson and toured the Brown Design Workshop. The space provides students with access to 3-D printers, laser cutters and other tools for independent or class-related design and engineering projects. Also in engineering, Córdova met with Daniel Mittleman and his students, whose NSF-supported research focuses on terahertz radiation. "T-waves," as they are called, make up a relatively unexplored swath of the electromagnetic spectrum, but they may one day support wireless networks with many times the data capacity of current networks. Mittleman is developing the basic terahertz components that will be critical to constructing these next-generation networks.
The tour wrapped up with a virtual reality demonstration in the YURT, an immersive facility built with the help of a $2 million NSF grant. Computer science professor David Laidlaw and his students showed Reed and Córdova several examples of what the YURT can do. The demonstration included work from a collaboration between Laidlaw's students and Stephen Gatesy, an anatomist and evolutionary biologist at Brown. Gatesy studies fossilized footprints made by ancient dinosaurs, and he's worked with Laidlaw's students in developing 3-D animations of how those tracks may have been made.
Laidlaw also discussed how Brown geoscientists use the YURT to study the surfaces of the Moon and Mars, helping to scout locations for potential spacecraft missions.
"It's a wonderful tool for training, especially in environments… that are very difficult and expensive to get to," Córdova said. "Virtual reality brings those environments in where you can explore them."
At the conclusion of the visit, Reed stressed the importance of research and development investments to the Rhode Island economy.
"It's something we have to do to maintain our technological edge and ultimately create the jobs of the next century," Reed said. "Without the NSF, we wouldn't be able to do that."