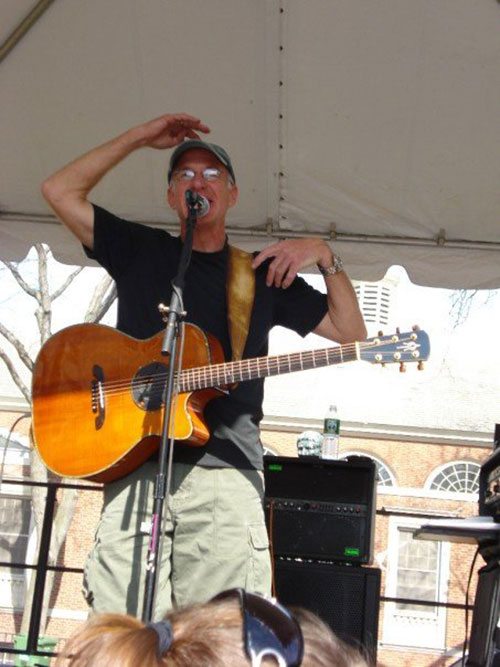 PROVIDENCE, R.I. [Brown University] — For more than half a century, a steady stream of world-class musical acts — everyone from Bob Dylan and the Boss to Snoop Dogg and Modest Mouse — has taken the stage on the Brown campus each year for Spring Weekend. With performances by Tink, Fetty Wap, Tinashe, Thundercat and Mac DeMarco, this weekend is no exception.
But even among all of the up-and-coming and established acts that the festive, sometimes raucous, weekend brings, perhaps no concert is more iconic than Dave Binder's annual Sunday show.
This year marks Binder's 30th year at Spring Weekend. Here, he shares his thoughts on Brown students and the enduring appeal of "The Fast Food Song" — and offers up some words of wisdom for the seniors celebrating this annual tradition for the last time.
How did you first start playing at Spring Weekend?
It was 1987, and I got a phone call from a student at the time — Kerry Magasanik. I knew her because my father was her orthodontist when she was a kid, and her mother found out I was a musician. I think I might have played her brother's bar mitzvah, and she asked me to play for Spring Weekend. She said they had this Sunday morning thing going on on Wriston Quad. It was more like a recovery-from-Spring-Weekend concert. So I came out and played more mellow tunes — James Taylor, stuff like that — and people hung out and had breakfast. In the beginning, it was just students from Greek life. Over the years, it got bigger and bigger. More and more people, not just from fraternities and sororities, would come. Some years we've had as many as 5,000 people.
Why do you keep saying yes?
Because the students enjoy it! There's nothing that gives me greater pleasure than playing for people who are having a great time. I mean, why would I want to say no?
Why do you think students keep asking you to play?
I think they like it because the music that I play is not specific to any group. It's just always been good-time music that everyone knows. Thirty years ago, it was more current to that student population. These days, I play the same stuff, except now it's oldies. But they still want to hear "American Pie." They want to hear the Beatles, James Taylor, '80s music. I try to play universal good-feeling songs, like "No Woman No Cry" and "All You Need is Love" — songs that have a nice theme to them and are more about humanity than individuality. And they want to hear all the songs from their childhood: "The Fast Food Song," "The Unicorn" "The Hokey Pokey" (with all the moves you need to know to be in college), "Head, Shoulders, Knees and Toes." Students like that stuff because they get to feel like a kid again for a little while. It doesn't matter where they're coming from.
Will you play anything new this year?
I have nothing that's actually brand new, but I may do a few tribute songs to David Bowie and Glenn Frey because we lost those guys this year.
Why do students love "The Fast Food Song" so much?
It's become such a tradition. Every year I teach it again, and students get up on stage and do the moves. I usually save it for the end because it's one of the highlights. I always say that I could just do "The Hokey Pokey," "The Unicorn" and "The Fast Food Song," and the concert would be a success.
How have Brown students changed over the last 30 years?
Brown students have always been pretty much my favorite students to play for, and I've played at a lot of universities. At a lot of schools, the student body is pretty homogeneous — at Brown, students are real individuals, and they are not afraid to be who they are and let their hair down. And I don't' think that's actually changed so much. What's changed, of course, is the actual students. I've had a number of students come up to me and say, "My parents used to come hear you play, and now I am." That's one of the cool things about being around for so long.
Any words of wisdom for Brown's seniors as they head toward graduation?
There's a James Taylor song where he says, "The secret of life is enjoying the passing of time." It may sound corny, but I think that you need to make sure that whatever it is that you end up doing, you still find time to enjoy your life. I've been playing for 30 years at Brown, and I still enjoy it. And you've got to find the spot where you can make a contribution. I get emails where people say, "Your concerts are one of my favorite memories from my time at Brown." If that's what they remember, then I did a good thing. So I would say try to remain passionate about what you do so you can make a difference in the short time you have. I'd advise them to concentrate on what's important: real friends, family, your physical being and natural surroundings, things that last throughout your life. And avoid worrying too much about things that don't last: daily stress, possessions and the constant barrage of the 24-hour news cycle.