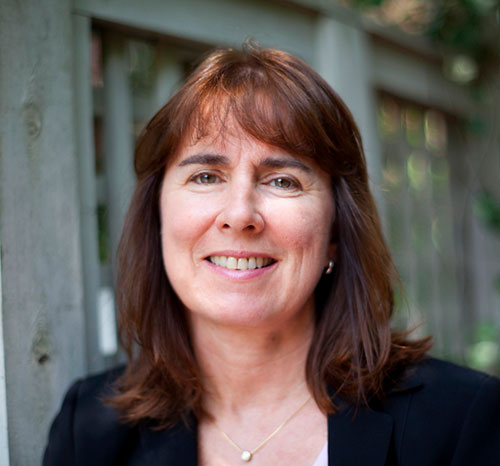 PROVIDENCE, R.I. [Brown University] — Jill Pipher, founding director of Brown University's Institute for Computational and Experimental Research in Mathematics (ICERM), will deliver a Presidential Faculty Award lecture on Tuesday, April 26.
Pipher will discuss her work in a presentation titled "Cryptography: From Ancient Times to a Post-quantum Age."
The open-to-the-public event begins at 4:30 p.m. in the John Carter Brown Library.
The Presidential Faculty Award was established in 2013 by President Christina Paxson to recognize members of the faculty who are conducting especially important and innovative scholarship and to create an opportunity for recipients to present their work to colleagues in other disciplines. Two recipients are selected for the academic year, one for each semester. Previous presenters include David Berson, Nitsan Chorev, David Kertzer, Charles Larmore and C.D. Wright.
Jill Pipher
The Elisha Benjamin Andrews Professor of Mathematics and a Brown faculty member since 1989, Jill Pipher is the founding director of ICERM, one of eight National Science Foundation mathematics institutes in the nation.
Her primary research interests are in areas of mathematics that have broad applications in the physical and life sciences, including harmonic analysis and partial differential equations. Her joint work in the field of cryptography, with Brown faculty members Jeffrey Hoffstein and Joseph Silverman, led to the development of a patented public key encryption system and a startup company called NTRU Cryptosystems, which was acquired by a major security software company in 2009.
From 2011 to 2013, Pipher served as president of the Association for Women in Mathematics. In 2012, she became a fellow of the American Mathematical Society. She is the recipient of an Alfred P. Sloan Foundation Fellowship and a Presidential Young Investigator Award. In April 2015, she was elected a member of the American Academy of Arts and Sciences, one of the nation's most prestigious honorary societies.
Pipher taught at the University of Chicago prior to her arrival at Brown and holds bachelor's and doctoral degrees in mathematics from the University of California - Los Angeles.