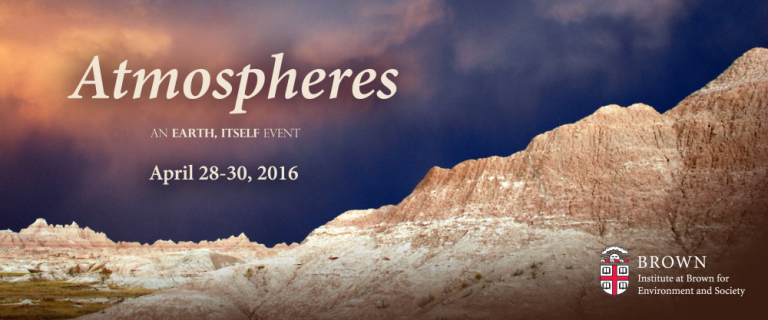 PROVIDENCE, R.I. [Brown University] — A series of events to be held next week at the Institute at Brown for Environment and Society (IBES) will bring scientists and policy experts together with people from creative arts and humanities to explore a topic that surrounds all of us — the air.
The series — dubbed Earth, Itself: Atmospheres — will feature a keynote talk, art installations, academic forums, musical performances and other events, all exploring our planet's atmosphere in unique ways.
The schedule kicks off on Monday, April 25, with a sound installation in the greenhouse atop IBES's home at 85 Waterman Street. The main activities begin on Thursday, April 28, and run through Saturday, April 30. All events are free and open to the public, and a complete schedule can be found on the institute's website.
Lenore Manderson, a visiting professor of environmental studies at Brown and the event's convener, says Atmospheres aims to reflect IBES's interdisciplinary approach to questions surrounding Earth and environment.
"The idea is to engage people in different ways in relation to the environment and to showcase how different people at the University think about these questions," said Manderson, who is also a professor of public health and medical anthropology at the University of the Witwatersrand in South Africa. "If we took a conventional route, we might only look at what's happening in the natural, physical and policy sciences. But other people engage in different ways, and they have profound things to say — that's our starting point."
Mwangi Githiru, director of biodiversity and social monitoring for Wildlife Works, will deliver the event's keynote on Thursday evening. Githiru, born in Kenya and an ornithologist by training, has become active in the non-governmental organization's emission reduction and reforestation programs across Africa.
"Dr. Githiru has made this extraordinary transition from scholarship of things that live in the air to activism concerning the pollution of the air," Manderson said. "His talk will be partially biographical and will be really exciting."
Following the keynote, a reception and launch of a book called Birders of Africa: History of a Network will feature author Nancy Jacobs, associate professor of history and Africana studies at Brown.
Because air provides not only life-giving breath but is also a medium for sound, much of the art included in the week of Atmospheres events will deal with sound, audio and musical performance.
Among those performances is the sound installation in the IBES greenhouse, which will be ongoing throughout the Atmospheres events. The greenhouse, normally quiet except for the soft trickling of water, will be wired for sound by Jim Moses, technical director in Brown's Department of Music. The sounds, produced by a rare and historic synthesizer, will mimic those heard around natural pond settings.
Other installations curated by Brown students and Ed Osborn from the Department of Visual Art will occur throughout the Atmospheres program in the John Carter Brown Library and the Granoff Center. The sound theme culminates on Saturday at 7:30 p.m. with a concert by Leah Barclay, Lawrence English and Garth Paine, who will present soundscapes, electronic pieces and ambient recordings from Antarctica.
Academic forums on Friday and Saturday will explore the politics of wind, air and illness and conservation concerns. In keeping with the interdisciplinary theme, each forum will feature academic presenters, policy advocates, artists and writers.
Atmospheres will also feature research presentations by Brown students and faculty. A poster session in the IBES lobby from midday Friday will be followed by an open lunch and an event called Ignite! — a series of rapid-fire presentations that feature 20 images described in 15 seconds each.
For the early risers on Friday morning, Scott Turner, web communications director at Brown and Providence Journal nature commentator, will lead guests to birding hotspots on campus. The walk will happen just after dawn when migratory birds are at their most vociferous.
Manderson hopes that members of the Brown community and the larger Providence community will take part in any or all of the events.
"What we want to do is make people outside of the environmental sciences interested in the environment," she said. "Anyone can come and spend some time at the greenhouse, go on the bird walk, see posters and hear the presentations."
The year's program is the second installment in the four-part Earth, Itself series. Each installment explores one of the classical elements: earth, air, fire and water. Last year's event, Thinking the Earth, featured academic discussion and dance performances coordinated by Brown teaching associate Shura Baryshnikov that explored the ground beneath our feet. Events exploring fire and water will follow in subsequent years.
Manderson hopes that this year's event and future events will showcase Brown's approach to addressing problems from multiple perspectives.
"I think that the program is a way of getting people to engage with the University and to see the diversity that we have on campus," Manderson said. "I think it reflects the interdisciplinarity of the University itself in very serious ways."