PROVIDENCE, R.I. [Brown University] — Under a cloudless sky on a near perfect late-spring morning, members from across the Brown community gathered on May 25 to celebrate the topping off of the University's new School of Engineering research building. After remarks by Brown officials and Providence Mayor Jorge Elorza, workers hoisted into the place one of the building's uppermost structural beams, which had been signed by many of those attending the ceremony.
Brown President Christina Paxson thanked the workers and tradespeople whose hard work is taking the new structure from concept to reality.
"I'm delighted to be here as we mark a milestone in the rise of this wonderful new building," Paxson said. "With the signing of this beam today, Brown takes another step forward toward realizing a key piece of our vision for Brown engineering — a state-of-the-art home for a community that is poised to discover, innovate and apply new knowledge to the world."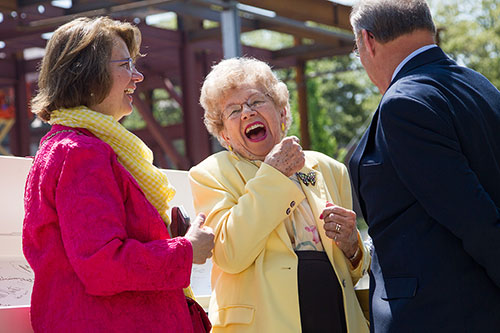 Among those who added signatures to the beam were Providence residents Barbara and Sylvia Loferski. Sylvia's late husband was a legendary Brown professor, Joseph Loferski, a pioneer in the development of modern solar panels. Barbara is their daughter.
"I just had to be here," said Sylvia Loferski, who is 91 years old. "My husband worked in Prince Lab for over 35 years. It was a dream to get his name somewhere in this [new] building."
But the Loferski name won't be confined solely to the beam put in place today. The Loferskis raised money from the late professor's family, friends and colleagues to dedicate the building's Light Court — a garden area open to the sky — to him. It was the perfect tribute, Sylvia Loferski said, to a man who had dedicated himself to harnessing the power of the sun.
"My dream is coming true," she said.
The new building will help School of Engineering faculty and students to continue that tradition of trailblazing research. The three-story, 80,000-square-foot structure will include specialized facilities for nanoscale and biomedical engineering, along with two full floors of new lab space designed to foster collaborative and cross-disciplinary research.
"We want to design new materials — lighter metals and ceramics — that will make cars and airplanes work safely and efficiently," said Larry Larson, the Sorensen Family Dean of Engineering at Brown. "We're going to be doing chemical research that will allow us to pull toxins out of the environment. We're going to have labs that allow us to build new kinds of biological devices that will give people longer and healthier lives.
"This building is built not only to be great for the science that we want to do today, but also the science we want to do in the coming decades."
Elorza applauded the new addition to Providence's architectural inventory.
"It's exciting because it's another building going up in our great city," the mayor said. "This is one of the busiest construction seasons in a good number of decades, perhaps an entire generation. It's because people continue to invest in our city. They continue to believe in our city. And at the heart of that is Brown University."
Planning for the $88-million project began in 2013 with an initial round of $44 million in funds raised, including lead gifts totaling $35 million from Brown graduates Theresia Gouw and Charles Giancarlo. The building was designed by the Philadelphia-based architecture firm KieranTimberlake and is being built by Boston-based Shawmut Design and Construction. Completion is scheduled for early 2018.