PROVIDENCE, R.I. [Brown University] — On May 28, the first day of Memorial Day weekend, three new second lieutenants stood to accept their ceremonial commissioning as United States Army officers. By the next day of Commencement and Reunion Weekend, they will also have earned their diplomas as graduates of Brown University.
The last weekend in May carries dual symbolisms at Brown, celebrating both achievements in higher education and also marking the gravity of fighting for one's country. The University's Graduating Veteran Recognition and Commissioning Ceremony acknowledges members of the Brown community who take on both scholarship and military service. In addition to four Class of 2016 graduates who are beginning careers as new officers, the ceremony honored seven veterans earning degrees and also the memories of four alumni killed in action in Vietnam.
"Every Brown student should have every opportunity to serve our country," University President Christina Paxson told the audience of friends, family and fellow service members on the Front Green. "It is consistent with our history, it's consistent with our mission of lives of usefulness and reputation, and our commitment to serving the greater good."
New officers
This past year Brown restored its partnerships with U.S. Air Force and U.S. Navy Reserve Officer Training Corps programs. Karen McNeil, program director of the Office of Student Veterans and Commissioning Programs noted that eight students are now participating in ROTC programs.
They'll follow in the footsteps of newly commissioned Army ROTC graduate Johnathan Davis, who concentrated in biomedical engineering. Joining him on Saturday were Army Health Professions Scholarship recipients Uzoamaka Okoro, who studied public health, and Evan Stern, who studied biology. Amadeo De Luca-Westrate, who could not attend the ceremony, receives this weekend the commission of lieutenant in the Navy and an M.D. degree from the Alpert Medical School.
On her way into the medical school is Okoro, who became inspired about health care and military service by her mother, a Veterans Affairs nurse for 20 years. In the context of the ceremony and Commencement, Okoro said she thought about how her family has helped her, and how she looks forward to helping others.
"I am reflecting on all the hard work my family and I have done to get to this point, as well as all the people who have supported me throughout this process," she said in an interview. "I have grown so much over the last four years in knowledge, confidence and strength. I came into Brown feeling a bit like I didn't truly belong here, but standing here today, I feel like I've conquered it, knowing that I have taken on any challenge thrown my way.
"I had considered military service prior to high school, but I was unsure about what form of service I could best contribute," she said. "This scholarship will allow me to become a highly skilled and disciplined physician who has the honor of treating individuals and families that have sacrificed so much on behalf of others."
Along the way, Okoro's experience at Brown has included a public health honors thesis examining the relationship between HIV, alcohol and sexual risk behaviors in Nigeria, and her emergence as a star on the rugby field for the Bears. Now she might play for a U.S. national team and the women's Armed Forces team.
Graduating veterans
As the new officers look forward to their service, the University's seven graduating veterans, two of whom remain on active duty, were honored for what they've contributed.
"Already in their young lives they have made us proud and earned the gratitude of the Brown University community and the nation," Paxson said. "We thank all of you who are here today, for your past service, for what you have shared with us — for your wisdom and the unique perspectives that you bring to campus."
Two of the veterans are receiving bachelor's degrees: Philip Crean in urban studies and Nathan Lovejoy in archaeology and classics. Four are receiving master's degrees: John Litherland in science teaching, Jeremy McKenzie in public policy, and Anthony Paolino and Derrick Zantt in public affairs. William Mangham will receive an M.D.
From 1998 to 2006, McKenzie was a Medical Service Corps officer in the Army who flew UH-60 Black Hawk helicopters for medical evacuation and transport on deployments in Korea, Bosnia and Iraq, where his platoon flew more than 1,260 combat hours evacuating more than 575 casualties.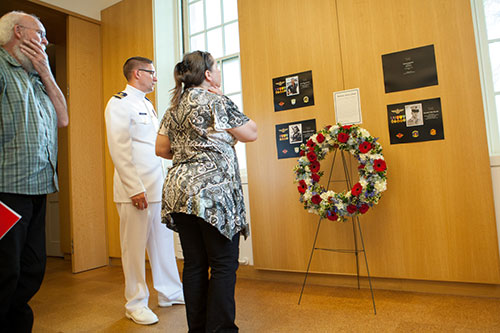 What brought McKenzie to Brown, however, was his current service in the Coast Guard as a Lieutenant Commander. He applied to earn a master's degree in public policy at Brown (he holds two other master's degrees earned elsewhere) so that he can begin teaching the subject as an instructor at the U.S. Coast Guard Academy in New London, Connecticut.
While at Brown, he studied the potential for U.S.-Russia cooperation in the Bering Strait and has presented his findings in a report to officials in both countries. The waterway between Alaska and Russia is becoming a potential trouble spot as climate change opens up the Arctic.
"The Bering Strait and the Arctic as a whole are at increased risk of a maritime disaster due to global warming increasing access to the region's immense natural resource wealth," he said in an interview. "Neither Russia nor the U.S. have the resources to go it alone in the region. Cooperation in the region could also be an example of how to work together in other areas."
In memoriam
Cooperation promotes peace. Earlier in the afternoon, the University held a Commencement forum titled  "The Vietnam War: Our Veterans' Stories" where alumni spoke of their experiences in that costly conflict. At the ceremony, McNeil read the names of four Brown University alumni from the class of 1966 who were killed in action in that war: Kenneth A. Berube, Francis E. Horahan, Charles W. Pigott and Jerry A. Zimmer.
A display in nearby Rhode Island Hall honored the fallen alumni further.
On a weekend known simultaneously at Brown as Commencement and Reunion Weekend and Memorial Day Weekend, their sacrifice and the meaning of service was therefore not forgotten.