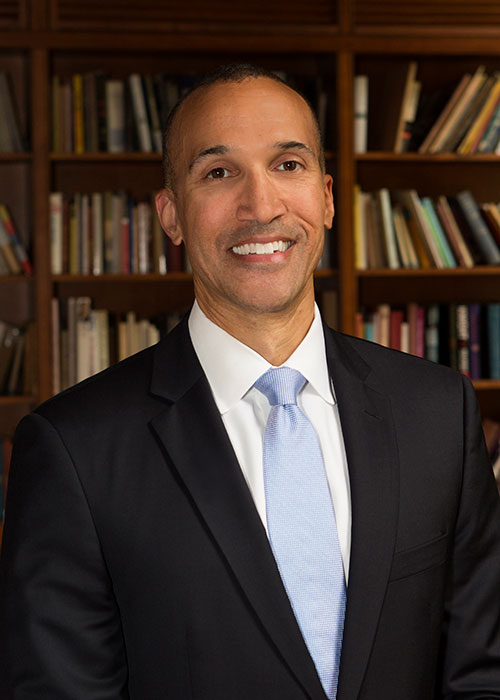 PROVIDENCE, R.I. [Brown University] — Logan Powell, currently director of admission at Princeton University, has been appointed dean of admission at Brown University, effective July 1, 2016.
A college admissions leader who worked previously at Harvard University and Bowdoin College, Powell will oversee a staff of 38, including 19 admission officers, and will be responsible for the identification, recruitment and selection of all undergraduates seeking entrance to Brown. He will report to Provost Richard M. Locke.
"The dean of admission is a critically important position in the University's efforts to advance academic excellence," Locke said. "Dean Powell will serve as a strategic leader, responsible for ensuring that Brown continues to attract and support the most talented, creative, intellectually independent, driven and diverse students from across the nation and around the globe."
As the Marilyn and Charles H. Doebler IV Dean of Admission, Powell will work closely with students, faculty, staff and alumni to capture and convey to potential students and their families Brown's distinctive approach to education, research and service. He will partner with University leaders — including the dean of the College, dean of financial aid, vice president for campus life and student services, the provost and the president — to develop, implement and communicate admission priorities. He will also serve as Brown's representative for a number of professional organizations and committees, including the Ivy League Deans of Admission, the Consortium on Financing Higher Education Admissions Deans' Committee, and the College Board.
"I am tremendously honored and humbled to serve as Brown's next dean of admission," Powell said. "Brown is a remarkably collaborative and vibrant institution, and I look forward to joining a dynamic community of scholars, students and alumni. In the spirit of partnership, I seek to work with colleagues from around the University to enroll students who will continue to represent a great depth of intellectual curiosity and diversity of thought."
At Princeton, Powell has been responsible for overall office management and operations, supervising a team of 40 and directing a comprehensive student application review process. He has led strategic planning to inform policy development regarding issues such as early action and standardized testing requirements, and he partnered with colleagues in financial aid to develop strategies for low-income student outreach and enrollment. He also served on the Education Access Committee, dedicated to enhancing access and opportunity for low-income and first-generation students at Princeton. Powell worked closely with Princeton's athletic department and has been a Princeton Faculty Athletic Fellow, serving as an advisor to student athletes. 
Previously, he served as senior associate dean of admission at Bowdoin College and senior admissions officer at Harvard. He earned his master's in education from Harvard, with an emphasis in higher education, and a bachelor of arts from Bowdoin.
Powell succeeds current Dean of Admission James M. Miller, a 1973 Brown graduate who joined the University in 2005 and announced plans to retire earlier this year.