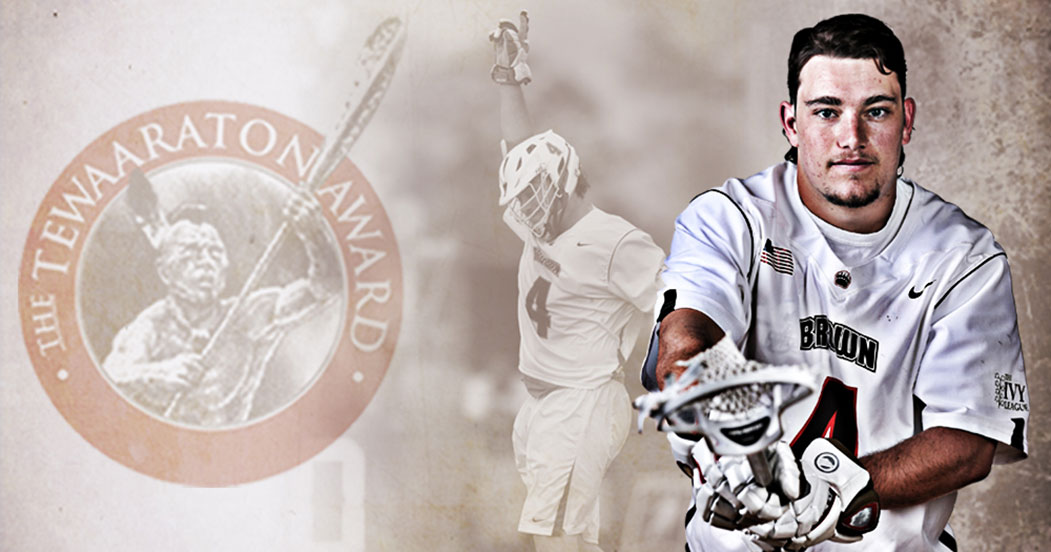 PROVIDENCE, R.I. [Brown University] — Brown University's Dylan Molloy, a junior attackman for the Bears, earned honors on June 2 as the top male lacrosse player in the U.S. as the Tewaaraton Foundation named him the 2016 recipient of the annual Tewaaraton Award.
As the catalyst of the nation's top-ranked offense, Molloy led the nation with 116 points, 54 assists and 6.44 points per game as Brown returned to the NCAA National Lacrosse Championships Final Four for the first time since 1994.
"We are proud to recognize these wonderful individuals who represent our award and the sport so well," said Jeffrey T. Harvey, chairman of the Tewaaraton Foundation. "Dylan stood out with his incredible play and leadership bringing Brown back to the Final Four."
Molloy, an All-American from Setauket, N.Y., registered five or more points in 15 of 18 contests, helping the Bears to a school-record 16 wins and the Ivy League regular-season title. Molloy won his second consecutive Ivy League Player of the Year award and is the sixth player in NCAA history to post at least 50 goals and 50 assists in a single season. He is the nation's active leading scorer with 247 points, and his 116 points this season rank fourth in NCAA history.
Earlier this week, Molloy earned the U.S. Intercollegiate Lacrosse Association's Lt. Raymond J. Enners Outstanding Player award and the Lt. Col. J.I. (Jack) Turnbull Outstanding Attackman award. He is Brown's first Tewaaraton finalist and winner, and the first winner from the Ivy League since 2013.