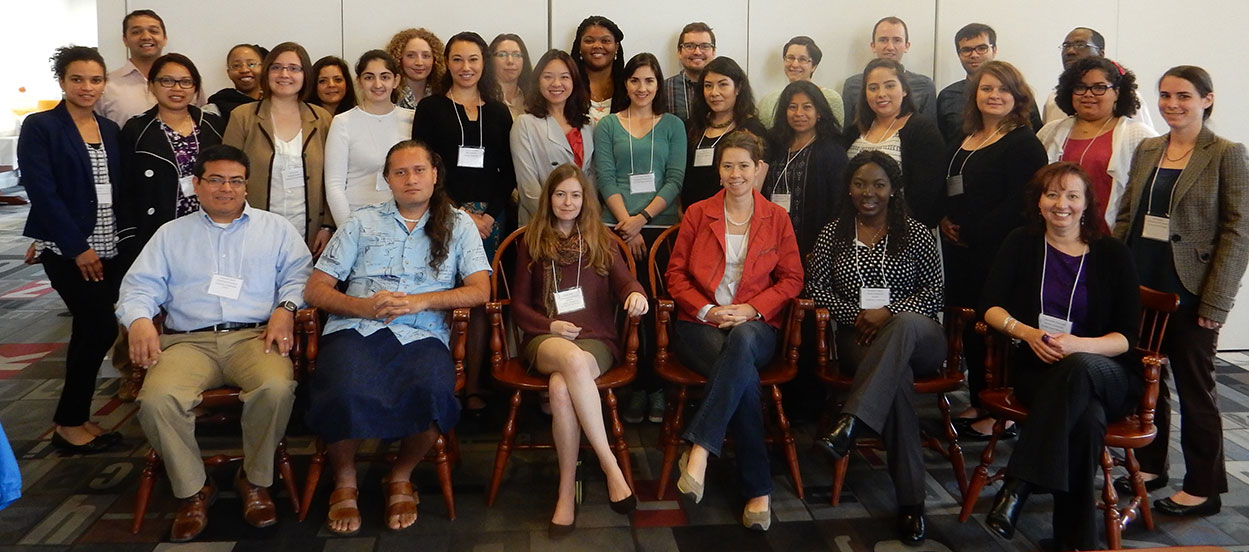 PROVIDENCE, R.I. [Brown University] — Late last month, Brown held its second annual Young Scholars Conference, which aims to provide guidance and support for science graduate students and post-doctoral researchers as they prepare to enter the academic workforce.
The two-day conference, which was sponsored by the Office of Institutional Diversity and Inclusion and the Institute at Brown for Environment and Society, included sessions on finding useful mentors, networking strategies and understanding what it takes to achieve tenure. There were also opportunities for informal discussions with current Brown faculty members.
Twenty-nine scholars — some from Brown, but most representing other institutions — attended. More than half of the participants were from historically underrepresented groups in the sciences.
Meredith Hastings, associate professor of earth, environmental and planetary sciences at Brown, convened the conference. She's also one of the founders of the Earth Science Women's Network, a nonprofit peer mentoring group.
In an interview after the conference, Hastings discussed the importance of the mentorship and guidance that the sessions aimed to provide.
Can you explain the motivation for holding a conference of this kind?
The primary motivation was to offer a professional development opportunity for graduate students and postdoctoral researchers, particularly from underrepresented groups in physical and life science fields. Skills such as networking, communication and management, as well as knowing how to find and use good mentors and support networks, are critical to succeeding in academia — yet these skills are rarely part of Ph.D. programs. Research has shown that women and minorities face additional hardships as they navigate scientific careers, such as a lack of strong mentoring, a tendency for smaller networks, and a limited sense of belonging. Moreover, they are often the least effective at negotiating for what they need to actually succeed in their careers. Focused workshops on building soft skills have been shown to effectively contribute to career success, particularly for minorities.
My aim was to design and deliver a workshop that contributes to skill building for these early career scientists. At the same time, the conference provided occasion to improve Brown's knowledge base of underrepresented minority scientists who are or will be eligible for hiring in the near future. Connecting them at this stage with Brown gives us a chance to spotlight our departments, institutes and activities in a proactive way, creating an exciting and positive connection that will increase our capacity to attract a diverse and quality pool of eligible hires in both the short and long term.
Could you summarize some of the advice that the attendees heard?
The reality is that there is no single piece of advice that will help you succeed in academia. I am fond of saying that in academia there are no rules, just norms, and you need to learn as much as you can about the envelope of norms that are out there and then define for yourself how to succeed. As part of "Mentoring 101" the participants created a map of their current mentoring network, identified pressing areas of need that are not being met, and created a plan to expand their existing mentoring network. Understanding that no single person can provide for you the support, mentorship and advice that you might need to succeed is critical — you need a network to really provide support for all aspects of your professional and personal growth.
Throughout the conference the participants also gained from networking with one another, learning about experiences at other institutions and benefiting from those who are just a year or two ahead in career stage. Faculty and administrator panels provided opportunities to learn from a variety of faculty what they felt were important factors to their success—how to best prepare faculty job applications and for faculty interviews, what they like most and least about being a professor, how they balance the multiple demands of teaching, mentoring, recruiting students, conducting research, doing service. We also discussed how and why diversity or minority status is being considered in faculty recruiting, how a university like Brown is handling discrimination and harassment issues and how to deal with unequal service burdens that tend to occur for minority faculty. Within the smaller group lunches in departments, the participants had a chance to also ask direct questions about preparing their postdoc and faculty job applications within the context of particular disciplinary norms.
Were there any questions or concerns on the part of participants that kept resurfacing throughout the conference?
The participants were engaged, eager and full of questions, and they did a fantastic job of taking advantage of the opportunity to get direct feedback. Many of the concerns raised were typical of early career scientists: Do I want a career in academia? How can I best prepare for a career in academia? What are the most important factors to highlight in a job application? What factors are most important during an interview? Do all professors have a job and a life like my current research advisor? How do I find the support and accountability I need?
In addition, there was also the fact that these young scientists represented a very diverse group and had never before found themselves in a professional setting where they did not instantly feel isolated. Stemming from that, there were really important discussions about thriving in academia amidst bias and stereotyping that might work against minority faculty members.
(For more insights from the participants, read a blog post by one of them.)
How did your work with Earth Science Women's Network inform your participation in this event?
ESWN started as an informal peer network that has grown into a nonprofit that currently serves nearly 3,000 women scientists across the world. From 2009 to 2013, I served as the lead principal investigator on a grant from the National Science Foundation that supported a number of different activities, including several professional development workshops aimed at improving the career success for women Earth scientists. My own experience in those workshops, as well as the feedback in pre- and post-surveys of the participants, was that it had a high impact on participants and directly contributed to effective skill building. Personally, I feel that professional development trainings and peer mentoring were really important for my success on the tenure-track, and I am excited by opportunities to share that with others.
A second way in which this event is connected to ESWN is that women from the ESWN Leadership Board contributed to the Young Scholar's Conference, serving on a faculty panel and contributing to facilitation of other parts of the Conference. Their support, investment in the success of early career scientists, and sharing of professional development experience was an important aspect of the Conference itself.