PROVIDENCE, R.I. [Brown University] — By the time Sovijja Pou — a dual citizen of Cambodia and the United States —earned acceptance to Brown's competitive eight-year program in liberal medical education, he had made the difficult decision to end the competitive swimming career he had pursued since the age of five. With the daunting prospect of juggling athletics and academics in college, he planned instead to focus his energy on his classroom work. 
But after finishing his final high school swimming season strong and representing Cambodia at the 2013 FINA World Championships in Spain, he knew he wasn't quite ready to throw in the towel. "I wasn't ready to give up the sport yet," Pou says. "I loved practicing and I loved competing."
That decision proved wise. Not only has Pou consistently been one of Brown's top swimmers, he heads to Rio de Janeiro this week as one of just two swimmers representing Cambodia in the 2016 Summer Olympics. He competes in the 100-meter freestyle competition on August 9 but will stay for the entire two weeks. His main goal after competition? Just to enjoy it all.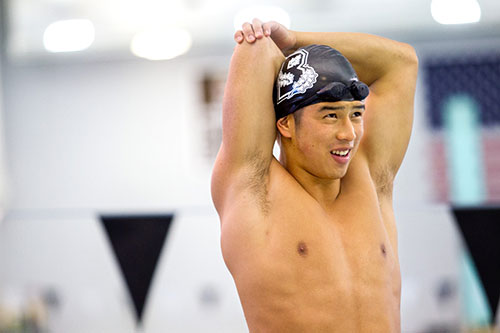 "At the Olympics, I'm most excited to race and represent Cambodia internationally in the pool," Pou says. "Also, I'm looking forward to interacting with and learning from the thousands of athletes who are both at the pinnacle of and are incredibly devoted to their respective sports. I just want to take in the whole Olympic experience because this is truly a once-in-a-lifetime opportunity."
Pou joins a long line of Brown scholar-athletes — 64 in total — who have competed in the Olympics. While he's the only current student in Rio, three Brown alumni will compete: Louisa Chafee, class of 2014, in sailing; 2013 alumna Tessa Gobbo, in women's rowing; and Anders Weiss, class of 2015, in men's rowing.
More than just a swimmer
Brown swimming coach Chris Ip says Pou, now a rising senior, epitomizes the amateur athlete ideal, balancing sport with his other responsibilities and interests. During the academic year, Pou spends 20 hours a week in the pool yet maintains a stellar grade point average as a biology/applied math concentrator in the demanding liberal medical education program. While many athletes might focus solely on preparing for the Olympics, Pou trained this summer while also pursuing a full-time summer research project with faculty member Daniel Weinreich on the evolution of drug-resistant malaria. 
"Sovijja is going to do very well in Rio, but he's not sacrificing any of his other goals," Ip says. "It's a pleasure to work with someone who has that balance — he wants to excel but not to the point where it's overtaking his whole life."
Pou, whose father is Cambodian and whose mother is Thai, says his passion for both swimming and academics are fueled by his Cambodian heritage. During the Khmer Rouge genocide, his father escaped Cambodia and sought refuge in the United States, ultimately landing in Portland where Pou grew up. "As a second-generation survivor, I feel a sense of responsibility to help the people and country of Cambodia recover and rise out of poverty," Pou wrote in his winning application for the Derek Canfield Barker Prize, an award given by the Swearer Center for Public Service to recognize students at Brown who have shown qualities of leadership, triumphed over adversity and participated in community service.
Representing Cambodia at the Olympics is one way Pou will do that. Ultimately, he hopes his bigger impact will be in helping everyday Cambodians in person. After medical school, he plans to practice there, concentrating his efforts on fighting tropical diseases like malaria, which has impacted many of his family members who still live in rural areas. Already, Pou has given back to the country. He travels to Cambodia frequently, teaching English at his grandfather's monastery, advocating for the importance of oral hygiene and safe sex in rural areas, and giving public swimming lessons to children in the capital city of Phnom Penh.
While his Cambodian heritage is what drives him, Pou says that the openness and intellectualism of the Brown community has played a crucial role in shaping him as both a scholar and an athlete, enabling him to embrace both identities rather than forcing him to be one or the other.
"At Brown, I'm not known as just 'the swimmer' or just 'the student,' " Pou says. "I can have an intellectual conversation with anyone here — or I can choose not to. When I was younger, I would get wrapped up in overthinking things. When I got to Brown … the openness here made me feel a lot less stressed than I was before. This has improved my mental health, improved my grades and improved my swimming by just allowing me to let go and let things happen."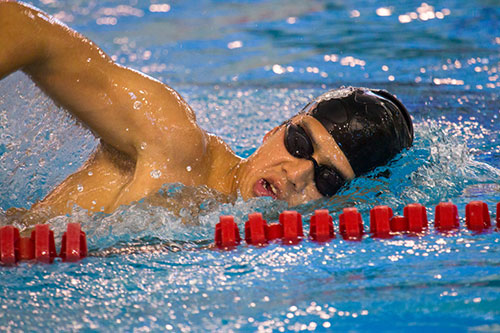 Weinreich says that Pou's work in the lab is defined by a quiet but confident and persistent work ethic: "He's really unburdened by an ego. He feels there is a lot to learn and is keen to ask questions. He is prepared to work hard, and he just wants to get better."
Similarly, Ip describes Pou's performance in the pool as even-keeled.
"A lot of swimmers will pick and choose and wait for the bigger meets to do well, but Sovijja takes advantage of every opportunity," Ip says. "He doesn't mind how tired he is or at what point in the season it is. If he has the opportunity to represent Brown, he's going to give 100 percent."