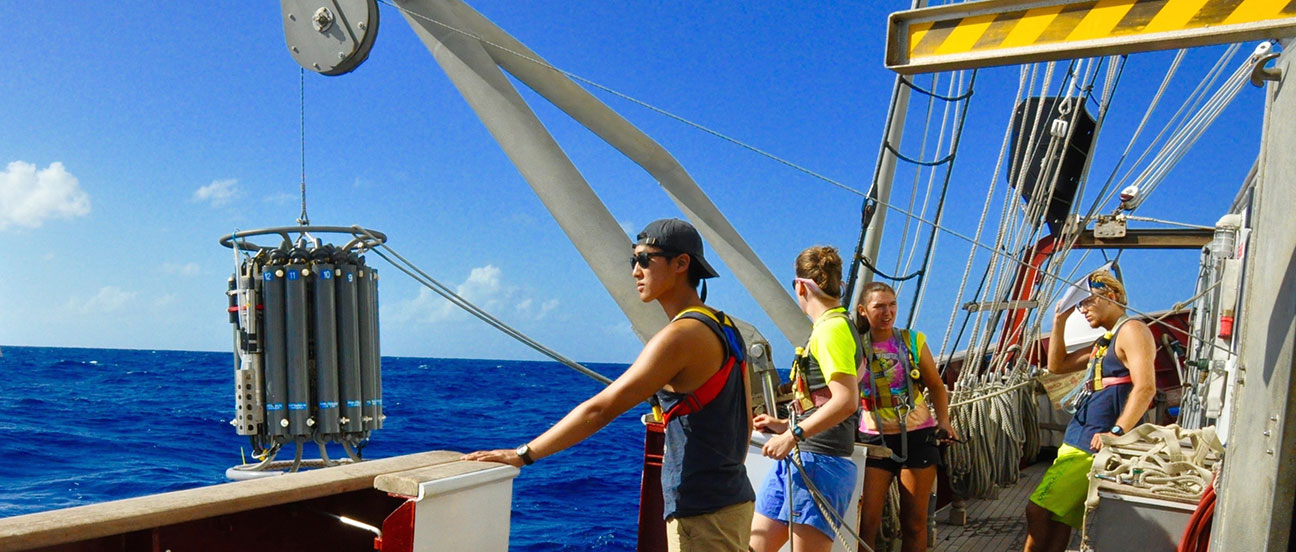 PROVIDENCE, R.I. [Brown University] — Peter Baek traces his inspiration as a scientist, pre-med student and explorer to a beloved movie.
"Ever since watching 'Finding Nemo' with my grandpa and dad, our love for fish and the ocean blossomed as every shelf around the house became occupied with aquariums," said Baek, a rising sophomore at Brown University. "My fascination with fish ultimately led to my interest in science as I continued to get deeper into the water chemistry and biology of fish keeping. The passing of my grandpa from laryngeal cancer, however, transformed my interest of science to something deeper — the desire to pursue a career in oncology in dedication to my grandpa."
Those seemingly disparate disciplines — marine biology and cancer medicine — are therefore inseparable to Baek. With an expansive intellect and spirit of adventure, he has pursued both interests since high school. Over the years, for example, he's come to learn that the tentacled aquatic animal  bugula hosts the production of a chemical that has promise in fighting cancer. Before coming to Brown in 2015, he spent summers learning about cancer biology in labs at the University of Pittsburgh and the National Institutes of Health.
At Brown, he quickly found his way to the developmental biology lab of Professor Gary Wessel, who uses distinctly marine model organisms to study reproductive biology. Baek has been investigating the molecular biology of generating egg cells, fertilization and the specification of primordial germ cells during early development in sea stars.
Also in his freshman year, Baek began to seek clinical experience and to travel, joining Brown's Global Brigades in Honduras last winter to deliver medical and dental care in underserved villages.
"It opened my eyes to the importance of traveling to cultivate a global perspective," he said.
Setting sail
Baek had still not yet experienced the ocean as a scientist and explorer, but he knew a way that he could. Last summer, in a Brown pre-orientation initiative called the New Scientist Catalyst Program, coordinator and rising senior Isabella Martinez told him about how she once went on a research voyage organized by the Sea Education Association, based in Woods Hole, Massachusetts.
"I was immediately awestruck about the prospects of traversing the open seas while conducting oceanographic and marine biological research," he said.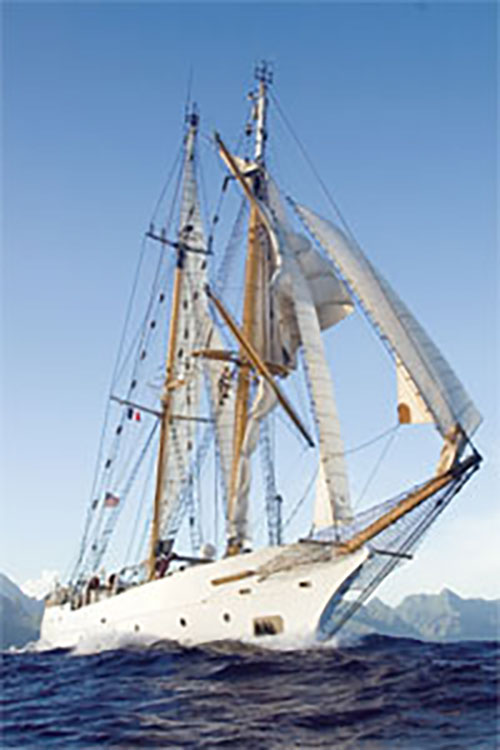 So this summer, Baek's educational journey continued in the form of a six-week SEA Semester research voyage on the tall ship Robert C. Seamans. Ostensibly, the destination was the Phoenix Islands, an archipelago of atolls tucked into the southeast corner of where the Equator meets the International Date Line. But more than that, it was the chance for a lifelong lover of fish to finally experience the science and wonder of the life aquatic.
Dubbed "SEA Semester: Protecting the Phoenix Islands," the study abroad expedition, which provides credit from Boston University, brought undergraduates from around the country and a professional crew — 40 people in all — aboard the ship. Their mission was to gather data about the delicate marine ecosystem of the islands, the world's largest — and deepest — UNESCO World Heritage site. Their findings about the coral wilderness's environment and ecology in the context of climate change will be shared with policymakers who govern how the ecosystem is conserved.
Baek had a particular project: tracking the abundance of larval tuna to better understand the islands' role as a breeding ground for the economically and ecologically valuable species.
"The experience of finding the first larval tuna after sorting through the endless amount of biomass full of zooplankton was full of sheer wonder and amazement," he said. "From their large endearing eyes and spotted heads and tails, there is something so awe-inspiring thinking that these minuscule fish larvae will transform into one of the ocean's top predators and one of the largest food sources for humans."
Indeed, his days and nights aboard the ship offered innumerable delights, from sunsets and deep blue seascapes to a welcoming feast and festive dance performance by members of the tiny I-Kiribati community on the Phoenix Island of Kanton.
Along the way, Baek has also gained a (thankfully not) crash course in sailing, participating in an an 18-hour "watch" cycle of six hours of controlling the boat and 12 hours of rest, which "destroyed" his sleep schedule.
"Initially when I signed up for this program, I assumed that I would spend the majority of my time conducting research and relaxing under the ocean breeze while looking out into the horizon with a cup of tea in my hand," he said. "Only after did I realize that the students would become part of the 40-person crew that would run the ship. The first couple of days on board were comparable to the culture shock I experienced when I visited Honduras."
He said he took "an unexpected slide" down a ladder early on, but soon enough he settled in.
"Crossing the Equator was a very memorable experience," he said. "I remember everyone waking up in the middle of night staring up to the vast night sky filled with stars and constantly checking our GPS coordinate system as it neared 0 degrees latitude."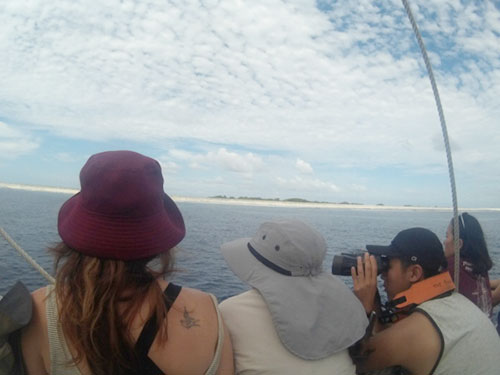 Coming back to Brown
The voyage that started in Hawaii on July 2 ended on Aug. 13 when the boat docked in American Samoa's capital city of Pago Pago. As Baek makes his way across 56 degrees of latitude to return for his sophomore year, he carries with him new experience, knowledge, skills, inspiration and friendships.
"Spending six weeks sailing the vast ocean in a small 134-foot-long brigantine really lets you get to know a person," he said. "The bonding that you get from sail handling in the midnight hours while gazing at the endless starry sky, and from the time you spend in lab staring at zooplankton for hours on end, facilitates a range of lighthearted laughs to the most genuine and thought-provoking conversations."
Baek now counts among his mentors, for example, Brown alumna Kelsey Lane, the ship's first assistant scientist, whom inspired him with her dedication to conservation and taught him how to perform much of the science he performed on board.
"I can firmly say that the experiences and memories I have made from this voyage will remain meaningful in so many ways back at Brown and for years to come," he said. "Academically, it has given me a stronger conviction to continue to pursue my passion in marine biology and integrate it with my interests in medicine."
What started with a cartoon in the warm embrace of family has become a purposeful and scholarly adventure.
"I knew that during my undergraduate years I wanted to truly grow as a scholar and human being, and this trip has definitely played a large role in this continuous process," Baek said. "The social interactions, leadership, communication and teamwork skills that I have been able to gain in this unique sailing environment have pushed me to get out of my comfort zone and challenge myself."