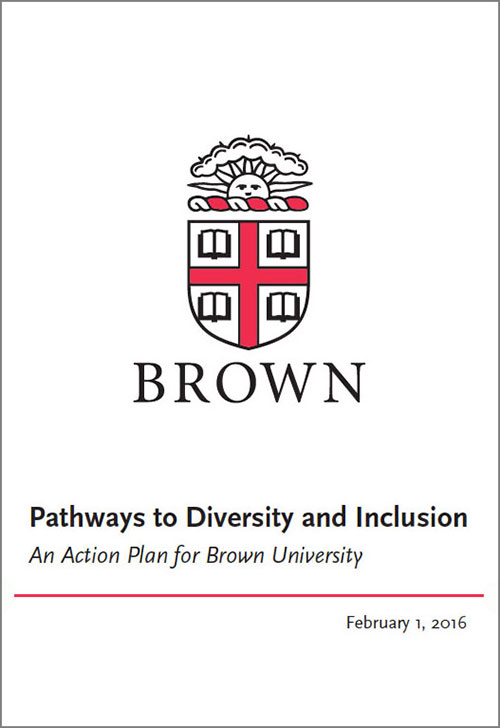 PROVIDENCE, R.I. [Brown University] — In the seven months since releasing an action plan to create a more diverse academic community and to address historic structures and obstacles that have prevented the full inclusion of individuals from a range of backgrounds, Brown University has recruited exceptional scholars from historically underrepresented groups, expanded financial support and resources for first-generation and low-income students, and developed department-level diversity and inclusion action plans for every academic program, among other early steps.
Provost Richard M. Locke and Vice President for Academic Development, Diversity and Inclusion Liza Cariaga-Lo detailed those actions and many others in a letter sent to the Brown community on Thursday, Sept. 1.
"A vital feature of the plan is that it was developed with broad community engagement," Locke and Cariaga-Lo wrote, "and the intense work over the last several months reflects the participation of faculty, students and staff dedicated to achieving the promise of the Diversity and Inclusion Action Plan."
In launching Pathways to Diversity and Inclusion: An Action Plan for Brown University on Feb. 1, 2016, after a campus-wide process that contributed to its development, leaders at Brown resolved that the plan would not represent the culmination of an effort, but rather a commitment to progress in achieving the fully diverse and inclusive campus essential to the University's core mission of education and discovery.
The plan outlined a set of more than 50 concrete, achievable actions. After its release, Brown President Christina Paxson charged a newly established Diversity and Inclusion Oversight Board to provide oversight as members of the Brown community began to take immediate, meaningful actions while also establishing the best approach toward its longer-term goals.
One of the earliest priorities has been the development of Departmental Diversity and Inclusion Action Plans, required of every academic and administrative department at Brown. Academic departments submitted plans by June 1; final versions will be posted publicly by Sept. 15, following a thorough review process. Plans for the University's administrative units are in development and will be posted later this fall.
"The various departmental plans present a wealth of innovative initiatives to increase the diversity of our community, enrich Brown's curriculum to engage more effectively on issues of race, ethnicity, power and privilege, and to promote an environment in which a full range of ideas and perspectives can flourish," Locke and Cariaga-Lo wrote.
Among other early highlights, Brown launched a new First-Generation College and Low-Income Student Center, which this month opens the doors to a dedicated space in the Sciences Library. The University also doubled emergency funds to support critical living and learning expenses for low-income students.
As Brown pursued new strategies for recruiting faculty and other scholars to campus, approximately one-third of the new faculty members who arrived for the 2016-17 academic year are from historically underrepresented groups. A second cohort of Presidential Diversity Postdoctoral Fellows will begin this fall, and the University will bring three distinguished visiting faculty members from historically underrepresented groups to campus through the campus-wide Provost's Visiting Professors program, launched in May. A Brown Faculty of Color Network was established as well.
In proposing new courses aimed at enriching understanding of issues of race, ethnicity, social justice and more, faculty and administrators have worked to deepen the curriculum. Separately, the Dean of the College convened a Task Force on Diversity in the College Curriculum, which will complete its report this fall.
Brown also expanded its New Scientist Catalyst Program, an orientation program for entering students from groups traditional underrepresented in science, technology, engineering and mathematics disciplines. And a new Native American and Indigenous Studies Initiative was launched with 18 faculty members and postdoctoral fellows from a variety of academic areas offering instruction.
In concluding their letter, Locke and Cariaga-Lo noted the considerable effort devoted by students, faculty and staff to date and said that a continued community-wide commitment to the goals of the plan will lead to steady progress in the years ahead.
Key goals include doubling the number of faculty members and graduate students from historically underrepresented groups by 2022; creating learning environments where students and researchers can thrive in their fields of study; and bolstering Brown's national and international impact on research and teaching focused on race, ethnicity, inequality and justice around the globe.
"While we have much work to do to realize the vision outlined in the Diversity and Inclusion Action Plan," they wrote, "we are confident that by continuing to work collaboratively and in earnest, together we will reach our aspirations."
A complete list of highlights, organized by the six priority areas of implementation, can be found on the implementation page of the Pathways to Diversity and Inclusion website.